Kelly Ripa's Husband Mark Consuelos Set To Replace Ryan Seacrest As Her Co-Host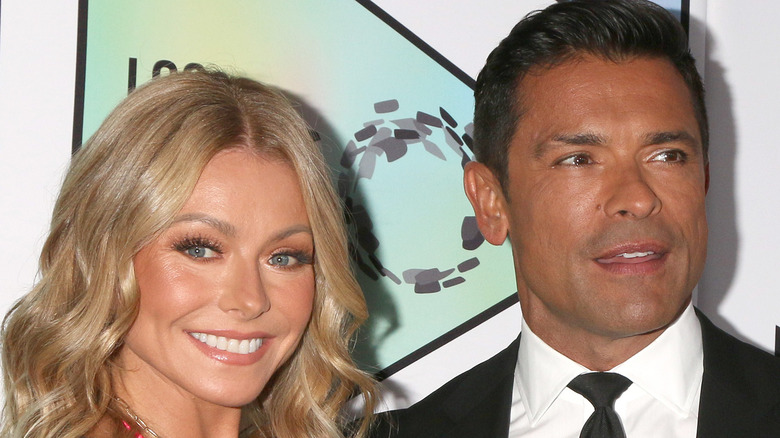 Kathy Hutchins/Shutterstock
Big changes are coming for fans of "Live with Kelly and Ryan," which will now officially be called "Live with Kelly and Mark." Yup, that's right! After six years on the popular ABC morning talk show, Ryan Seacrest is departing his co-host seat. Filling his spot next to Ripa will be her husband, Mark Consuelos. Seacrest announced the news on February 16's episode of "Live!," saying, "Working alongside Kelly over the past six years has been a dream job and one of the highlights of my career." Thanking longtime executive producer Michael Gelman and other behind-the-scenes staffers, Seacrest quipped that he was "excited to pass the baton to Kelly's 'real' husband, Mark," (via Variety).

Ripa has seen her share of rotating co-hosts since she joined "Live!" in 2001, back when Regis Philbin still helmed the talk show. After Philbin's departure, she enjoyed an extended onscreen partnership with new co-host Michael Strahan — until offscreen drama derailed the 2012 to 2016 run of "Live with Kelly and Michael!".  Also sharing the stage with myriad guest hosts throughout the years (including her hubby), Ripa again found a longtime banter partner in Seacrest when he permanently replaced Strahan in 2016.
Given Consuelos and Ripa's enduring, fan-adored marriage of 26 years, we're sure the duo has plenty in store for "Live" fans in the coming years.
Kelly Ripa will miss work husband Ryan Seacrest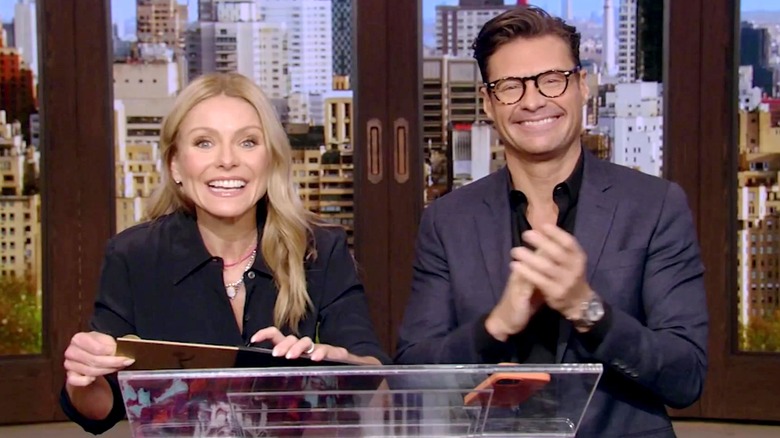 Daytime Emmy Awards 2021/Getty Images
While Kelly Ripa's relationships with her past co-hosts haven't always been the smoothest, the same can't be said for her and the departing Ryan Seacrest. "The only person I can think of that is capable of holding [Ryan's] torch the way [he has] held it would be my husband, Mark Consuelos, in what Ryan and I are calling the nation's weirdest social experiment," Ripa quipped upon Seacrest's announcement of his exit from "Live with Kelly and Ryan."
Seacrest elaborated that he will take his final bow once "American Idol" begins filming in the spring, promising to return to "guest host and fill in" from time to time. As for Ripa, she was quick to note that Seacrest, whom she called "one of my best friends," was only "supposed to be here for three years," and instead, opted to stay for six. To end their emotional announcement, the two co-hosts exchanged a tight, sweet embrace in which they nestled into one another's shoulders. 
During a 2020 episode, during which Consuelos filled in for Seacrest, Ripa seemingly predicted her hubby's new perma-gig. As she joked at the time, "It's so weird when you're here because I just saw you at home. Ryan I see all the time... but I never leave him and then go to work and there he is." Well, get used to this new normal, Kelly!