Is Clint Eastwood Close With His Famous Son Scott Eastwood?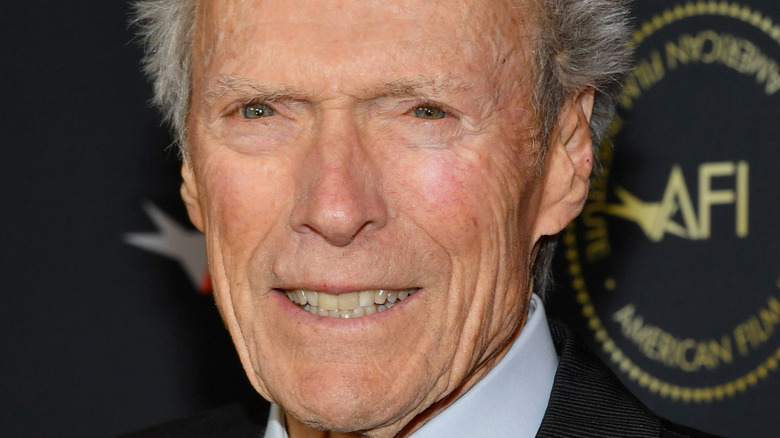 Amy Sussman/Getty Images
Clint Eastwood has been a prominent longstanding name in Hollywood for decades. At the start of his career, he was best known for his roles in Spaghetti Westerns as rough-around-the-edges cowboys. However, his most popular film during that time may have been "Dirty Harry," in which he uttered the famous words repeated by many, "Go ahead, make my day." Eastwood went on to act and direct in many acclaimed films such as the Oscar-winning movie "Million Dollar Baby," as well as the hit drama "Gran Torino."
It's no wonder Eastwood's children are following in his footsteps. Out of his eight known children, five have had acting roles in various films, some even starring alongside their famous dad. Perhaps the best-known among them is Scott Eastwood, who has been steadily establishing his own career in Hollywood. His first role was in "Flags of Our Fathers," which was directed by the "Cry Macho" star. At the time, Scott used Reeves as his last name in order to make a name for himself separate from his iconic father, but he later changed it back to Eastwood. While Scott is doing well carrying on the family name, his relationship with the multi-award-winning actor/director wasn't always so rosy.
Scott Eastwood didn't live with Clint Eastwood until he was in high school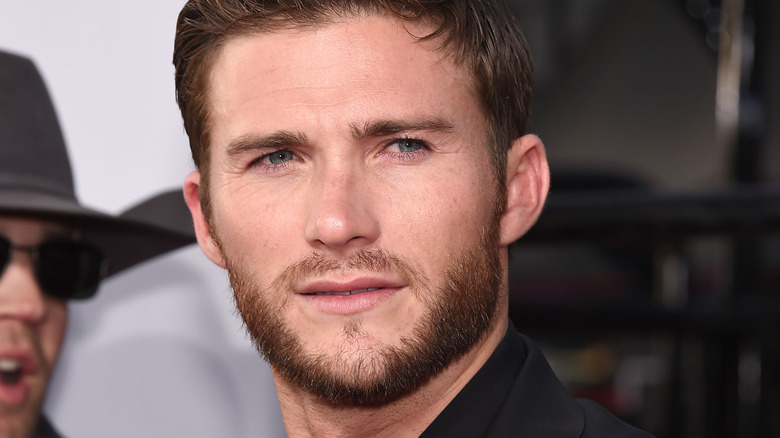 DFree/Shutterstock
Clint Eastwood has an impressive number of children, but they don't all share the same mother. Scott Eastwood was born in 1986 to Jacelyn Reeves after Clint and the flight attendant had an affair. The two would go on to have Scott's sister, Kathryn Eastwood, in 1988. It's unclear if Clint was present in Scott and Kathryn's lives when they were younger, but the "Diablo" star revealed to Esquire that he didn't see Clint much until he was a teenager. "I lived with my mom in Hawaii until I pissed her off. And then I came to live with my dad and pissed him off," he laughed. Despite his joke, Clint told the publication that Scott was a "pretty good kid" and didn't give him many problems.
However, one incident as a teenager earned him a punch in the face from Clint. He recalled the story to GQ, saying he took his then-14-year-old sister to a party and left with some friends to get beer. When his father found out, he socked him and said, "You don't ever leave your sister at a party. EVER." Still, Scott had nothing bad to say about his father, calling him "very old-school," and that was one of the many lessons he learned from the "Fistful of Dollars" star.
Clint Eastwood didn't hand Scott Eastwood his roles easily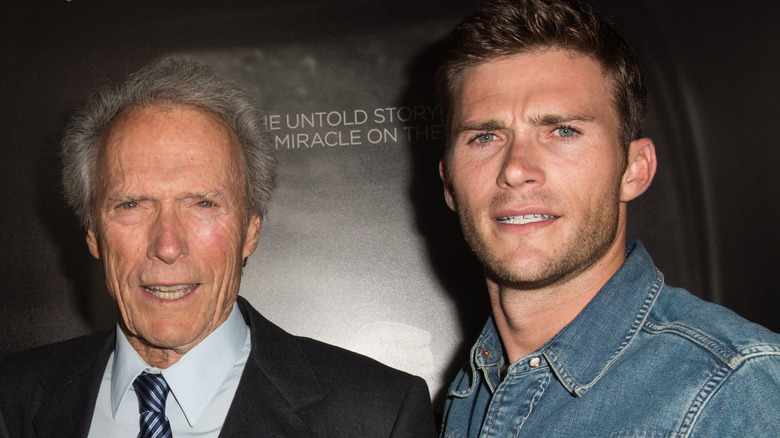 Emma Mcintyre/Getty Images
Scott Eastwood may have one of the most sought-after directors in Hollywood, Clint Eastwood, as his father, but he wasn't shown any favoritism as a budding actor. Although he was cast in "Flags of Our Fathers," he had a minor role, which he had to audition for. "I was 18 years old when I called him and wanted to audition for [the film]," he told the Independent. He shared that Clint's answer was, "Well, we'll see. I'll give you a shot to audition." Scott went for a big role but was instead hired to do a few lines. "That's how it rolls with him on every project. I've auditioned for a lot of the bigger roles in his films and never got them," he shared. Scott also earned a small part in "Gran Torino" and "Invictus." 
Clint proved that he didn't believe in nepotism when Scott auditioned for a part in "American Sniper" and was turned down for the role. However, the 36-year-old went on to star in "The Longest Ride," which is not associated with his father. Despite Scott's strict upbringing, he only has admiration and respect for Clint. "The truth is he's very old school, there are no hand-outs. It's the opposite," he stated to the Independent. Perhaps his father's teachings are what have earned him one of the top leading men in Hollywood.