How Tyrese Gibson Struggled After Paul Walker's Sudden Death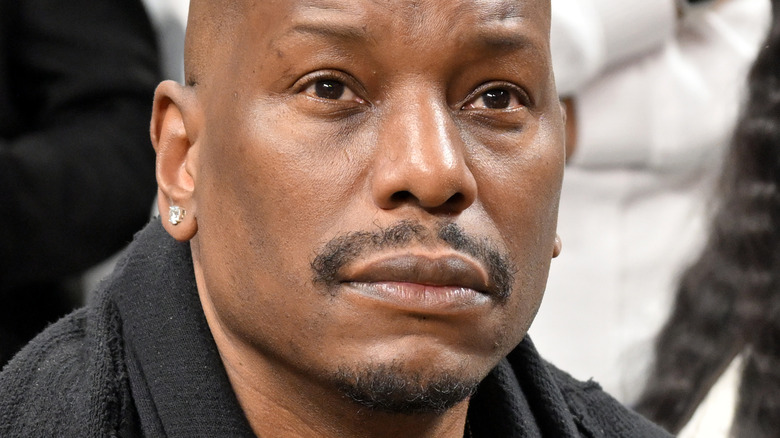 Paras Griffin/Getty Images
Tyrese Gibson became close with Paul Walker while working on the "Fast and the Furious" movies together. Understandably, Gibson was devastated when Walker tragically died in a car crash in November 2013. The accident occurred while the actors were on a break from filming "Furious 7." Over the course of working together, the two actors had formed a true friendship. 
Once Vin Diesel departed the franchise after the first installation, Gibson was brought in to play Roman Pearce in "2 Fast 2 Furious," who was a replacement sidekick of sorts to Walker's Brian O'Conner. It did not take the two long to build a rapport. "I liked Tyrese right away because he was real and seemed to me like a kid that was really excited to have the opportunity to potentially be in a movie," Walker told Tribute before the sequel's release. In fact, the "Running Scared" star became a champion for his new co-star. "I love Paul. He fought to bring me back to the franchise," Gibson told MTV News while discussing "Fast 5" in 2011.
The friendship between the pair was perhaps cemented on-set, but was originally forged when the cameras were not rolling. They built chemistry before filming "2 Fast." "We met, talked, ate dinner and chopped it up. Got to know each other," Gibson told Yahoo! Entertainment in 2015. "It was like [a] date." Many castmates struggled to come to terms with Walker's death, but due to their past, Gibson took it especially hard.
Tyrese Gibson broke down over Paul Walker
Immediately following Paul Walker's death in 2013, Tyrese Gibson was inconsolable. The "Baby Boy" actor visited the crash site where Walker died, the day after the accident and proceeded to break down into tears as he was overcome with emotion. Gibson also poured his heart out online once he learned of his "Fast and Furious" co-star's death. "My heart is hurting so bad no one can make me believe this is real," he wrote on Instagram in 2013 alongside a photo of the two on set together. The following day, Gibson uploaded to Instagram the "last exchange" the two shared via text, as the "Four Brothers" actor wished Walker a happy Thanksgiving.
Walker's death occurred before filming on 'Furious 7' had finished, and the crew had the unenviable task of continuing without the franchise's star. "The first thing all of us were struggling with was, 'What the hell are we doing here? What's "Fast and Furious" without Paul?'" Gibson recalled to Entertainment Weekly in 2021. The shared tragedy allowed the remaining cast members to band together. "So we had to become each other's therapists," he added.
Although the cast and crew were able to finish production on "Furious 7," and the film was a hit, it was far from a triumphant moment for Gibson. "Once 'Furious 7' came out, it was hard to watch. So I definitely don't have that one on repeat," he told Entertainment Weekly. Years later, Gibson still mourned Walker.
Tyrese Gibson's surprising connection to Paul Walker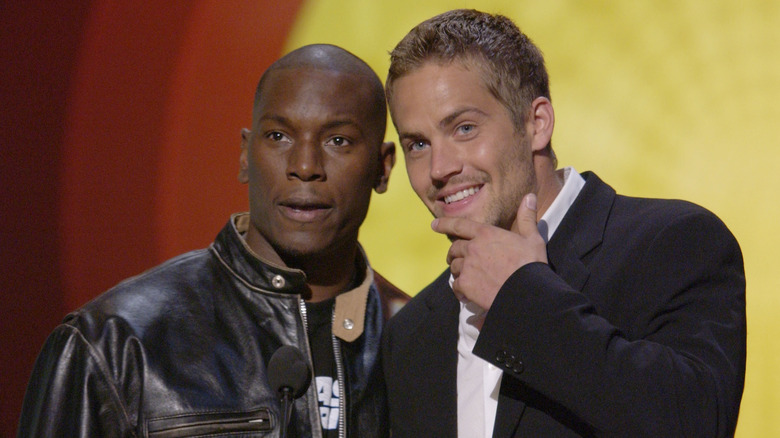 Robert Mora/Getty Images
Fans knew that Tyrese Gibson and Paul Walker shared chemistry together on camera, and it was apparent that the two had become friends while working on the franchise, but few knew the reason the pair hit it off so quickly. "Well, the first moment me and him really broke the ice is when we found out we were sleeping with the same girl in Miami," Gibson recalled to Yahoo! Entertainment in 2015. Apparently, the conversation came up when they were getting to know each other in preparation for "2 Fast 2 Furious" and the actors thought the situation was comical. "It was a bromance forever after that," Gibson added.
The "bromance" was kept alive well after Walker's death. In September 2018, the "Black and Blue" actor took to Instagram to honor his late friend's birthday. "Happy 45th to a man who was ALL HEART!!!!!!!!" Gibson wrote gushingly.
A few months later, Gibson paid homage to Walker on the anniversary of his death. "5 years ago today we all woke up to a nightmare ... Believe me it's still very real for all of us that knew him and loved him personally," he wrote in the caption of an Instagram post that included snippets of Michelle Rodriguez speaking about Walker. Fellow "Fast and Furious" stars Jordana Brewster and Vin Diesel also paid online respects to Walker on the fateful anniversary.