Jimmy Kimmel's Grim Joke About Embattled Congressman George Santos Was A Total Miss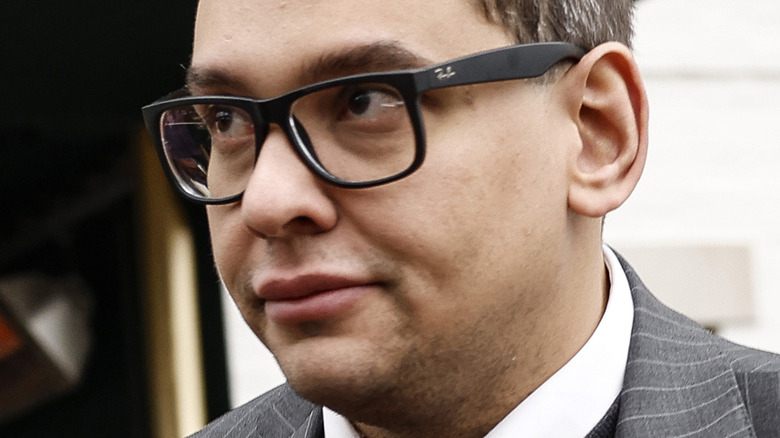 Anna Moneymaker/Getty Images
What's a fact and what's a lie? This is the ultimate question that comes up when dissecting the behavior of New York Congressman George Santos, who has fabricated dozens of stories that range from where he went to high school to his religion to his past work. Yup, Santos has been known to be shady, to say the least. For example, in the course of his 2022 Congressional bid, Santos took credit for helping produce the 2011 rock musical "Spider-Man: Turn Off The Dark," per New York Magazine.  However, the timing just didn't add up, as Santos reportedly attended Baruch College then. In addition, the actual producers of the musical noted that he didn't play a part in the process at all. In the past, the Congressman has also claimed that his mother, Fatima Devolder, was one of the survivors of the 9/11 attack, and was caught in a lie on that front. According to NBC News, Devolder was living in the Brazil at the time of the attacks and did not come to the United States until 2003.
While Santos' claims have wreaked havoc in the political sphere, notable comedians have capitalized on the Congressman's unbelievable tales. One such comic is Jimmy Kimmel, who frequently throws digs at various political figures. As is typical in stand-up comedy, some jokes go over well and others, perhaps, should've required deeper probing beforehand. Well, let's just say that Kimmel's recent joke about Santos didn't quite land.
Jimmy Kimmel just couldn't resist poking at George Santos' sweater vest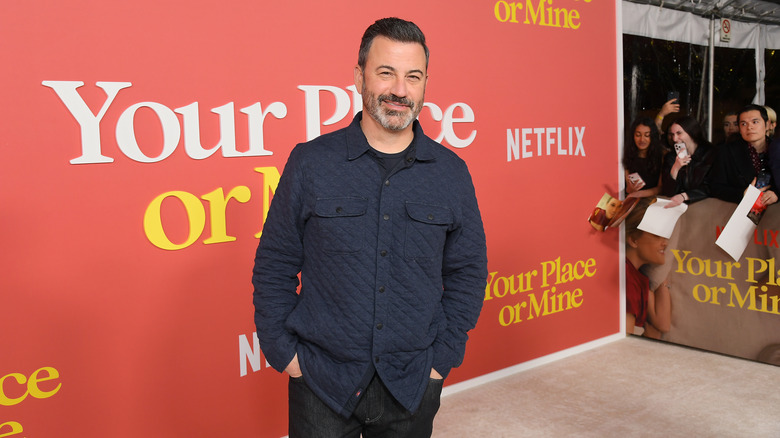 Charley Gallay/Getty Images
About five years ago, George Santos found himself in hot water for a puppy-related incident in Pennsylvania. According to CNN, the Congressman was charged with "theft by deception" for writing a string of bad checks to dog breeders, which included an Amish farmer. The whopping total of checks that bounced came out to more than $15,000. The farmer recalled the event, telling the outlet, "He says, 'We are going to take that puppy and that puppy.' And his assistant grabs the two puppies, takes them out the door, and he pulls out a check. I was like, 'Oh no, is this guy going to pay me with a check?' I was very suspicious." Despite the evidence presented, however, charges against Santos were eventually expunged in 2021, as reported by Politico.
In Jimmy Kimmel's mind, these unfortunate circumstances made for a perfect comedic set-up. During his monologue on a February 15 episode of "Jimmy Kimmel Live," Kimmel joked, "Stealing puppies from the Amish? This could be the crime of the century. The 18th century." The audience burst into laughter, but not for long. After a series of Santos quips, Kimmel added, "And the big question is, what did he do with the puppies? I mean, is this what his sweater vests are made out of?" The crowd collectively whimpered, clearly upset by the thought of dead puppies donning Santos' torso. Kimmel caught on fast, saying, "Don't worry. It's just a joke, guys." Smooth save, Kimmel ...  really smooth.
Jimmy Kimmel believes George Santos is a villain
His most recent might have been a miss, but this is not Jimmy Kimmel's first time taking a swing at George Santos and his many lies. In January, Santos' former roommate, Gregory Morey-Parker, spoke to CNN, accusing the Congressman of wearing a Burberry scarf he stole from him to the January 6, 2021 Stop The Steal rally. Not one to pass up a good joke, Kimmel took a jab at Santos during a January 18 episode of his show. "What's the problem? Stealing was the theme of the rally!" Kimmel quipped. "The Burberry bandit is on the loose." During his interview with CNN host Anderson Cooper, Morey-Parker also reiterated previous claims that Santos embezzled thousands of dollars paid in donations for a sick service dog. "Well, that there is a ticket straight to hell," Kimmel joked about the allegation. "He's literally a Scooby-Doo villain at this point."
Taking things up a notch, the show employs a more parodic approach in another episode, with actor Nelson Franklin playing Santos in what turned out to be a hilarious skit. After listing out a slew of claims against the Congressman, Kimmel suggested spying on Santos through a camera planted in his office. There we see Franklin's Santos painting his toenails, before going on to title himself "the first openly gay Jewish Republican Latino to walk the moon." As a nod to the theft allegations, the parody also saw Santos steal a wallet from a man's pocket and a scarf from a woman's neck.