Travis Kelce Turns The Buzz Around His Super Bowl 2023 Win Into An SNL Hosting Gig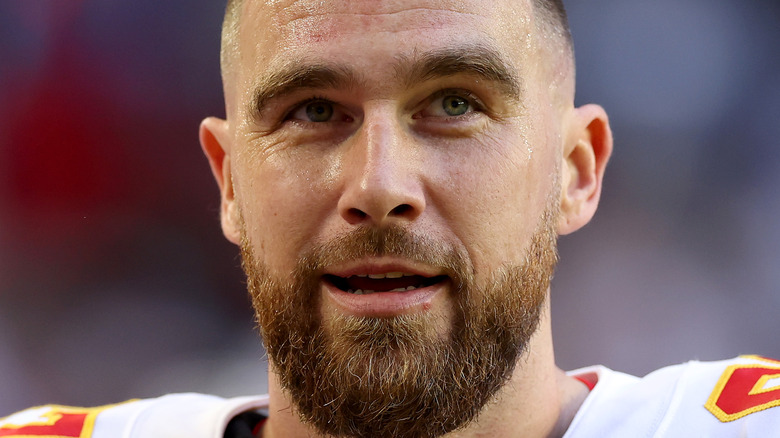 Christian Petersen/Getty Images
From trash talking the mayor of Cincinnati, Ohio in a post-game interview and screaming out the lyrics to "(You Gotta) Fight For Your Right (To Party)," to making his stanky leg celebration go viral and taking a shot of Fireball whiskey during the Super Bowl parade, Kansas City Chiefs tight end Travis Kelce has quickly become a fan favorite in the NFL.
He's often compared to former star tight end Rob Gronkowski, and not only because of their incredible performance on the field. They both have big, and sometimes wild, personalities off of the field. When it comes to Kelce, he is usually described as the "life of the party," and his dancing in the end-zone steals the show in football games. "I just love to live life, man," he told the Associated Press (via the Seattle Times) in January 2020 during the Super Bowl party. "And I like to enjoy happiness along the way."
Kelce believes his fun and lighthearted personality can also be comedic, and he hinted back in 2011 that if he wasn't a professional football player, he might've become a comedian. "At this improv comedy show...." he tweeted. "At least if sports isnt where I make money, I can easily do stuff like this..." And it looks like the tight end manifested that comedy career, as he is expected to host "Saturday Night Live" on March 4.
Travis Kelce goes from the football field to 30 Rock
In a recent appearance on "The Tonight Show Starring Jimmy Fallon," Kansas City Chiefs tight end Travis Kelce announced that he would be hosting "Saturday Night Live." He started out by saying that he grew up being a fan of Chris Farley, Will Ferrell, and Jimmy Fallon himself. "I used to watch 'Saturday Night Live' with my mother," he added. "It's an absolute honor and privilege to be hosting 'SNL' March 4."
Although Kelce is known for his work on the football field, he has tried his hand at comedy in the past. During the 2021 ESPY Awards, the tight end had a role in a small comedy skit that was about the Aaron Rodgers trade rumors. Kelce mentioned that Rodgers was Brett Favre's backup quarterback. He then tied that to one of his favorite songs written by Juvenile aka Terius Gray, and then added that Gray rhymes with McVay, who is the head coach of the Los Angeles Rams. He then concluded his prediction that Rodgers will end up playing for the Rams.
SNL tweeted the lineup for the next three live shows before Kelce's Fallon interview aired. Kelsea Ballerini is the musical guest for the tight end's episode, so we're ready for the Kelce and Kelsea jokes, and a potential stanky leg skit.