Who Is Laura Louie? Woody Harrelson's Wife Started Off As His Assistant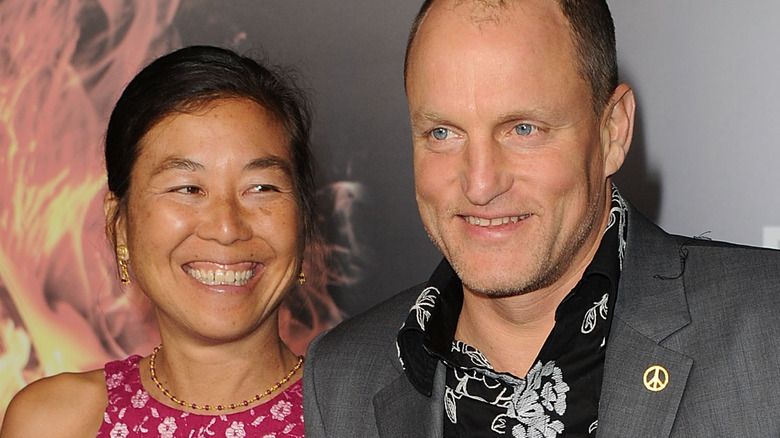 Jason Merritt/Getty Images
Though actor Woody Harrelson is known to audiences for his various roles over the decades, including on the sitcom "Cheers," or for the fact that he happens to be the son of a hitman. Despite this, fans of Harrelson are likely less familiar with his wife, Laura Louie. Louie and Harrelson married in December 2008, though they already had been together for 20 years at the time of their marriage.
Louie isn't famous apart from her relationship with Harrelson, and the two make up one of the many celebrity couples that include a non-famous partner. It might be surprising to hear that their relationship didn't start off as a romantic one, however. Instead, as Harrelson explained to the Hollywood Reporter in 2017, Louie worked as his assistant before she was his second wife. Harrelson was briefly married once before to Nancy Simon, the daughter of the noted playwright Neil Simon.
So how did Louie go from being Harrelson's assistant to being his wife? Given what Harrelson has said publicly about their relationship, it's a real-life love story.
Woody Harrelson's wife Laura Louie met him in an unlikely way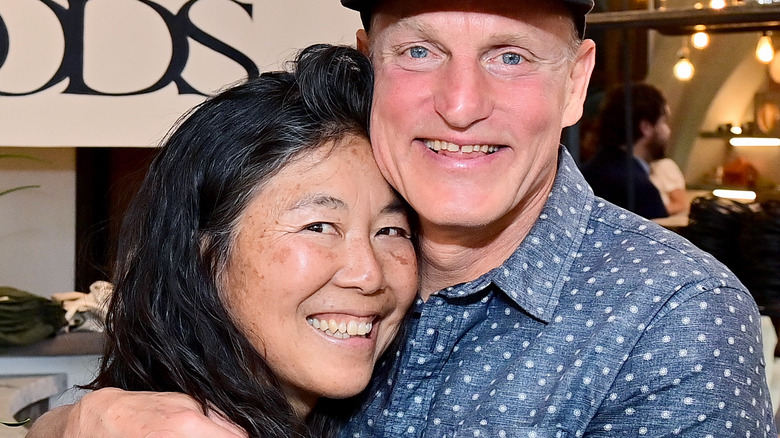 Stefanie Keenan/Getty Images
As Woody Harrelson told the Hollywood Reporter, he first met his future wife, Laura Louie, on the set of "Cheers." Harrelson recalled, "This media workshop came to see 'Cheers.' I was there eight years, and in all that time, we only talked to one group, and it just happened to be this group. UCLA put it on, but it was people from all over. And at some point, I was like, 'Hey, does anybody here have secretarial skills? 'Cause I could really use an assistant.' And this young woman, Laura Louie, raised her hand."
From there, continued Harrelson, he invited Louie to meet him at his home the next day. Things worked out between them, Harrelson told the Hollywood Reporter, so he hired her. "She became my assistant the day after I met her and for the next three years," he said.
The two were not romantically involved at the time that Louie worked as Harrelson's assistant, and Harrelson added that he wasn't sure if he should act on the feelings that he developed for Louie. When he eventually got up the courage to do so, he said, Louie responded, "Woody, I've been in love with you for the last two and a half years." Based on this and the knowledge that they were together for 20 years prior to their marriage, they must have met around the time that Harrelson's marriage to Nancy Simon ended in 1986.
Harrelson and Louie have children together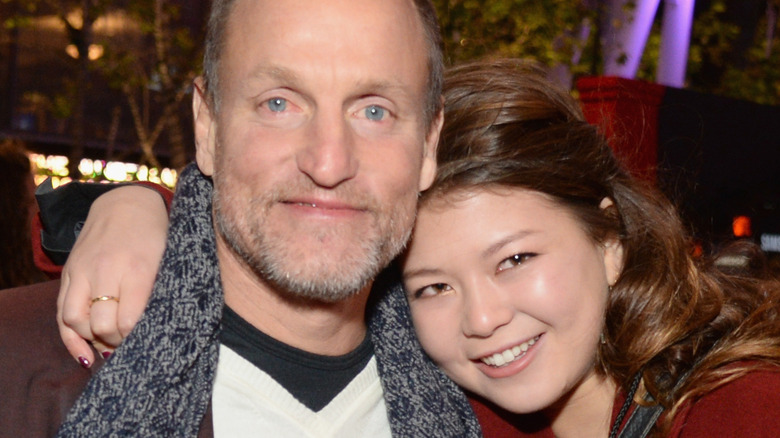 Michael Kovac/Getty Images
Woody Harrelson and his wife Laura Louie met in a way that seems like something out of a romantic film, but their relationship seems to have remained strong over the years, despite the Hollywood Reporter's note of a 2002 incident in which Harrelson was photographed in bed with three women who were not Louie. 
Additionally, the couple has been busy raising three daughters named Deni, Zoe, and Makani. The youngest of Louie and Harrelson's daughters, Makani, has been the most involved in the entertainment industry as of the time of publication. IMDb lists one credited role for Makani — in her father's film "Lost in London," in which she plays a character named Deni, the same name as her older sister — as well as one uncredited role.
Both Deni and Zoe appear to have remained less involved in the entertainment industry, though Zoe appeared alongside her father in the U2 short film released for the song "Song for Someone" in 2015.