Why Jimmy Kimmel Banned Vivica A. Fox From His Talk Show
Eugene Powers/Shutterstock
Vivica A. Fox fans probably shouldn't expect to see her back on "Jimmy Kimmel Live!" again anytime soon. In a feud you probably weren't expecting, it turns out Fox and Jimmy Kimmel actually have a history of bad blood between them, which — in what's probably even more of an unexpected twist — also involves none other than Star Jones.
For a little context, back in the day, Kimmel had a bit of a penchant for poking fun at the former "The View" co-host. The late night host made a few snide remarks about her around the same time Jones married her now former husband Al Reynolds in 2004. As you may or may not remember, Fox served as a bridesmaid during Jones and Reynolds' big day (alongside Holly Robinson Peete), proving these two are super close friends.
That leads us to a pretty sticky situation between Fox and Kimmel that all blew up when the latter interviewed the former on his late-night talk show...
Vivica A. Fox had a frosty interview with Jimmy Kimmel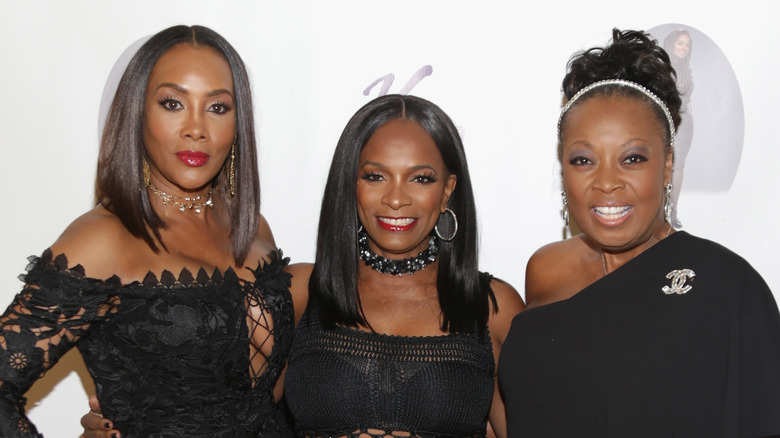 Jerritt Clark/Getty Images
For this one, we're throwing it back to 2005 when Vivica A. Fox appeared on "Jimmy Kimmel Live!" and didn't exactly get the introduction she was hoping for. Though footage of the awkward interview has pretty much been scrubbed from the internet, Kimmel began on a bit of a sour note by stating a few of the "Independence Day" star's achievements before adding, "...and most harrowing of all, Star Jones' bridesmaid." The two then had an awkward interview, as Fox told him, "We usually have really great comical moments, but that's my friend and I love her... It's not funny to me, so let's start over." But Kimmel pushed things further. "I'm desperate to make this work. You know what? The four of us should get together — me, you, Star, and Al [Reynolds]," he told her, to which Fox responded, "You would get your a** kicked" — and walked off.
Fast-forward to 2014 when Kimmel made an appearance on "Watch What Happens Live," and made it clear he would never have Fox back after the interaction. He gave more insight into why Fox was so frosty, claiming, "She may have been invited to Star Jones' wedding and I may have asked her if I could be the date to that wedding and Star Jones may hate me and may have yelled at her and she may have been very angry when [Fox] came back to our show."
Vivica A. Fox was surprised to learn of her Jimmy Kimmel Live! ban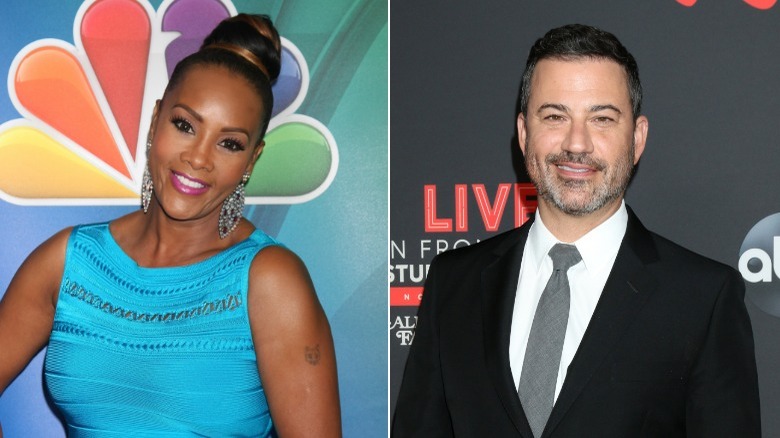 Kathy Hutchins & Kathy Hutchins/Shutterstock
It sounds like Vivica A. Fox wasn't even aware of her "Jimmy Kimmel Live!" ban until Jimmy Kimmel himself started talking about it in public, though, as she gave her side of the story on the drama-stirring "Watch What Happens Live" in 2015. "I was really surprised, because I used to go on his show all the time. And there was just one time that I went on the show and he dissed my good friend Star Jones," Fox explained. She also revealed the ban was extra surprising for her to learn about so many years later, as she claimed Kimmel had privately apologized to her over their awkward interview back in the day.
For what it's worth, though, Fox isn't the only one who isn't exactly welcome on the show. Appearing on (where else?) "Watch What Happens Live" in 2019, Kimmel revealed there are at least three other people he wouldn't welcome with open arms for an interview: Donald Trump Jr., Eric Trump, and Sean Hannity. Hey, at least she's not the only one, right?