The Astounding Amount Of Money That Led To NHL Player Patrick Kane's Assault Arrest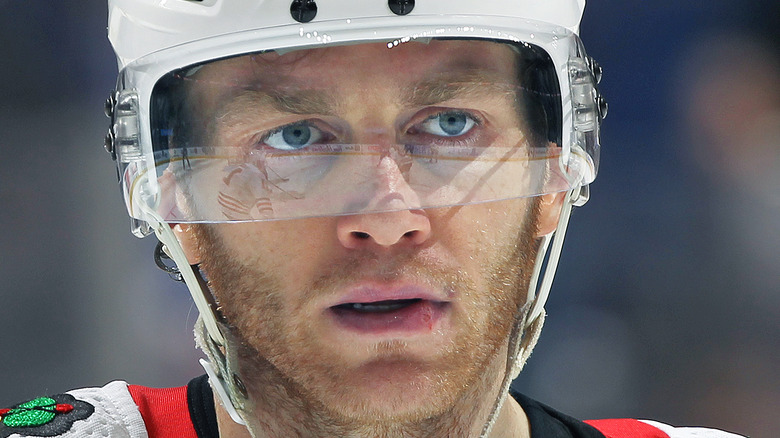 Claus Andersen/Getty Images
The following article includes allegations of sexual assault, reference to a racist remark and other violence.
The NHL is full of secrets and, just like in so many other sports, its athletes can't seem to stay out of trouble. While some players have been arrested, other athletes have made embarrassing confessions. One hockey star who has had difficulties staying within the law is three-time Stanley Cup champion Patrick Kane. The NHL considers him to be "one of the best United States-born players in NHL history" and indeed, he was the Blackhawks' No. 1 pick in the 2007 NHL draft. He's continued to make a name for himself with the team for over a decade, but his career highs have continued to be overshadowed by his questionable behavior. In fact, he's been involved in so many incidents that Bleacher Report once proclaimed in a headline "Patrick Kane belongs in jail." 
To say he's polarized fans would be an understatement. Just some of his headline-making behavior has included a wild limo party during the NHL season in 2010, allegations that he physically assaulted a woman and spewed antisemitic remarks in 2012, and accusations that he followed a woman into a bathroom in a Los Angeles bar in 2014 and sexually assaulted her. While he faced no legal repercussions for those incidents, there were two other major occasions in which Kane did come face-to-face with the law.
Patrick Kane's assault arrest is almost unbelievable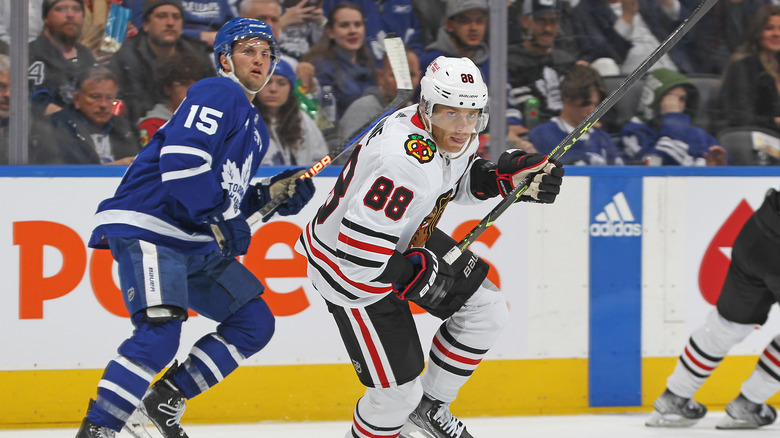 Claus Andersen/Getty Images
Patrick Kane has earned millions playing in the NHL and yet, it was a shockingly small amount of money that led the Chicago Blackhawks right winger to be arrested for assault. The unbelievable incident took place in 2009 in Kane's hometown of Buffalo, New York. According to Reuters, Patrick (who was 20 at the time) and his cousin, James Kane, hopped into a cab in the nightlife district around 4 a.m. on a Sunday and, as Chicago Sun Times reported, they clocked a fare of just $13.80. They then handed over $15 and when the driver told them he was $0.20 short with their change, he was allegedly assaulted, hit in the face and left with broken glasses. The 62-year-old cabbie claimed, "One guy pays and the other guy grabs me by the throat. Patrick Kane."
The cousins were initially charged with second-degree robbery, fourth-degree criminal mischief and theft of services, and Patrick pleaded not guilty. He also apologized. "Because I've put myself in being in the wrong position at the wrong time, I've caused a lot of pain for my family, my home town of Buffalo, the city of Chicago, the Chicago Blackhawks and obviously, the great fans we have here in Chicago," he said, per Toronto Star. "For that part, I sincerely apologize." Patrick eventually pleaded guilty to a non-criminal charge of disorderly conduct and was ordered to pay a $125 fine and apologize to the driver.
Patrick Kane's other major run-in with the law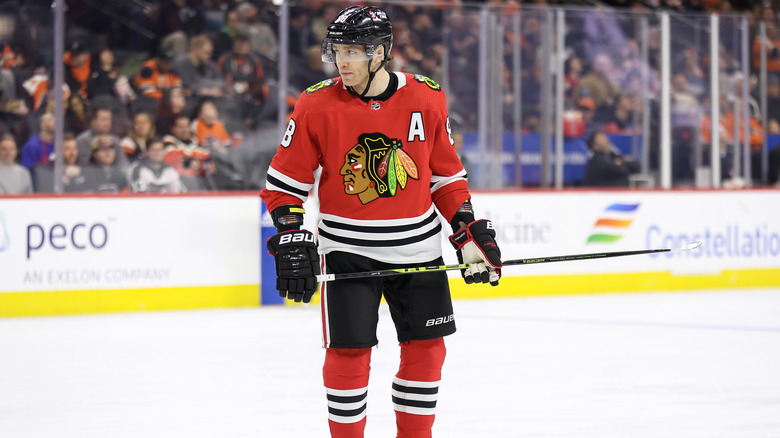 Tim Nwachukwu/Getty Images
The taxi incident wasn't Patrick Kane's only major run-in with the law. In August 2015, a woman accused the NHL pro of sexually assaulting her in his home after they met at a bar in Buffalo. However, the case took a turn in November when it was reported that the accuser no longer wished to be a part of the investigation. According to USA Today, she told investigators the case was simply too stressful and she signed an affidavit in which she promised not to prosecute Kane. The news came just days after a report claimed that Kane was unlikely to face criminal charges because "doubts have emerged about the woman's allegations." In the end, all charges were dropped. As Erie County prosecutor, Frank Sedita III, explained in a press release quoted by Chicago Tribune, there was plenty of reasonable doubt because "the totality of the credible evidence — the proof — does not sufficiently substantiate the complainant's allegation."
As for Kane, he issued a short statement after the case's dismissal. "I have repeatedly said that I did nothing wrong," he said. "I have respected the legal process and I am glad that this matter has now been closed and I will have nothing further to say going forward." Meanwhile, the NHL conducted its own investigation and, in March 2016, CBC reported that the league's review had resulted in a determination that the allegations were "unfounded."
If you or anyone you know has been a victim of sexual assault, help is available. Visit the Rape, Abuse & Incest National Network website or contact RAINN's National Helpline at 1-800-656-HOPE (4673).