Is Maude Apatow Close With Her Euphoria Co-Star Angus Cloud Off Screen Too?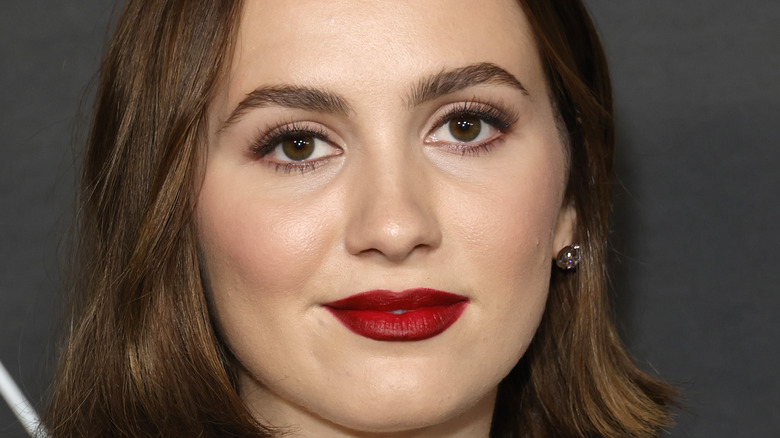 Frazer Harrison/Getty Images
"Euphoria" fans have quickly become Fexi stans thanks to Season 3 of the hit HBO series. Maude Apatow and Angus Cloud made people fall in love with their characters after they developed a relationship in the show. It seemed like an unlikely duo as Cloud plays a drug dealer named Fezco, and Apatow plays a seemingly innocent high school girl named Lexi. But, as they say, opposites attract, and it didn't take long for people to fall in love with the idea of "Fexi." Apatow shared with Entertainment Weekly her initial feelings about Fezco and Lexi's relationship as she believed it seemed like the right approach. She said, "Once we started talking about it, it totally made sense. And Angus and I, in real life, have a funny friendship. It all just happened. It all felt right as soon as we started talking about it."
With Cloud and Apatow's insane chemistry, fans hoped the two "Euphoria" actors would get together in real life. It's not uncommon for this to happen — we've seen it time and time again where co-stars who are dating on-screen end up dating off-screen. Despite fueling dating rumors in the past, the actors have assured everyone they're just friends. From frequent hangouts to sharing nice words about one another, it's clear though that Cloud and Apatow have a friendship unlike any other.
Maude and Angus have a close friendship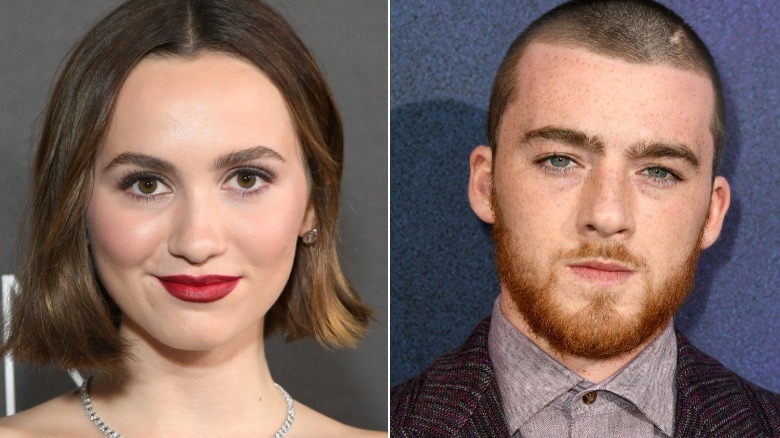 Charley Gallay & Kevin Winter/Getty
When it comes to off-screen relationships between co-stars, it can go one of two ways: Either they get along or they despise one another. Luckily, for Maude Apatow and Angus Cloud, their friendship is as strong as it is on-screen. The two "Euphoria" actors have had nothing but nice things to say about one another. Apatow shared with ET, "I love Angus. He's one of my close friends and I just love him." The friendship isn't one-sided, as Cloud has reciprocated the same sentiment for the 25-year-old.
The 24-year-old couldn't stop gushing about his co-star with Complex as he spoke about their work together. He said, "It was a blessing [to work with Apatow], man. I love working with Maude — she's the best. We always had a great time whenever we get to work together. She's hilarious. She cracks me up." It's a good thing the two get along so well because it helps create an insane chemistry between their characters. Apatow even helped Cloud with his character in Season 3 of the super popular HBO drama. Cloud, who's not an emotional guy, needed to tap into the sentimental side of his character Fezco, and thankfully Apatow was there to help him throughout it all. He shared, "Maude helps with that for sure. You gotta feel safe and comfortable to sort of open up. I always feel like that around her, so it's not too difficult."
Maude and Angus took their friendship to NYC
From friendship bracelets to matching outfits, we've all done one of the two classic things with our best friends. Even Maude Apatow and Angus Cloud solidified their best friend status when they showed up in matching outfits to New York Fashion Week in 2022. The "Euphoria" cast mates attended a fashion show in matching plaid outfits, and fans were absolutely loving it. Fexi stans couldn't get enough of the two actors as Cloud teased their brewing on-screen romance by posting a photo of him and Apatow on Twitter with the caption "Fexi." People immediately flooded the comments as the iconic snap made them fall in love with the actors and their characters even more.
The teasing didn't stop there, because Apatow and Cloud hung out outside the fashion show, too. The pair caught up over dinner as they posed for Cloud's Instagram story, via HITC. The two were smiling as the California native leaned on Apatow's shoulder, fueling the dating rumors even more. Cloud captioned the story, "A lil NYC date #Fexi." He seems to be just as much of a Fexi stan as the rest of the "Euphoria" viewers are! And until the next season of the show airs, Fexi lovers will have to rely on Apatow and Cloud's constant hangouts to fuel their passion for their on-screen relationship.