Selena Gomez Puts Bella Hadid Feud Rumors To Bed With Girl Crush Confession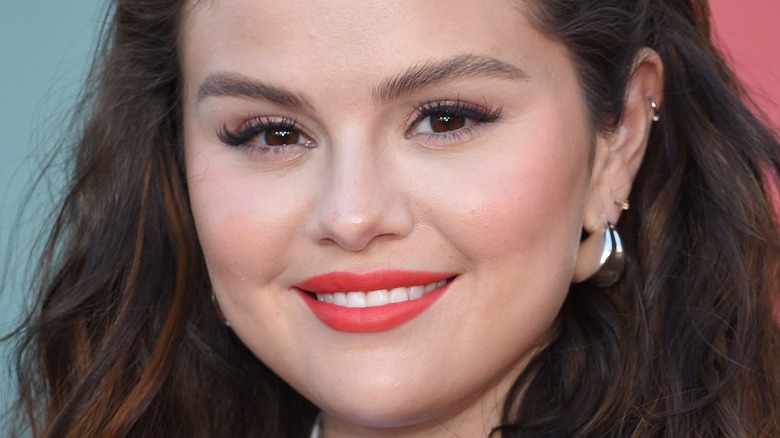 DFree/Shutterstock
Just because you've mended fences with your ex doesn't mean you're cool with... their ex? The much-speculated-about feud between Selena Gomez and Bella Hadid traces back to the fact that the Golden Globe-nominated actor and the supermodel both dated The Weeknd in subsequent years. After the "Blinding Lights" singer's Hadid romance ran its course from April 2015 to November 2016, he and Gomez began dating the following January. In the February 2017 issue of Teen Vogue, Hadid said that their breakup will "be hard for a while," as "love hurts."
The Weeknd and Gomez broke things off in October 2017 and — the really messy part — a month later, he was back together with Hadid (the pair eventually separated for good in 2019). At the time, Gomez told Billboard she took pride in having "such a true friendship" with her ex. "We ended it as best friends, and it was genuinely about encouraging and caring," she reflected.
That didn't stop feud rumors between her and Hadid from running amok, however. Eagle-eyed fans watched as Gomez and Hadid unfollowed, re-followed and unfollowed each other again and again on Instagram. In 2020, after Hadid deleted a post on which Gomez had called her "stunning," she faced intense backlash from Gomez's Selenators — so much so that Gomez stepped in, labeling it "all a misunderstanding."
Now, the "Rare" singer seems to be shutting down rumors of her and Hadid's mutual tension for good, via a highly complimentary TikTok.
Selena Gomez expresses desire to look like Bella Hadid
Selena Gomez expressed nothing but admiration for Bella Hadid in a recent, self-effacing TikTok. In the since-disappeared February 21 video, Gomez experimented with a filter designed to emulate Hadid's facial features, one that thinned out her nose, gave her an eye lift, plumped her puckers and added a smattering of freckles across her nose. Gomez mouthed over a viral sound utilizing the supermodel's voice, "So, my name is Bella Hadid." Making it clear this was a tribute to the model, the "Only Murders in the Building" star's on-screen caption read, "I wish I was as pretty as Bella Hadid." 
In a following clip, Gomez does a face reveal minus the filter, saying in self-deprecation, "Instead, this is me. I accidentally laminated my brows too much." The actor also said, "My name is Selena Gomez," commenting that, this time, "it doesn't even sound sexy." Gomez even added an additional self-critique to followers: "Also I need a lint roller guys."
Only days ago did another one of Gomez's TikToks make a splash for clapping back at body-shamers. Going live on the platform on February 16, Gomez addressed comments about her fluctuating weight. Having been open about her lupus diagnosis for a while, Gomez explained that her medication tends to make her hold and lose water weight off-and-on. "I would much rather be healthy and take care of myself. And my medications are important," she stated firmly. Yes, girl.