Did Rihanna Really Feud With Naomi Campbell Over Her Ex Hassan Jameel?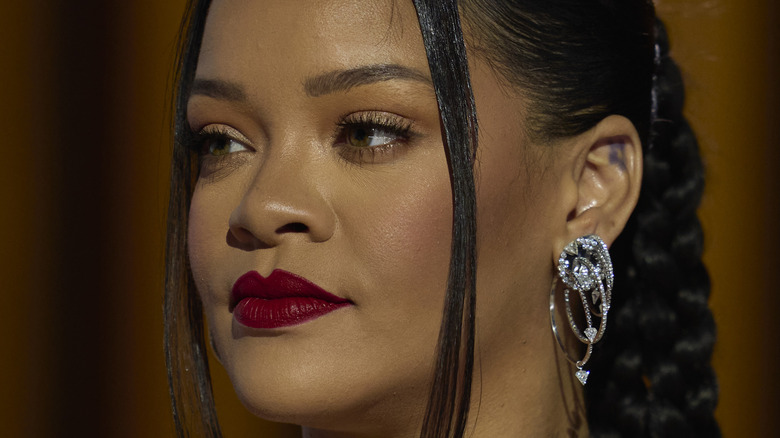 Cooper Neill/Getty Images
Rihanna and Naomi Campbell are two of the most famous people on the planet. They also happen to be very good friends — or, used to, at least, before the "Diamonds" singer started romancing her ex-boyfriend, Saudi billionaire Hassan Jameel. 
As die-hard fans of the pop superstar would know, she and Jameel first sparked dating rumors after they were seen hanging out and being cozy in Spain in 2017. They'd been spotted out together several times since, but the ultra low-key pair managed to keep their relationship out of the press for the most part. Sadly, they decided to end things after three years of dating after reportedly realizing they weren't meant for each other. "Their lives were too different and it was hard to maintain a relationship," a source told People at the time. 
So, what about Campbell? Well, while Rihanna and Jameel were still together, rumors swirled of a possible beef between the two women after they appeared to unfollow each other on social media. The reason? Possibly Campbell's own history with Jameel. Oof! It's unclear whether the two ever dated, but back in 2016, just months before he started seeing Rihanna, the handsome businessman was photographed with Campbell at a summer music festival in London and being very cozy. An insider told The Sun that this may have caused the rift between RiRi and Campbell, as the supermodel reportedly hates "being second best" to the "Work" hitmaker. But what was the truth? Did Rihanna really feud with Campbell over her rich ex?
Naomi Campbell speaks up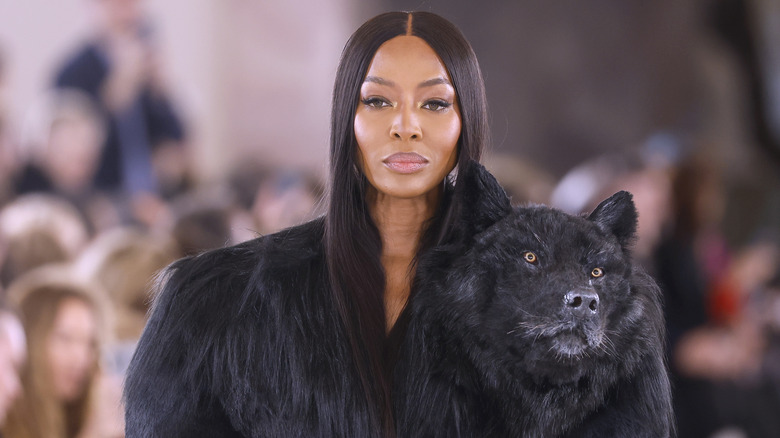 Estrop/Getty Images
There was no drama, at least as far as Naomi Campbell is concerned. Following reports of her feud with Rihanna, the '90s supermodel went on Andy Cohen's "Watch What Happens Live" to speak out on the rumors and shed a light on their situation. 
In response to a fan's question regarding their supposed beef, Campbell said that she and Rihanna were "fine." "Everything's fine. Of course, it's fine," she said, before giving Cohen a wink. She then added, "I'm an actress now, Andy." But just before the tabloids could twist her words and make it headline fodder, Campbell quickly backtracked on her statement and claimed that she doesn't have beef with Rihanna, nor anyone else. "I don't have beef, especially with Black women that I think are powerful," said Campbell, adding, "We're out there doing the same thing, and doing the same struggle."
And while Campbell already made it clear that she and Rih were "fine," it's undeniable that the two stars, who once considered each other to be like sisters, have drifted somewhat apart. For starters, they still don't follow each other on Instagram. Also, the last time that they were seen together in public was way back in 2016, when Campbell attended Rihanna's FENTY x Puma Fall Show for New York Fashion Week. However, the following month, she also supported Rihanna at her "ANTI" concert at Barclay's Center in NYC. Could it be that this friendship is over? 
Naomi Campbell and Rihanna had a lot of love for each other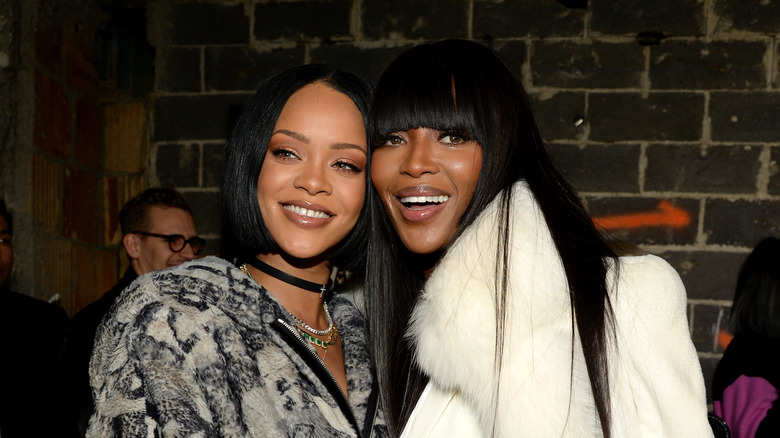 Kevin Mazur/Getty Images
Before all the Hassan Jameel drama, Rihanna and Naomi Campbell were famous BFFs. They were incredibly close — having first met through mutual friends in the industry — and were highly supportive of each other's careers. Back in 2016, Rihanna could not help but gush after Campbell gave her Fenty collection a stamp of approval by wearing her pieces for a Vogue Italia fashion shoot. 
Taking to Instagram, the "Needed Me" singer expressed her love and admiration for the legendary supermodel. "This is a crazy feeling man!" she began. "From the very first moment in your career, you've touched and inspired so many young girls all over the world! I was one of them, and to see this come full circle is a trip to say the least!" She then gushed about what kind of friend Campbell is. "One that will pick up the phone at any hour of the night, one that still makes time even when she has none just to send me vitamins and facial products, or even tanning oil for my vacation," said Rihanna. "You're a true beauty. One love!" The post has since been taken down, however.
On Rihanna's 28th birthday that same year, Campbell also showered the pop superstar with love as she wished her a great one on social media. "Love and adore you, my sister," wrote the supermodel, before describing Rih as an "#icon" and "#queen." Here's to hoping things haven't changed between these two after all.