Avril Lavigne And Sum 41's Deryck Whibley Are Still Friends After Their Divorce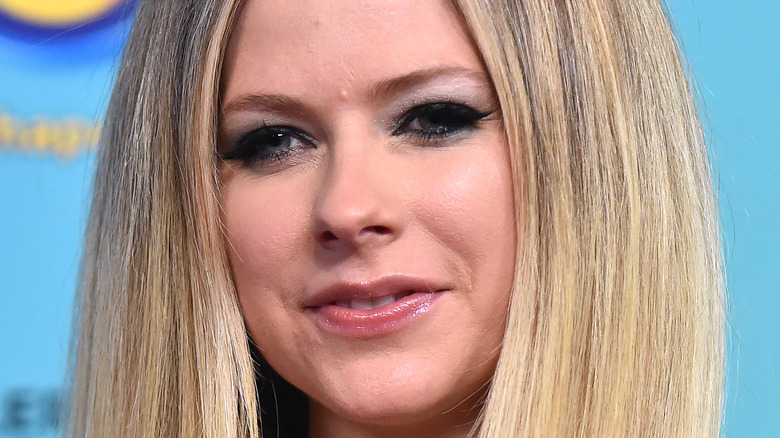 DFree/Shutterstock
Avril Lavigne and Deryck Whibley were one of our favorite punk-rock couples from the early 2000s. "I made out with him the first day I met him. He gave me my first shot of Jäger. I had a tie on — it was back in the days of the tie. I was 17. As I was getting carried out of the bar I saw Chad from Nickelback! Isn't that funny?" she told "Rolling Stone" in 2011. The two started dating when Lavigne was 19 and Whibley was 23. The Sum 41 frontman popped the question in 2005, and the two married a year later during an intimate ceremony in California.
Lavigne and Whibley were married for three years when they announced their divorce in 2009. "I admire Deryck and have a great amount of respect for him. He is the most amazing person I know and I love him with all my heart. Deryck and I are separating and moving forward on a positive note," Lavigne shared at the time.
"The past 6 and a half years have been the most amazing years of my life. It's sad it has come to an end but Avril and I are still family and moving forward in the most positive way possible," Whibley wrote. Despite ending their marriage, the two have carried mutual love and respect for each other and have remained friends.
Avril Lavigne and Deryck Whibley collaborated on Goodbye Lullaby together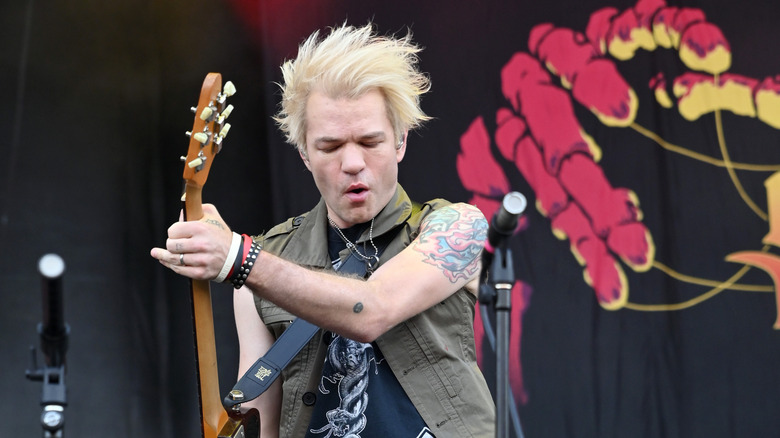 Stephen J. Cohen/Getty Images
Avril Lavigne and Deryck Whibley have proved that a divorce doesn't have to be the end of a relationship. Following their split, the two exes collaborated on Lavigne's fourth album, "Goodbye Lullaby." Lavigne had only positive things to say about her ex while speaking to Rolling Stone. "Deryck is the most talented person I know. He produced, mixed, played guitar and bass. I wouldn't say it's a breakup record. It's about life. I went into it with a mindset of not trying to write hits. People will make assumptions, but they'd be surprised what certain songs are about," she explained.
Whibley channeled his emotions about the divorce into his artwork, releasing "Screaming Bloody Murder" with his band Sum 41 that same year. "I wrote a lot of these songs in a dark period, because, going through the divorce period was a very hard, dark time. And what I realized, I guess, is, when you're going through something ... you go super, super low, and then when you can come out of it, what you thought was your highest point becomes even higher," the rocker mused to MTV. While divorce is often difficult for all parties involved, over time, Whibley moved on. And eventually, found himself comfortable enough to hang out with his ex-wife's new boyfriend. 
Avril Lavigne and Mod Sun enjoy a pleasant outing with Deryck Whibley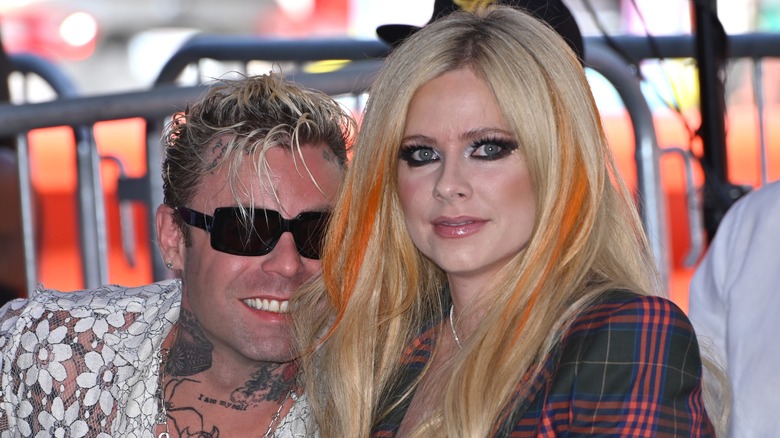 Featureflash Photo Agency/Shutterstock
Who says exes can't be friends? In February 2022, Avril Lavigne and her then-boyfriend Mod Sun were spotted having dinner with Deryck Whibley. The Daily Mail caught the trio leaving Nobu, with Lavigne and Mod Sun holding hands. The "Sk8ter Boi" singer gave her ex-husband a friendly hug while saying goodbye, with Whibley and Mod Sun also exchanging a quick hug before parting ways in their respective cars.
The following March, Lavigne and Mod Sun got engaged, but a source told People in February that the couple had split. However, Mod Sun's camp shared, "They were together and engaged as of three days ago when Mod left for tour so if anything has changed that's news to him. Mod will be performing tonight in Portland at The Hawthorne Theater."
Whibley married model Ariana Cooper in August 2015, and the two appear to be going strong. On September 18, 2022, he shared on Instagram that they had celebrated their seventh wedding anniversary and were expecting a second child. Lavigne is undoubtedly happy for her ex-husband/friend.