Adam Levine Isn't Related To Avril Lavigne (But He's A Big Fan)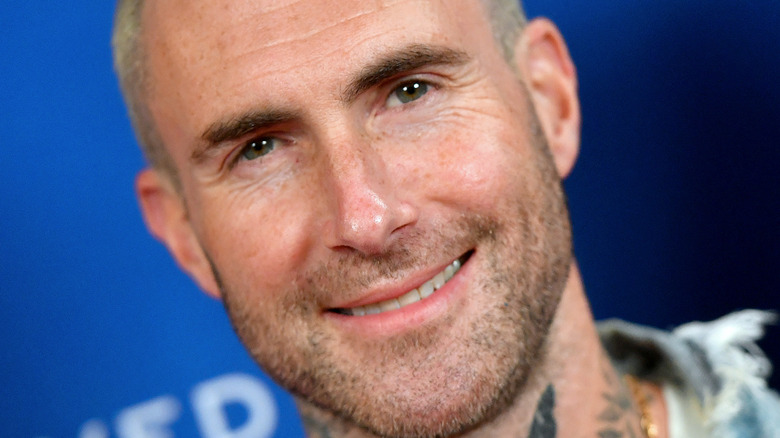 Paras Griffin/Getty Images
With so many celebrities popping up nowadays, it's hard to keep track of who's who. Not to mention, it's even worse when people share the same name or similar ones. It's also interesting when you look at siblings or relatives throughout Hollywood who look just like each other. Sometimes it feels like the show business industry is just one big family tree. But sometimes, you'll be surprised to know when celebs aren't related. And if you ever made the mistake of thinking Adam Levine and Avril Lavigne are siblings or related, you wouldn't be alone. However, that's also not the case.
Adam Levine is a singer and frontman for the über-popular band, Maroon 5. The band has made seven albums together, with their first — "Songs About Jane" — debuting in 2002. It would go on to be one of their most beloved albums. Avril Lavigne, on the other hand, has been solo her whole career. Beginning with her first album in 2002, "Let Go," she was the pop-rocker princess who came out with rebellious anthems like "Complicated" and "Sk8er Boi." So, is there any connection between Levine and Lavigne? Let's find out.
Adam Levine and Avril Lavigne are, indeed, not related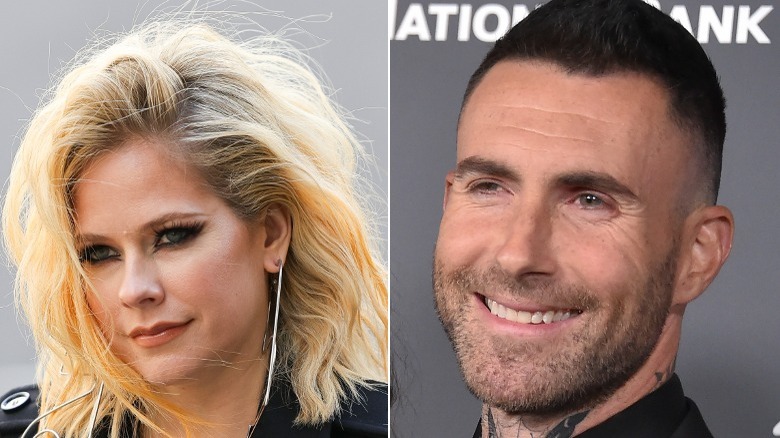 DFree/Shutterstock & Jacopo Raule/Getty
Besides the fact that Adam Levine and Avril Lavigne have the same last name phonetically, the spellings are, of course, different. That should have been your first hint that they're definitely not related. But in addition to that, mistaking them for siblings doesn't quite make sense either, since Lavigne is Canadian, having grown up in Ontario, while Levine is American, having grown up in Los Angeles, CA. However, the two have weirdly similar journeys in addition to their nearly identical last names.
As stated above, Maroon 5 and Avril Lavigne both released their debut albums in 2002, which were also their breakthrough albums. And they both started their music careers within five years of each other; Levine started a garage band called Kara's Flowers in 1994 and Lavigne won a radio contest to sing with fellow Canadian Shania Twain in 1999. They didn't have similar styles of music when they both made it big, however. As we all remember so well, Avril Lavigne's early music was all about angst and grunge. She was known as a pop-punk star, but if you asked her what she wanted to be called, she would have preferred to be known as "just a rock chick." And Levine's band, Maroon 5, was very much rock as well, but closer to pop-rock as they made a name for themselves with their own unique style.
Adam Levine is a big fan of Avril Lavigne's music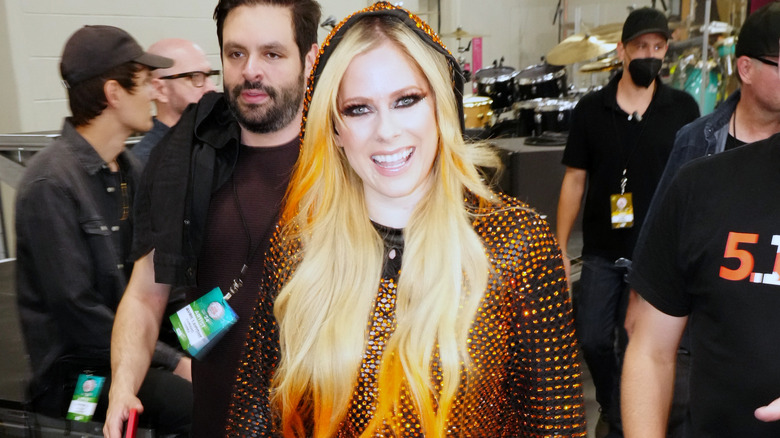 Jeff Kravitz/Getty Images
Even though Adam Levine and Avril Lavigne aren't related, Levine is still a fan of the well-known rocker chick. He told Apple Music's Zane Lowe in March 2021 that he played a lot of Lavigne's music for his daughter, Dusty Rose. He enjoyed taking a trip down memory lane to when these songs came out, and he especially loves Lavigne's song "I'm With You" from her debut album. "That gives you tears. It's crazy, because you don't remember it in the same way, because you took it for granted," the Maroon 5 frontman said. "Because it was when you were growing up, and it was just part of what you had on the radio. But there's some really great songs that I didn't understand how good they were back then."
But, hey, turns out mixing Avril Lavigne up for Adam Levine is a pretty common mistake. Ask "Vanderpump Rules" personality, Lala Kent, who did that very thing at SUR. "I sat Avril Lavigne when she was dating the guy from Nickelback [Chad Kroeger], and they called and made a reservation, and I thought they said 'Adam Levine,'" she told Andy Cohen on "Watch What Happens Live" in 2021. "So when Avril walked in, I told her she had to wait for a table because I was expecting Adam, and I got ripped for that." Yeah, she got in big trouble for that, as you could imagine.