The Tragic Death Of Carolina Panthers Founder Jerry Richardson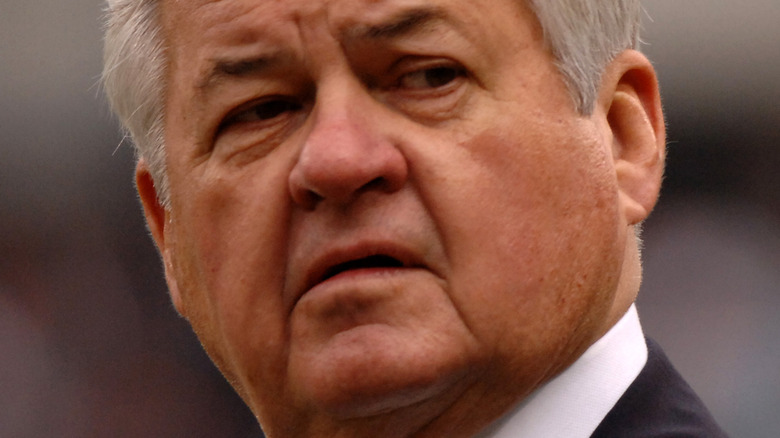 Al Messerschmidt/Getty Images
Former founder of the Carolina Panthers, Jerry Richardson, has died at the age of 86. The NFL team broke the news Richardson passed away on their website, although they did not reveal how the founder passed away. Current owners of the Panthers, David and Nicole Tepper, released a joint statement on how much of an impact Richardson made on the sport and the Panthers themselves. They wrote, "Jerry Richardson's contributions to professional football in the Carolinas are historic. With the arrival of the Panthers in 1995, he changed the landscape of sports in the region and gave the NFL fans here a team to call their own. He was incredibly gracious to me when I purchased the team, and for that I am thankful."
Since the beginning, Richardson has always had a passion for football, per the Panthers. In fact, he ended up playing for the Baltimore Colts. for two seasons. His career, however, was short-lived due to a disagreement over money. Still, Richardson came back to football, but this time as a founder and owner of the Panthers. Even though Richardson has put on such a strong front, he has faced various health struggles and misconduct allegations, per The New York Post. In 2017, Richardson revealed he was selling the Panthers, which later ended up going to the Teppers.
Jerry Richardson's career was controversial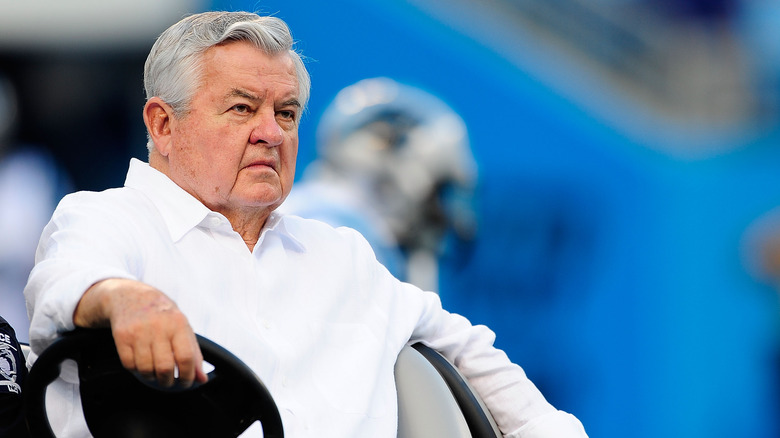 Grant Halverson/Getty Images
Jerry Richardson's work with the Carolina Panthers was tarnished after Sports Illustrated released a 2017 article alleging the owner was involved in workplace misconduct. According to the outlet, there were multiple occasions where Richardson had made inappropriate comments toward women in the office. He allegedly once said to women, "Show me how you wiggle to get those jeans up. I bet you had to lay down on your bed to fit into those jeans..." In addition, the Panthers owner reportedly requested women to come to his office, where he would ask them to give him foot rubs. Unfortunately, the allegations of sexual harassment weren't the only complaints from former employees about Richardson.
The former Panthers owner also reportedly said racial slurs in his office and would make inappropriate comments about African Americans wearing dreadlocks. At one point, he reportedly called an African American scout a racial slur. The scout ended up quitting and took legal action against Richardson, which was settled out of court. In addition, Richardson allegedly made confidential settlements and payments to those who complained about him.
In the end, the NFL stepped in and investigated Richardson. Team spokesman Steve Drummond said at the time, "The Carolina Panthers and Mr. Richardson take these allegations very seriously and are fully committed to a full investigation and taking appropriate steps to address and remediate any misconduct." Not long after, Richardson revealed he was selling the Panthers and was later fined by the NFL for the allegations, per ESPN.