The Young Age Solange Knowles Was When She Had Her Son Julez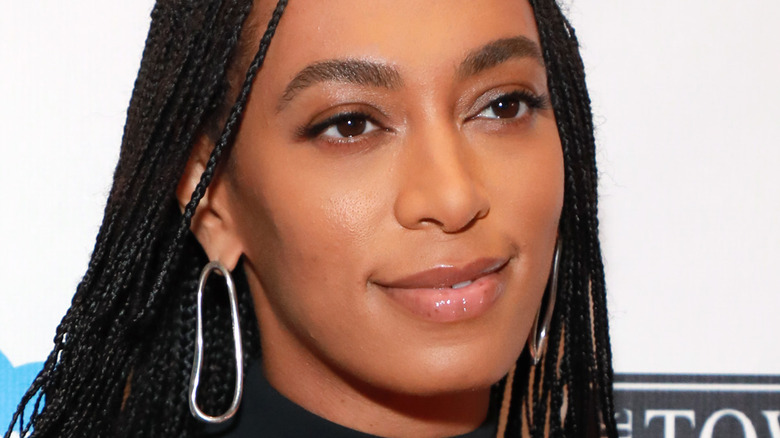 Jason Mendez/Getty Images
Solange Knowles may be known to some as Beyonce Knowles' sister, but the artist has undoubtedly carved out her own place in the music industry. Pairing soulful vocals with a magnetic stage presence, the singer-songwriter has captivated audiences for many years. Knowles actually began her career as a backup dancer for Destiny's Child, and was featured on their 2001 album "8 Days of Christmas." Solange released her debut album "Solo Star" in 2003 and went on to record popular hits such as "Losing You" and "Don't Touch My Hair." In 2017, she won a Grammy award for best R&B performance for her song "Cranes in the Sky."
As far as her personal life, Solange has a son named Daniel Julez Smith Jr., who's called Julez for short, per HollywoodLife. Being a mom was undeniably challenging for Solange, especially as she tried to balance parenting duties with her blossoming music career. Over the years, she's opened up about both the difficulties and rewards that have come with motherhood, especially because she became a mom at a very young age.
Solange Knowles gave birth to her son at 18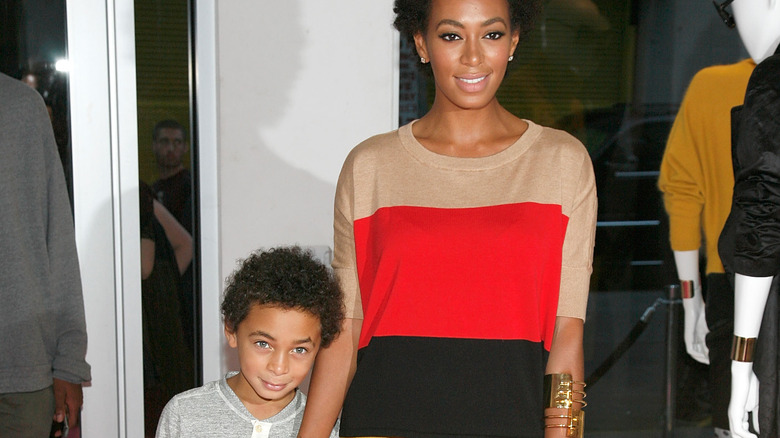 Andy Kropa/Getty Images
Solange Knowles has experienced profound emotions in raising her son Julez over the years. On October 18, 2004, she gave birth to him at just 18 years old. She shares Julez with her teenage sweetheart, Daniel Julez Smith. They tied the knot when Knowles was 17, and she relocated to Idaho where Smith was in school, raising Julez there in his early years. In a 2017 Elle cover story, the singer revealed, "It was one of the most bittersweet moments of my life because I was so in love with Julez, and having spent a lot of time on the road, I yearned to be in one place, to have the opportunity to really ground myself with him." However, she added, "But it was isolating and lonely, and so cold and dark. And it was just Julez and me most of the time. It was hard to imagine being able to progress in my career in any way." Knowles and Smith divorced a couple of years later. 
That same year, Knowles wrote a moving letter to her teenage self for Teen Vogue, where she noted that "seventeen will be the hardest year of your life." She detailed her anxieties looking ahead, writing, "You will be terrified, and it's ok that you don't know what the future holds." However, she included a positive affirmation about her choice to have Julez at a young age, adding that she "made the decision out of love."
Solange Knowles is a devoted mother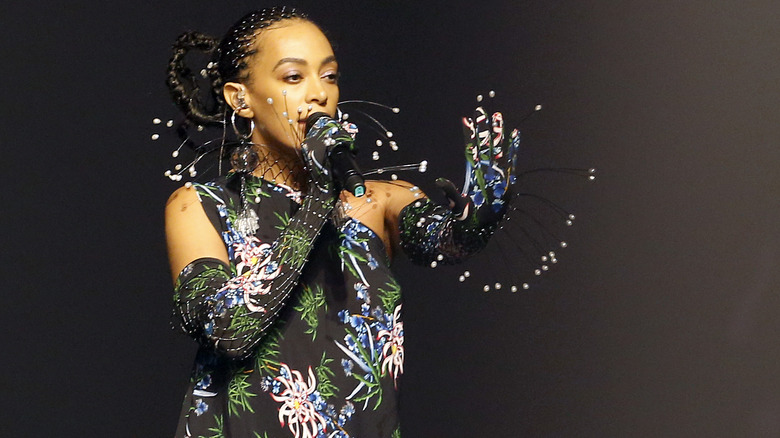 Thierry Chesnot/Getty Images
Solange Knowles is a hands-on mom who has made a strong effort to be involved in Julez's life. In a 2011 interview with "Young Hollywood," she said, "Mommyhood is really major right now. I am currently planning a gala fundraiser for my son's school." At the time, she put music on the back burner to focus on her son. When asked about her next album drop, she replied, "It's coming, it's coming, but this is my son's first year of kindergarten, so it's really exciting."
Motherhood comes with its share of inevitable hurdles, which Knowles is no stranger to. So, what's the singer's trick for managing it all? In 2013, she told Brooklyn Magazine, "I do the best I can, which involves a lot of saying no to things, actually, and a lot of really organized scheduling and a lot of help, to be honest." As for raising her son, the star has done her best to discipline Julez as needed. In a 2013 interview with Hot 97, she explained that she had strict regulations for her son's screen time. In addition, she shared, "I feel like moving to New Orleans and putting him in school there was a good move for keeping him humble. He's just around a lot of sweet, nice, normal kids." Solange may be a superstar, but she's also a proud mom who's worked hard to keep Julez grounded.