The Weeknd Had A Difficult Life Growing Up (& Ended Up In Jail)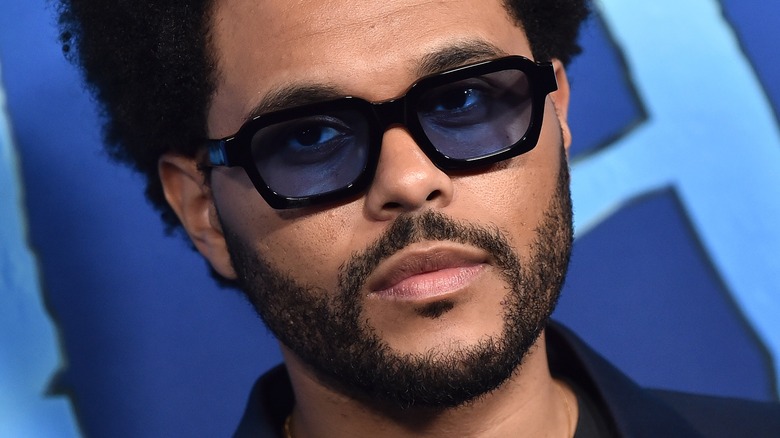 DFree/Shutterstock
There's no denying that The Weeknd is one of the music industry's hottest hitmakers. With songs like "Blinding Lights" and "Starboy," as well as four Grammy wins under his belt, the artist has proven he's a force to be reckoned with. He's also made headlines for his high-profile romances with celebrities like Bella Hadid and Selena Gomez. And while he's known to be somewhat enigmatic, he has opened up about his personal life at times.
In a 2021 interview with GQ, The Weeknd talked about his alcohol and drug habits, calling himself "sober lite." While he admitted that he smokes marijuana, he shared that he's not much of a drinker. In addition, he noted that he no longer does drugs. He explained, "Drugs were a crutch. It was me thinking that I needed it. And not doing the work to figure out how not to need it. And I've spent the last few years realizing that and thanking God that I don't need it. Because for a lot of people, it's hard to shake it. But I knew I didn't want it." This revelation marked a major turning point for the superstar, who once partook heavily in drugs. As a teenager, The Weeknd faced difficulties that included chronic drug use and a stint in jail.
Inside The Weeknd's rough teenage years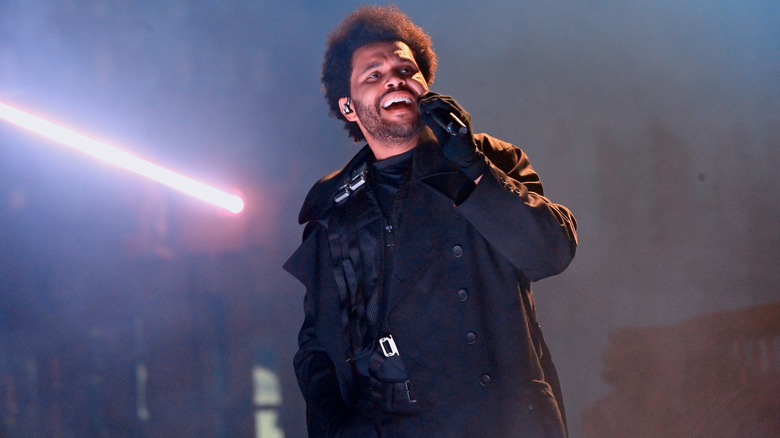 Paras Griffin/Getty Images
The Weeknd — whose real name is Abel Tesfaye — experienced his share of hardships growing up. He was raised by a single mom in a suburb of Toronto, according to The Guardian. He had a tight bond with his mother, who took on multiple jobs to care for him. However, during his teenage years, his lifestyle took a major dip. When The Weeknd was 17, he and his best friend La Mar Taylor convinced each other to drop out of school. They then rented an apartment and spent their little amount of money on alcohol and various drugs including ketamine, cocaine, and MDMA. The Weeknd reflected on these tough experiences, saying, "I could have ruined my whole life by dropping out of school. The consequences might have been horrible." He noted that he was in a "dark hole" at the time and didn't feel like himself when abstaining from drugs.
As noted by The New York Times, The Weeknd and Taylor would steal from their local supermarket. When the singer got evicted from his apartment, he would tell girls that he was romantically interested in them so they would provide him a place to stay. "There was, like, three girls that thought legit that I was their boyfriend," he revealed. He eventually secured a job at American Apparel. At that point, he began writing and recording music.
The Weeknd had multiple stints in jail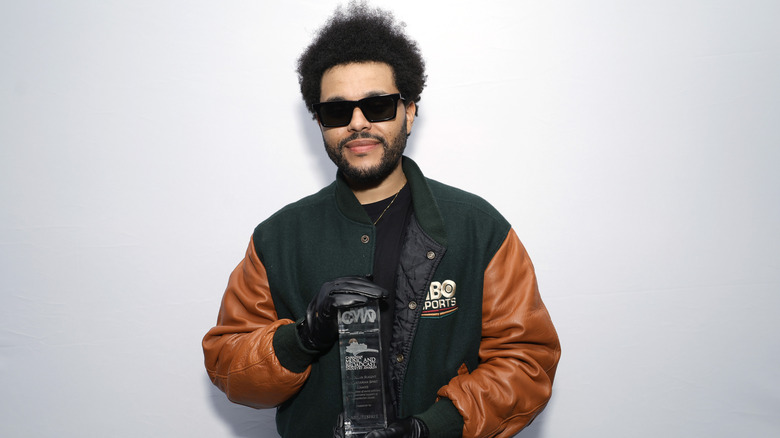 Frazer Harrison/Getty Images
At age 18, The Weeknd ran into some issues with the law. While he hasn't revealed the exact details of what happened, he did tell The Guardian that he had to put in some jail time. He shared that it was "bad enough for me to smarten up, to focus." He added, "A lot of people don't get that second chance. But around that age, you usually get one second chance after a slap on the wrist. And you either take the experience and think, 'This is it, final straw,' or you don't."
However, his legal troubles didn't end there. In 2015, The Weeknd was arrested for punching a cop. Law enforcement authorities told TMZ he was engaged in a fight in Las Vegas. Cops tried to disband the fight and one of them led him into an elevator, which is where The Weeknd punched him in the head. He was then taken to jail for battery of a protected person. Once he was released on bail, he shared a photo of himself boarding a private jet, writing, "escaped from Las Vegas." Following his arrest, he had to take anger management courses, an alcohol evaluation, and complete community service hours, per E! News.
If you or anyone you know needs help with addiction issues, help is available. Visit the Substance Abuse and Mental Health Services Administration website or contact SAMHSA's National Helpline at 1-800-662-HELP (4357).