Rob Lowe's Life Was On A Much Different Path Before He Got Sober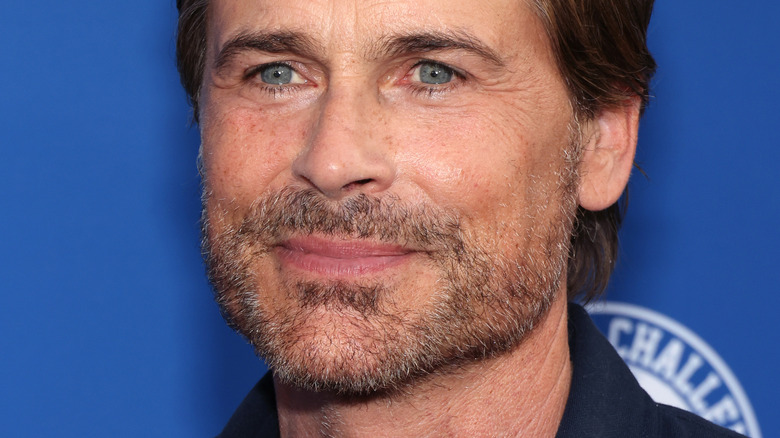 David Livingston/Getty Images
This article contains discussions of alcohol addiction and drug use.
Rob Lowe is known to one generation as the wholesome Chris Traeger in "Parks And Recreation." But the origins of his long career were filled with partying, drinking, and a headline-grabbing sex scandal. Lowe ran with Hollywood's so-called "Brat Pack" which included his pals Charlie Sheen and Emilio Estevez, known for their wild lifestyle in the mid-1980s, per Post Bulletin. Writer David Blum came up with the "Brat Pack" nickname for a New Yorker article. He described the group of friends as "a roving band of famous young stars on the prowl for parties, women, and a good time."
However, drinking wasn't Lowe's only problem in his early twenties. In 1988, just ahead of the release of his erotic thrillers "Bad Reputation" and "Masquerade," a salacious tape became public knowledge, per People. Following the tape, which involved a woman and a 16-year-old who came home with the actor after a night of clubbing, Lowe faced a series of lawsuits that were eventually dropped, via USA Today. Rob Lowe was flying high in the 80s, but the sex tape scandal kicked off a series of blows that helped the beloved actor get sober. 
Rob Lowe recalls hitting rock bottom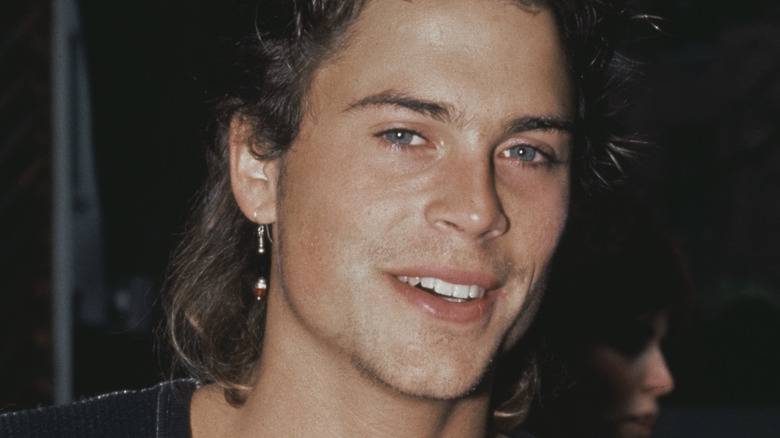 Michael Ochs Archives/Getty Images
The actor became dependent on alcohol as he would drink day in and day out. The years of drinking led the "St. Elmo's Fire" actor to truly hit rock bottom at just 26 years old. The 1988 sex tape scandal that knocked his career off track helped him find his way. In 2019, Lowe would call the tape "the best thing that ever happened to me ... because it got me sober," during his one-man show "Stories I Only Tell My Friends: LIVE!" via People. 
Two years after the tape, in 1990, Lowe arrived back at his place after a late night of partying. A normal day turned into a nightmare when he received a panicked message from his mother, Barbara Helper. The actor's mother told Lowe that his grandfather had suffered a heart attack. Helper begged Lowe to pick up the phone, but he didn't.
Lowe said in an interview with People, "I remember going into the bathroom, looking at myself in the mirror and my thought process was, 'You need to drink directly from this bottle of Cuervo Gold so you can go to sleep, so you can wake up, so you can deal with this." He went on, "Out of all the things that had gone on in my life, that was the thing where finally I went, 'This is no way to live.' I went to rehab 48 hours later." From that day, the actor completely turned his life around.
Rob Lowe is 30 years sober
David Livingston/Getty Images
Lowe went to rehab after hitting rock bottom at only 26. The actor shared, "​​From 26 on, I've invested in me; my spirituality, my recovery, my marriage, my family. A lot of it has been, excuse me, f***ing hard. And no one has a perfect life... but I'm grateful for all of it." As each year passes, Lowe makes an incredible stride from the person he once was.
In 2020, the actor shared a celebratory post on Instagram as he reached the remarkable milestone of being 30 years sober. Lowe wrote, "30 years ago today, I found a sober life of true happiness and fulfillment. I am filled with gratitude on this anniversary ... If you or someone you love is struggling with any kind of addiction, there is hope..." To this day, Lowe remains sober, and we are happy to see that the actor got his life and career back on track.
If you or anyone you know needs help with addiction issues, help is available. Visit the Substance Abuse and Mental Health Services Administration website or contact SAMHSA's National Helpline at 1-800-662-HELP (4357).