Jay-Z And R. Kelly Have A History Of Working Together Before Their Feud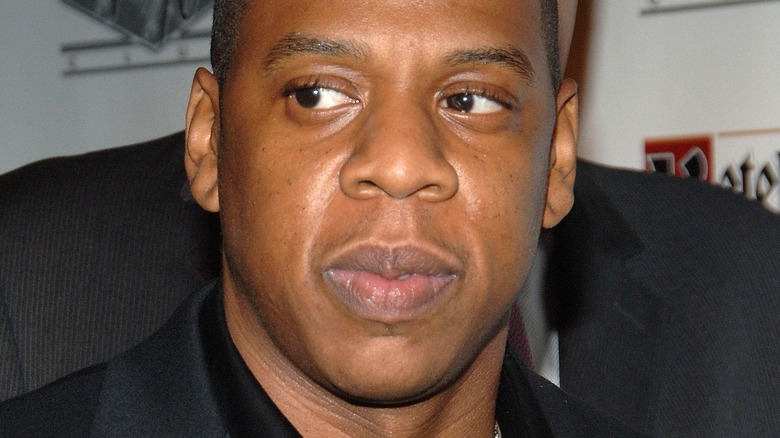 Everett Collection/Shutterstock
This article contains reference to sexual abuse.
Jay-Z's got ninety-nine problems, and his timeline of working with R. Kelly is definitely one. Over the years, there have been plenty of sketchy stories about Jay-Z that we hoped weren't true. Still, it turns out that his ongoing collaboration with Kelly, while he was battling multiple allegations of child sex abuse, was only too real. Jay-Z's attempts at feigning ignorance of Kelly's underage preferences are kinda hampered by the fact that the then-27-year-old had married his 15-year-old protege, Aaliyah, in 1994.
Then, in 2000, it was reported that the self-professed "Pied Piper of R&B" used his celebrity status to sexually assault minors. The floodgates opened, and multiple women testified to being forced to have sex while underage, often in group scenarios. In 2002, Kelly was indicted on 21 counts of child pornography after a sex tape with an alleged minor surfaced. He was acquitted six years later. However, per CNN, there was no escaping the 30-year sentence Kelly was handed in 2021 for sex trafficking. He was hit with another 20 years in 2023, this time for child pornography and enticement of a minor.
In a resurfaced interview from 2002, Nas told Wendy Williams that he and Jay-Z had both known about Kelly's predatory behavior long before it hit the headlines. However, Nas distanced himself from the pedophile while Brooklyn's Finest allegedly turned a blind eye. That would explain why Jay-Z and R. Kelly had a history of working together before their feud.
If you or someone you know may be the victim of child abuse, please contact the Childhelp National Child Abuse Hotline at 1-800-4-A-Child (1-800-422-4453) or contact their live chat services.
If you or anyone you know has been a victim of sexual assault, help is available. Visit the Rape, Abuse & Incest National Network website or contact RAINN's National Helpline at 1-800-656-HOPE (4673).
Jay-Z and R. Kelly's collaboration and feud timeline is problematic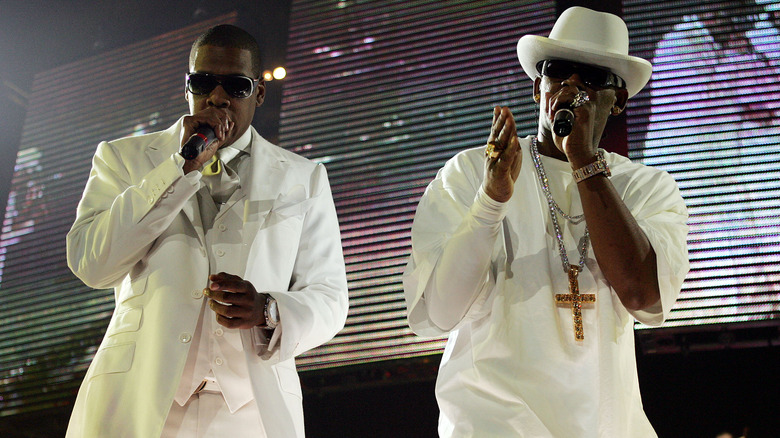 Frank Micelotta/Getty Images
Some celebs spoke out against R. Kelly, but most kept schtum and waited to see how his legal drama unfolded. However, Jay-Z was still singing Kelly's praises in 2002. "When you get two people like this coming together, it sends a signal out. It's bigger than music. It's like Martin and Malcolm coming together," he said of their album "Best of Both Worlds" (via Chicago Tribune).
By that time, multiple women had accused Kelly of underage sex and assault. Just months later, he was indicted for child porn. "I got love for the dude," Jay-Z told MTV after Kelly's arrest. "If he's guilty, I just hope and pray that he gets help. If he's not, I wish everybody ... embraces him." J-Hova continued working with Kelly, and they released "Unfinished Business" in 2014. They even embarked on an ill-fated tour that'd been canceled two years prior.
According to Daily Beast, Damon Dash, who was Aaliyah's boyfriend when she died, was sickened and "stopped talking to Jay-Z because he thought the rapper should have publicly condemned Kelly." But Hova had a million-plus reasons not to. "One press rep bragged to any reporter who'd listen that the first two Chicago shows alone would gross $1.6 million," Jim DeRogatis writes in "Soulless: The Case Against R. Kelly." Ultimately, the tour ended early but only because of the couple's beef. "Certain things aren't meant to be," Jay-Z said (via Chicago Tribune).
R. Kelly's perception remains polarizing for many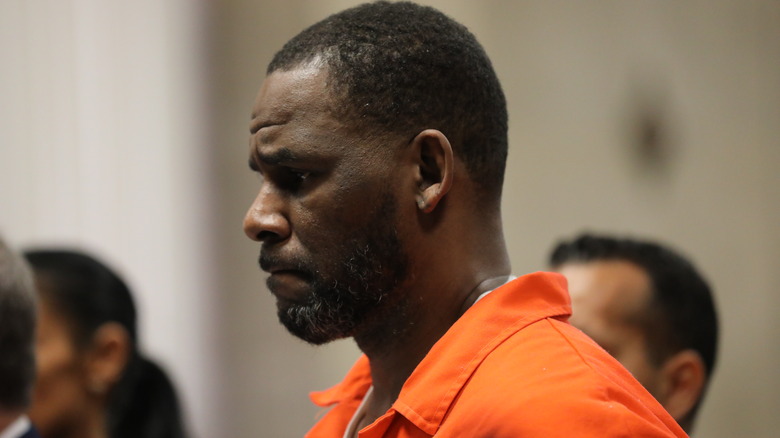 Antonio Perez - Pool/Getty Images
The end of the tour spelled the start of Jay-Z and R. Kelly's feud. Per XXL, they'd griped about each other since the tour kicked off. However, things turned nuclear after one of Jay-Z's entourage pepper-sprayed Kelly in the face as he returned to the stage. He'd fled backstage earlier, claiming he'd spotted a gun being waving around in the audience.
Before his 2021 conviction, you can see why musicians were reticent to slam Kelly — Cara Delevingne did and lost 50,000 Instagram followers within a week, and she's not even in the hip-hop world. "Goodbye silence and backward followers, hello confrontation and forward thinkers. It's going to be a loud year xxx #MuteRKelly," Delevingne wrote. Most refused to appear in 2019's "Surviving R. Kelly." Filmmaker dream hampton said John Legend and Sparkle were the only musicians who agreed. "Believe me, we asked everyone," she told Vice. "We asked Dave Chappelle. We asked Jay-Z. We asked Erykah Badu. All of these people were approached."
BET reports that after the docu-series aired, Twitter was awash with demands not to "cancel" Kelly because "he has hits" and it's easy to "separate the man from his music." Hova seems to agree. As of this writing, he hasn't publicly condemned his old collaborator, —and as Kelly's life in prison continues, so does Jay-Z's accumulation of wealth. The couple's "Best of Both Worlds" and "Unfinished Business" are still available on Jay-Z's streaming platform Tidal.