Why You Never Heard Much About Prince Harry And Meghan Markle's Secret Honeymoon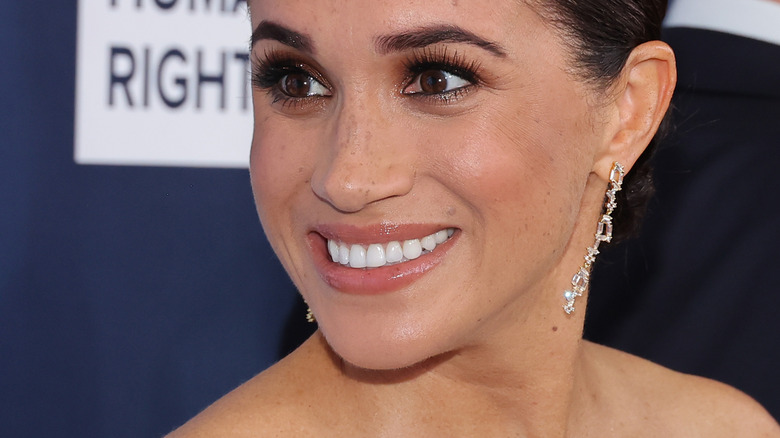 Mike Coppola/Getty Images
Prince Harry, Duke of Sussex, and Meghan, Duchess of Sussex, aren't renowned for their discretion. Their controversial choices, from warts-and-all interviews to Harry's memoir "Spare" and their Netflix docu-series have resulted in countless sleepless nights for "The Firm" and caused Piers Morgan to suffer endless meltdowns and temper tantrums.
Harry and Meghan married in a wedding spectacular at Windsor Castle in May 2018. The streets were packed full of British citizens, hoping to get a little tilted wave from the joyous couple. Statista reports that Harry and Meghan's big day was the most viewed in royal history, with an astounding 29.19 million people tuning in globally to watch the couple say "I do" and laugh at guests' hats. It was a day for the public to partake in and enjoy.
However, when it came to Meghan and Harry's honeymoon, it was a totally different kettle of fish and chips. For obvious reasons, it isn't royal protocol to announce the newlyweds' destination, but the paps always manage to hunt down their honeymooning prey. Pics of William, Prince of Wales in board shorts, and Catherine, Duchess of Cambridge in a skimpy black bikini, frolicking in the surf during their post-wedding vacay in the uber-exclusive Seychelles were leaked to the Aussie press, leaving the couple right royally fuming. "They feel it is a significant invasion of a very private, special time,' an insider told Daily Mail. So, why has nobody heard much about Prince Harry and Meghan Markle's secret honeymoon?
Prince Harry and Meghan Markle's secret honeymoon is still clouded in secrecy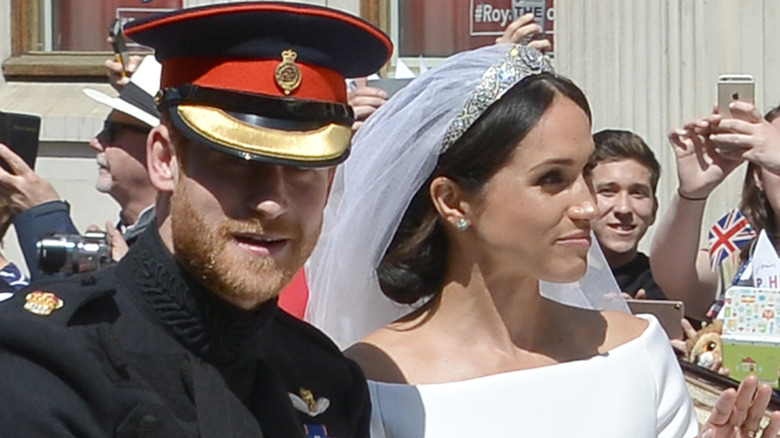 Icon And Image/Getty Images
People love a good royal wedding. Prince Harry, Duke of Sussex, and Meghan, Duchess of Sussex's special day was certainly that. Moments after the upcoming marriage was announced, speculation began about where the newlyweds would jet off for their honeymoon. The Brits love a trip to the bookies nearly as much as a wedding, and they don't waste their hard-earned cash just on the horses or football games. They'll have a bet on literally anything. So, it's hardly surprising that the country's leading bookmakers, Ladbrooks opened up the books for bets on where Harry and Meghan's destination would be.
Express reports that Namibia was the favorite at 2-1, followed by Botswana at 4-1. The last destination was kept pretty vague, with 8-1 odds on them lounging around on "any Caribbean island." However, ultimately, the bookies were laughing all the way to the bank, as usual. Because despite Meghan and Harry being prone to a little TMI occasionally, it remains a mystery where they went — or if they went at all.
According to TMZ, the couple would be heading to the Fairmont Jasper Park Lodge in Alberta, Canada, which isn't the most glamorous or luxurious destination. Still, it is where Harry's grandparents stayed in the 1930s. But, nope, no dice. So, where did Prince Harry and Meghan Markle's secret honeymoon occur?
Prince Harry and Meghan Markle's honeymoon remains secret to this day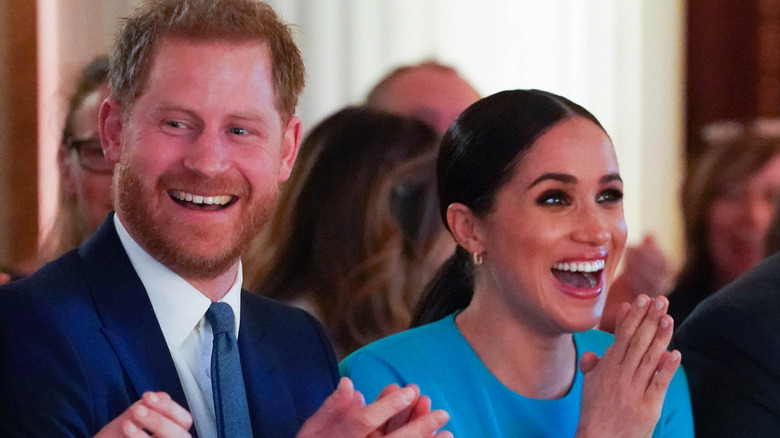 Wpa Pool/Getty Images
Town and Country put it best regarding Prince Harry, Duke of Sussex, and Meghan, Duchess of Sussex's honeymoon. "If you think you know where Prince Harry and Meghan Markle are spending their honeymoon, you probably have no idea where the royals headed for their much-deserved getaway." Still, it became like a royal game of where's Waldo with pretty much everywhere mentioned at one time.
E! reported they went on safari and "outdoor adventures" in two East African countries. The Sun went for the bookies' favorite, insisting they traveled to Namibia. The Telegraph ran with Botswana, and The Irish Independent reported they had a Dublin "mini-moon." Meanwhile, Marie Claire speculated they'd be flying to Mexico to visit Meghan's father, Thomas Markle — making it apparent none of their editorial team has ever been to Rosarito.
Fast forward to 2023, and nobody's still any the wiser — even Oprah Winfrey couldn't squeeze the deets out of Harry and Meghan. One thing is sure, though, if they did go anywhere, it wasn't until a few days after the ceremony. The newlyweds made it clear they were putting royal duties before personal pleasure. Reuters reported that Meghan and Harry would delay their honeymoon and stay in Britain to attend his father, King Charles III's birthday celebrations. So, to this day, it remains one of the royal family's biggest secrets, which is ironic given it involves the two biggest whistleblowers "the Firm" has ever known.