How Lorde Chose Her Stage Name (& Why She Added The 'E')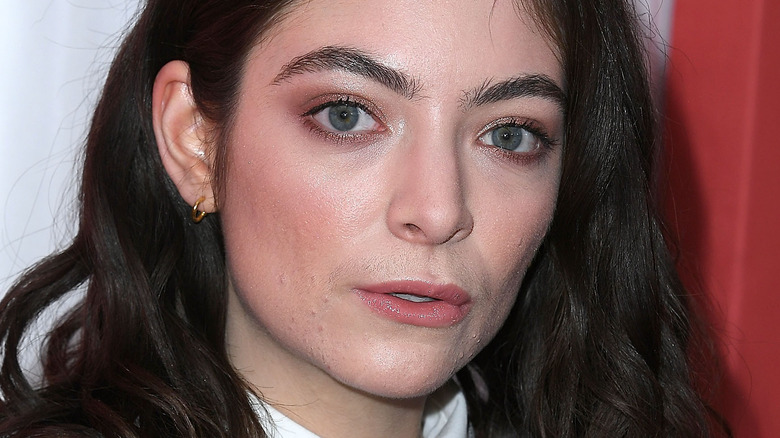 Steve Granitz/Getty Images
In the music industry, it's all too common for celebrities to change their names. Before skyrocketing to fame, Lana Del Rey was known by her given name, Lizzy Grant. Regarding her change, she told British Vogue, "I wanted a name I could shape the music towards. I was going to Miami quite a lot at the time, speaking a lot of Spanish with my friends from Cuba — Lana Del Rey reminded us of the glamour of the seaside."
Lorde is another superstar with a moniker other than her given name. The singer certainly knows how to captivate an audience when performing onstage. With her unique voice and unabashed presence, Lorde has inspired fans to embrace their most confident selves. So, of course the talented artist had to find a pseudonym that aligned with her powerful persona. Lorde was only a teenager when choosing her stage name, with which she is quite pleased. But how exactly did she pick the name Lorde?
Lorde was inspired by the aristocracy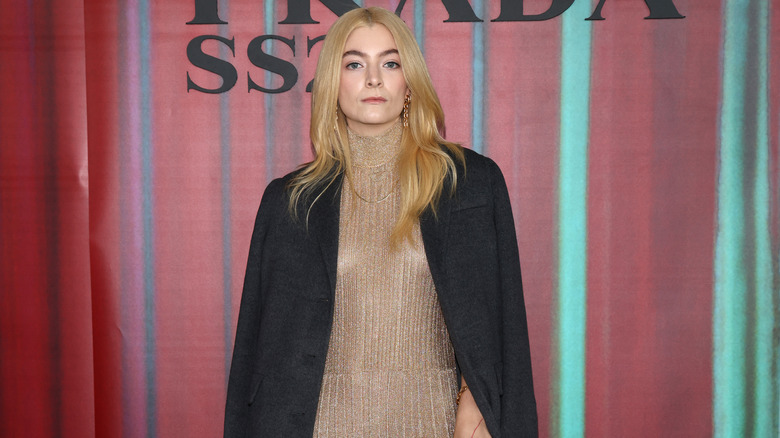 Vittorio Zunino Celotto/Getty Images
In a 2017 interview with "60 Minutes," Lorde revealed how she chose her stage name. But first, she gave herself some props for not just choosing something that was trendy. She said, "I'm quite proud of my 16-year-old self for not messing that one up because if I'd given myself a cool, weird, hip name that I hated now that would be super annoying." So, how did the superstar land on the name Lorde? She shared, "It was that nobility, aristocracy obsession that I had. I hit upon 'Lord' and loved the way it sounded, and then I was like, it would be quite cool to add an E to feminize it."
It's no surprise how Lorde chose her stage name, as her fascination with the aristocracy can be witnessed in her 2021 appearance on Seth Meyers' "Seth and Lorde Go Day Drinking." The pair plays a game where they guess the names of notable royals based on their photos. Lorde nails it, and when Meyers holds up a photo of King Henry VIII, she says, "One of my favorite historical figures." She enthusiastically adds, "I love his wives."
Lorde has a very long birth name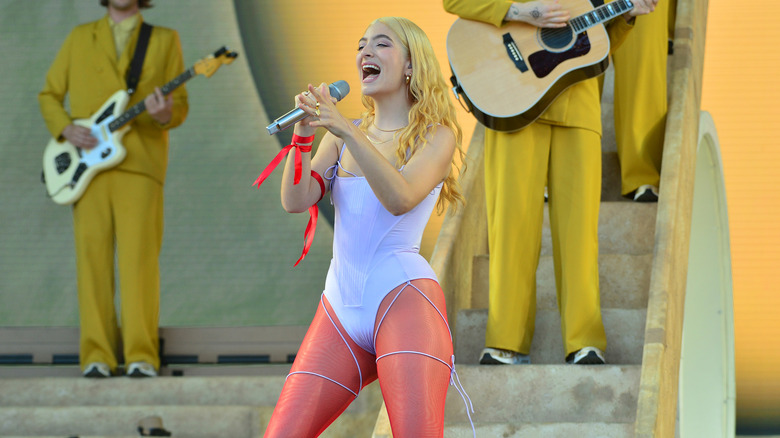 Jim Dyson/Getty Images
Lorde's stage name is much shorter than her birth name — Ella Marija Lani Yelich-O'Connor. When Lorde appeared with Seth Meyers on "Seth and Lorde Go Day Drinking," Meyers was determined to remember her full name. After Lorde revealed it, Meyers replied, "I, as a show of friendship, am going to learn your name over the course of the day. You can ask me any time during the course of this, and if I get it wrong, I will do a shot." A little later, Lorde quizzed Meyers on her name, and he struggled. "Take a shot. Come on," Lorde laughed. To Lorde's amusement, Meyers eventually got her name right.
Lorde's stage name has helped her carve out a very distinctive persona. But she's not called the iconic name all the time. In 2013, she told Interview, "My name is Ella, that's who I am at school, hanging out with friends, while I'm doing homework. But when I'm up on stage, Lorde is a character." It's hard to imagine Lorde being known as anything but Lorde. Yet, her friends are not quite acclimated to the singer's name change. She added, "My friends actually find that really difficult to digest, separating me from the theatrical character they see on stage ... but they're getting used to it."