The View Totally Drops The Ball With New Q&A Segment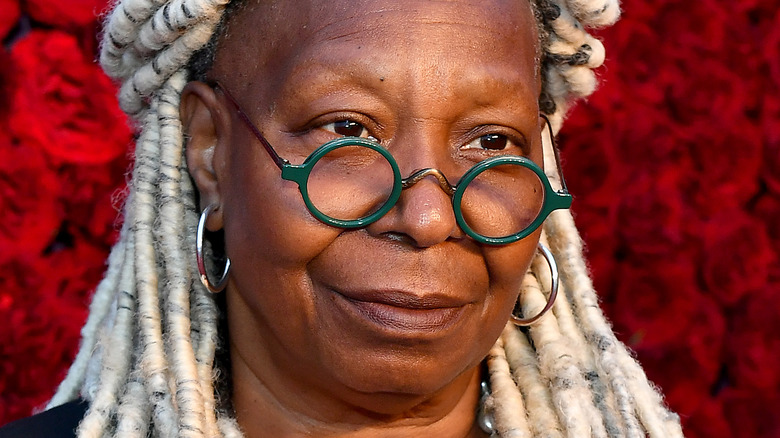 Paras Griffin/Getty Images
"The View" is known for being a politically-based morning talk show where the hosts — Whoopi Goldberg, Joy Behar, Sunny Hostin, Sara Haines, Alyssa Farah Griffin, and Ana Navarro — discuss and have an open conversation about the important news headlines of the day. The hosts occasionally discuss "Hot Topics" in Hollywood, as well as give lifestyle advice, during the show.
The daytime talk show is also known for having hosts with different political backgrounds. "At a time when our country is so divided, often on partisan lines, I'm honored to represent the conservative perspective," Alyssa Farah Griffin told ABC News when she was announced as the newest host for Season 26. "I hope to model what is too often lost by our elected leaders: learning from others, disagreeing respectfully, and focusing on finding real solutions for our country."
Because the show is more of a political and news talk show, the hosts don't usually stray from those topics. But every now and then, they take news headlines from opinion columns in order to discuss and debate an interesting lifestyle topic such as "confronting friends who talk behind your back." And it seems that the show is reimagining the way the hosts discuss lifestyle with a new Q&A segment.
The View hosts struggle with giving advice during Q&A segment
September 2021 marked one of the only times the "The View" hosts had a Q&A segment on the show. Half of the hosts weren't present for the taping after testing positive for COVID-19, which left Joy Behar and Sara Haines to carry on the hosting duties. "We're taking questions from the audience, which we never do," Behar said. "But it's better than just hearing us talk to each other."
And because fans of the show seemed interested in getting advice from the hosts, they started a new Q&A segment called "View & A," but it's already proven to be hit or miss. On the March 7 episode, viewers could tell that Whoopi Goldberg wasn't a fan of the new segment from the start. And when the hosts tried to give advice to a mother whose children weren't on talking terms with each other, Behar said, "This is too heavy for me." By the end of the segment, they still hadn't come up with a piece of advice to solve the mother's problem.
The talk show hosts showed how light-hearted and fun the new segment could be in the February 28 episode. They were trying to give advice to a husband who had an oversharing co-worker, and the discussion seemed to turn out better.