What Tiger Woods' Ex-Girlfriend Erica Herman Does For A Living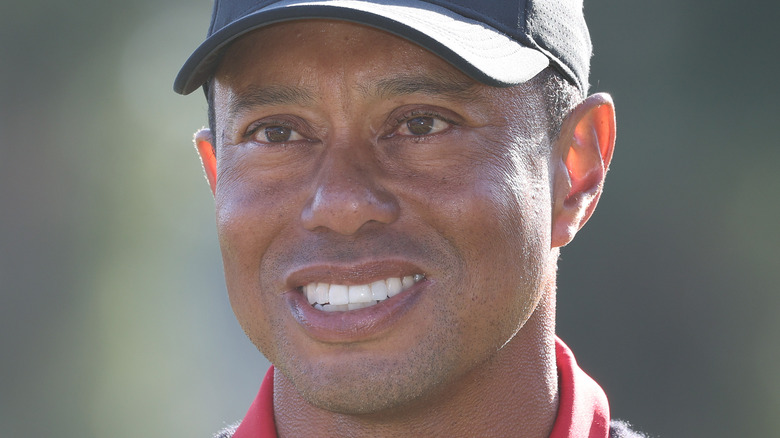 Harry How/Getty Images
Tiger Woods has never had an easy time with romance. While he's excelled on the green, his love life has been a disaster. Fans will recall, in 2009, Woods was caught in the middle of a massive cheating scandal. Even as Woods has sought treatment for sex addiction and substance abuse issues, he has still struggled to maintain a relationship that didn't end in a contentious breakup.
Woods' most recent split from ex-girlfriend Erica Herman is currently at the center of a $30 million lawsuit. After their breakup, Herman alleged that Woods illegally kicked her out of their shared Florida home. Herman filed papers in October claiming that Woods had violated Florida's Residential Landlord Tenant Act. Woods and Herman had lived together since he purchased the house in 2017. Herman claims that they had a verbal agreement of tenancy and that she had been essential in maintaining the upkeep of the home. However, she was allegedly told by Woods' employees "to pack a suitcase for a short vacation and, when she arrived at the airport, they told her she had been locked out of her residence, in violation of the oral tenancy agreement and in violation of Florida law," the court documents read, per CNN. After that, Herman was not allowed to return home.
Woods later filed a response to Herman's claims in court, per TMZ. "Mr. Woods never negotiated an oral tenancy agreement with Ms. Herman. Nor was there ever a written tenancy agreement between Mr. Woods or the Trust," the filing argued. All the legal drama got us wondering about Herman (and her finances). Who is the woman behind the $30 million lawsuit, and what does she do for a living?
Erica Herman had a surprising career trajectory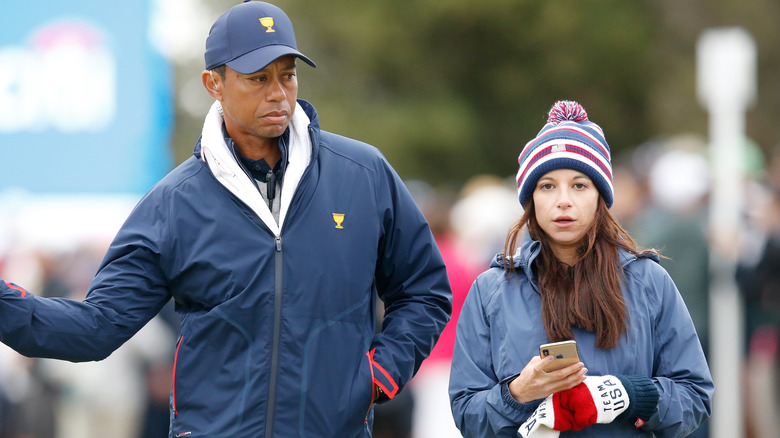 Darrian Traynor/Getty Images
Erica Herman could never settle on precisely what she wanted to do. After growing up and attending high school in Palm Beach, Herman moved to Orlando and enrolled at the University of Central Florida. It was there that Herman discovered her love for law and decided to major in legal studies. Most people majoring in legal studies eventually attend law school, but Herman chose a different path. Rather than continue her studies, Herman continued bartending in the Orlando area, as she had done all through college, and seemingly loved it.
It was thanks to her restaurant work that she met Woods. Herman took a job at the VIP Blue Lounge in college and eventually worked her way up to manager. By that time, Woods was a frequent customer of the lounge. Woods and Herman hit it off and began dating. Herman wasn't ready to leave her career behind, though. So when Woods had the idea of opening his own restaurant, he wanted Herman on his team. The golfer even tapped her to become the general manager — a role she filled for a few months.
While she was happy to be Woods' partner in business and life, unlike some of his other girlfriends, Herman didn't want anything to do with the spotlight.
Erica Herman put being a partner first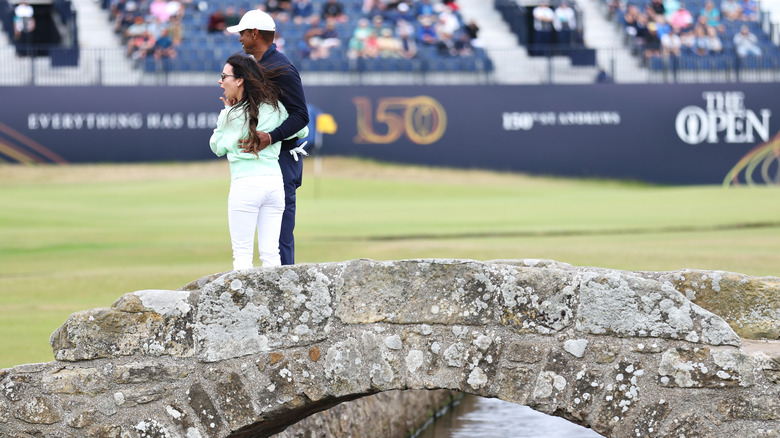 Warren Little/Getty Images
Erica Herman's name has been splashed all over the place thanks to her $30 million lawsuit against her ex-boyfriend, Tiger Woods, but while they were together, she had no interest in sharing the limelight with him. Still, sources who spoke to The U.S. Sun in 2020 claimed that while she wasn't interested in fame, Herman had been interested in the professional golfer for a long time. "Erica's been chasing Tiger around like a puppy for close to 10 years. I'm not sure if his wife knew, but I'm not sure how she couldn't know," the source insisted, adding. "I can't believe Tiger is out in public with her now."
Herman made her first public appearance with Woods at the 2019 Masters, where they shocked viewers by passionately kissing in front of cameras upon his win. "She's been 100 percent supportive when he was down with his health and all that stuff," a friend assured Page Six. When Woods underwent extensive and painful back surgery, Herman was by his side throughout the recovery, encouraging him to get back on the green, letting her career take a backseat. "It's not like he has a bunch of people around," they added. "She was right there for him."
The relationship ended abruptly in 2022. In addition to filing a lawsuit regarding the alleged wrongful eviction, Herman has also petitioned to have the nondisclosure agreement she signed overturned, citing the Speak Out Act, which nullifies NDAs in the cases involving sexual assault or abuse. For his part, Woods' attorneys responded to the lawsuit, calling Herman a "jilted ex-girlfriend" and her NDA claims "utterly meritless" in filing, per TMZ.