Cher's Relationship With David Geffen Was Much More Than Just A Romance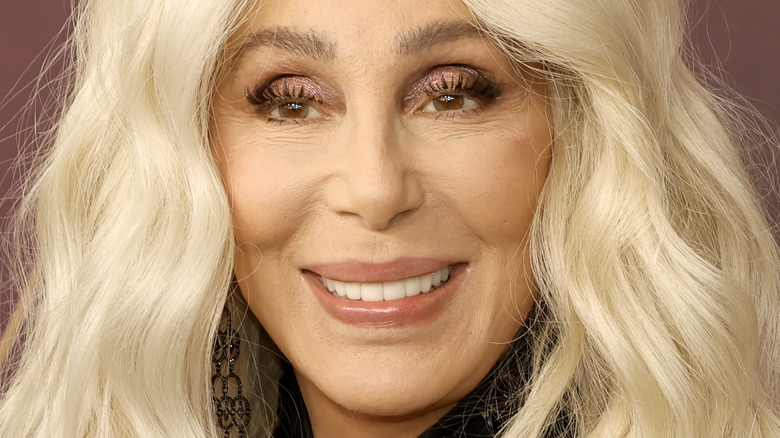 Kevin Winter/Getty Images
With her long relationship history, Cher is definitely one to "Believe" in love. The musician has been in the entertainment industry for quite some time, and throughout her career, she has been arm-in-arm with some of Hollywood's biggest stars. However, the "Burlesque" actor is probably best known for her relationship with Sonny Bono.
Surprisingly, the couple's relationship didn't start in the way many people may think it did. The two were merely friends as Bono made it clear that he didn't find Cher attractive.Call it fate, but when the two became roommates, their relationship grew from friends to something more romantic. The couple had a fake marriage ceremony in 1964 (later making it official in 1969), and their success quickly followed. From creating hit songs like "I Got You Babe" to landing their own show titled, "The Sonny & Cher Comedy Hour" their professional relationship was a success, but the same couldn't be said about their personal relationship.
Bono had cheated on Cher, though the singer was okay with it as she pursued her own relationships. While that worked for some time, the couple divorced in 1974. However, the "If I Could Turn Back Time" singer discovered the majority of their work was owned by Bono. Not just that, but Cher unknowingly signed a restricted contract that prevented her from working on projects without Bono's consent. The singer was in a terrible position, but luckily, her following relationship with David Geffen would help her out of her sticky situation.
David Geffen and Cher's relationship started romantic
Michael Ochs Archives/Getty Images
One of the relationships Cher explored during her marriage with Sonny Bono was with David Geffen. Now, Geffen was no ordinary man as he was a successful businessman in the music industry. However, when the "Believe" singer and Geffen crossed paths at a nightclub in 1973, Cher had no idea he was a hotshot in the business. It wasn't until he asked her out on a date that she discovered that Geffen was successful, and it was on that date they completely hit it off. Cher confided in Geffen about her tumultuous relationship with Bono, and he revealed that he had sexual encounters with men. According to Tom King's biography about Geffen titled, "The Operator," those honest moments had Geffen making a big statement to his therapist the next day: "I think I am in love with Cher."
Cher wasn't freaked out by the proclamation, and the two continued to explore their relationship. Although Geffen later revealed he was gay, Cher shared that she was the first woman he slept with. In the book, the singer revealed, "I was the first person to share his bed and to share his life. People don't believe that, or they don't want to believe it. But we were really crazy about each other." Geffen was so head over heels for the musician and only wanted the best for her, so he stepped in to get her out of her legal drama with Bono.
David Geffen helped Cher escape Sonny Bono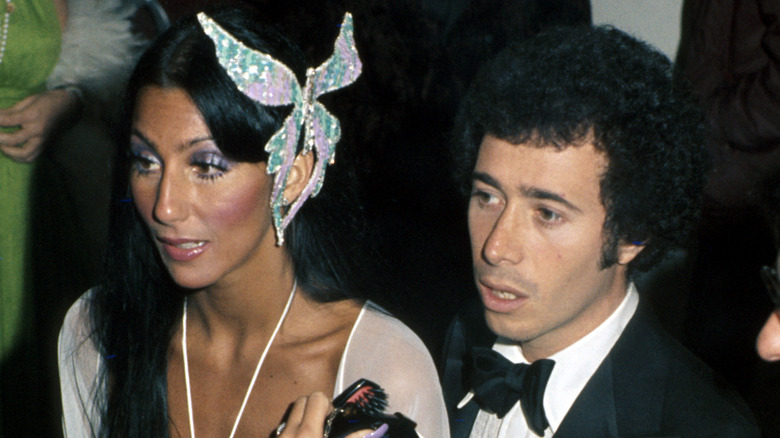 Michael Ochs Archives/Getty Images
Cher uncovered some shocking details when she officially decided to get divorced from Sonny Bono. Bono created Cher Enterprises and legally owned 95% of the company. While you may think at least the other 5% would go to Cher, that's not the case, as it went to the couple's lawyer. In addition, she still had a restrictive contract looming over her career, and she couldn't pursue projects without her ex-husband.
Knowing how miserable Cher was, David Geffen knew he had to bring his business expertise and stand for his partner. Geffen suggested getting a lawyer, and when Cher said she already had one, he knew she could no longer use him because he was tied with Bono, per "The Operator." Geffen said, "He's Sonny's lawyer. You need your own lawyer. I'm going to set all this stuff up for you. You need to be taken care of." Geffen was even more enraged when he read over Cher's contracts, as she was hardly represented in their business profits. Geffen hired a lawyer for Cher despite the pushback from her ex-husband.
The music industry tycoon also encouraged Cher to quit "The Sonny & Cher Comedy Hour," and it wasn't long before she was completely free from all of Bono's restraints. Just in time for the 1974 Grammys, the couple graced the red carpet as the singer celebrated her first ounce of freedom with Geffen and a new butterfly tattoo.