The Untold Truth Of Kimberly Guilfoyle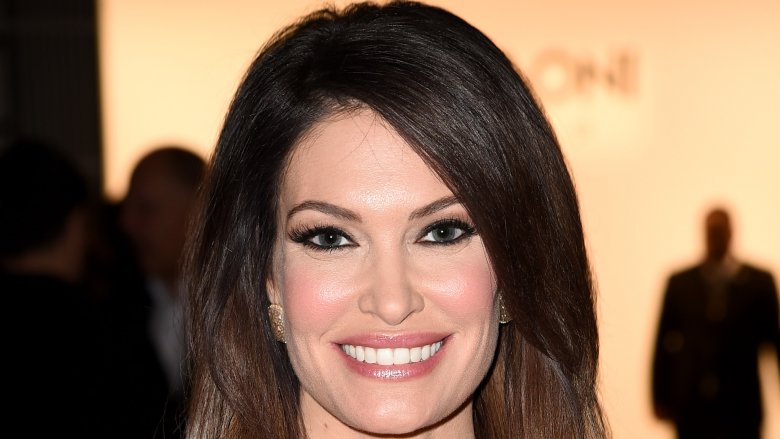 Getty Images
After 12 years of marriage, Donald Trump Jr. and his wife, Vanessa, released a statement declaring that their marriage is over. "We will always have tremendous respect for each other and our families... We have five beautiful children together and they remain our top priority. We ask for your privacy during this time," the announcement read, in part. The estranged couple was determined to keep things amicable after the split, and some assumed a reconciliation was a possibility, until Page Six reported that Trump Jr. had allegedly moved on with The Five co-host Kimberly Guilfoyle. 
Fashionable clothing, pageant hair, and megawatt smile aside, Guilfoyle became a fan favorite on the Fox News panel for her in-depth reports on the royal family and her unwavering support of the Republican party. As a staunch ally of the Trump administration, she and Trump Jr. just might be a match made in political heaven. In fact, her life away from the newsroom may be even more interesting than the hot topics she discusses on cable TV. This is the untold truth of Kimberly Guilfoyle.  
An early loss changed her life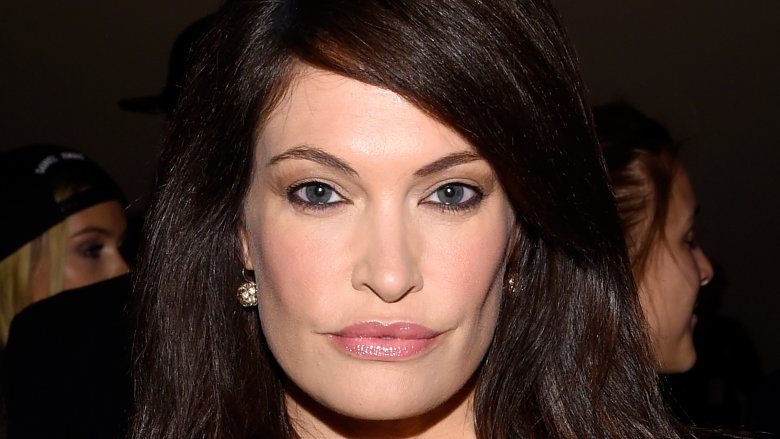 Getty Images
She was raised in the Mission District of San Francisco by her Irish father, Tony, and her Puerto Rican mother, Mercedes, but when Guilfoyle was 11 years old, her mom died of leukemia. "Throughout her illness, I remember 'making a case' with God: 'Please help her live.' I believe now that God did answer my prayers, because she still lives on with me, and she shaped me into who I am today," she told Fox News.
Looking back on her relationship with her late mother in an interview with Mediaite, Guilfoyle said, "My mother was just everything to me, I loved her so much, I always wanted to be around her."
She cited her mom as one of the inspirations behind her 2015 book, Making the Case: How to Be Your Own Best Advocate, and she revealed that writing the book helped her navigate her grief. "I decided if I can make it easier for someone else to deal with rough transitions, then I can make my parents proud," she said.
Dad's 'tough-love attitude' turned her into a litigator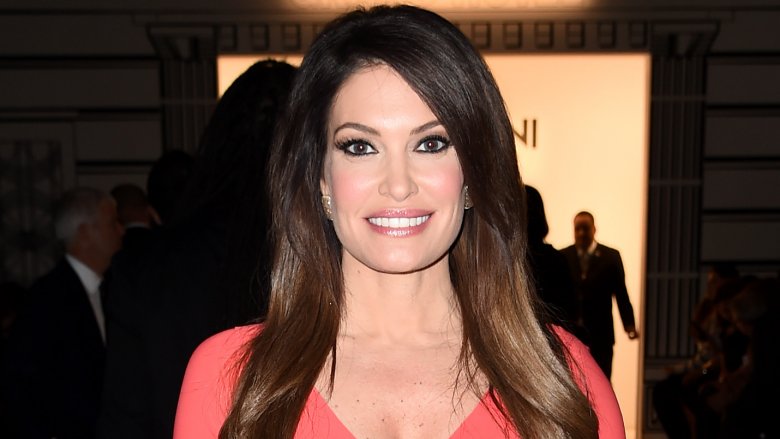 Getty Images
After her mother's passing, her father, Tony, became a single parent who did his best to raise Guilfoyle and her younger brother, Anthony. When her dad wasn't tending to his dual role as caretaker and nurturer, he was also prepping a young Guilfoyle for adulthood. 
"He was the best coach in my life. I was a little shy and introverted, and he wanted me to be the woman who would stand on her own two feet and have the self-esteem and stand for myself, no matter what," she told Mediaite. (Her spitfire personality on The Five is starting to make much more sense, no?)
It was also her dad's "tough-love attitude" that sparked Guilfoyle's first quest into the world of litigation. "If I wanted to do something or go on a class trip, he'd make me make my case. I'd have to present my arguments, and he'd tell me if I had permission or not. It teaches you not to be afraid of a no," she said.
Raising her little brother prepared her for motherhood
After her mom's passing, Kimberly Guilfoyle was "forced to survive," and that included taking on an even bigger role in her younger sibling's life. "I was raising my little brother since he was 8," she told Mediaite. "It made me a better mother, better person." 
One of the downsides of being a parental figure at a young age was the habit Guilfoyle developed of putting others' needs before her own. "When you're forced to survive, you learn to navigate for yourself and advocate for others," she said, noting that taking on so many responsibilities at a young age prepared her for adulthood. 
Looking back, she has no regrets about the way things turned out. "Even though no child should have to go through the pain of losing a parent at such a young age, it made the bond with my brother, Anthony, all that much stronger and I am forever grateful to have him in my life," she told Bella NYC.
Playing with the boys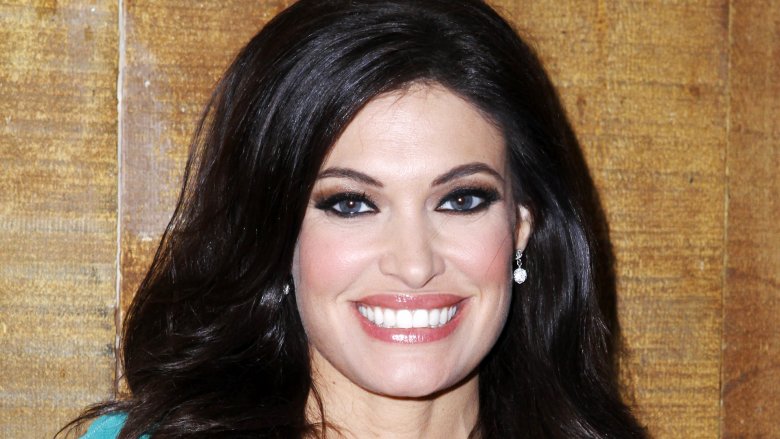 Getty Images
Guilfoyle grew up with a love for athletics and a desire to compete. "I love to watch sports, but play them even more," she told People magazine.
She became interested in soccer, but her school didn't have a girl's team she could join. "So my mom met with the coach and said, 'Please let Kimberly try out with the boys, but don't take her because I am asking you: only if she's good enough," Guilfoyle recalled. Not only was she "good enough," but she obviously wowed the coach with her skills. She made it through the tryouts and went on to play on her school's all-boys' soccer team. 
Her soccer past really sheds new light on one of her late dad's favorite sayings. "He taught me that anything a boy can do, you can do better," Guilfoyle told Mediaite. And, boy, was he right.
A legal eagle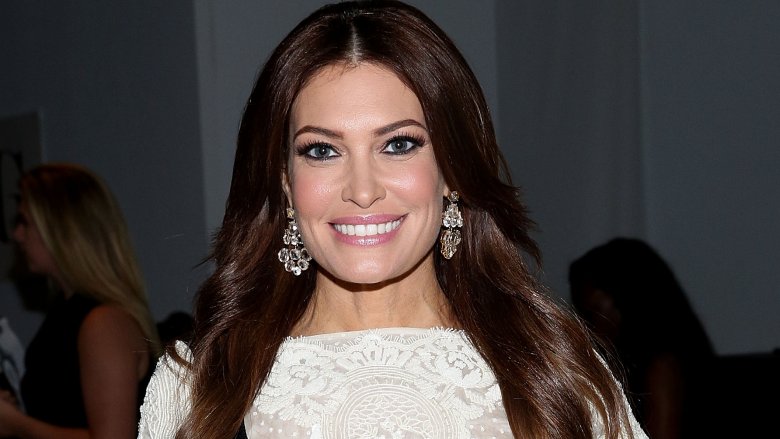 Getty Images
Some children (and even adults) have no idea what they want to be when they grow up. However, Kimberly Guilfoyle was no ordinary kid. From a very early age, she knew she wanted to be a lawyer, so after high school, she enrolled at the University of California, Davis, where she graduated magna cum laude, according to AOL. She later earned her law degree from the University of San Francisco.
She immediately put her degree to good use as a prosecutor in San Francisco before she made the trek south to work as deputy district attorney in Los Angeles. Working in the male-dominated field — and holding her own, might we add — earned her the nickname of "The Hurricane" in the legal community, Fox News reported.
However, her journey to becoming an attorney was no easy task. Law school wasn't cheap, and Guilfoyle went full throttle to pay her tuition and make ends meet. 
She was a lingerie model, and she regrets nothing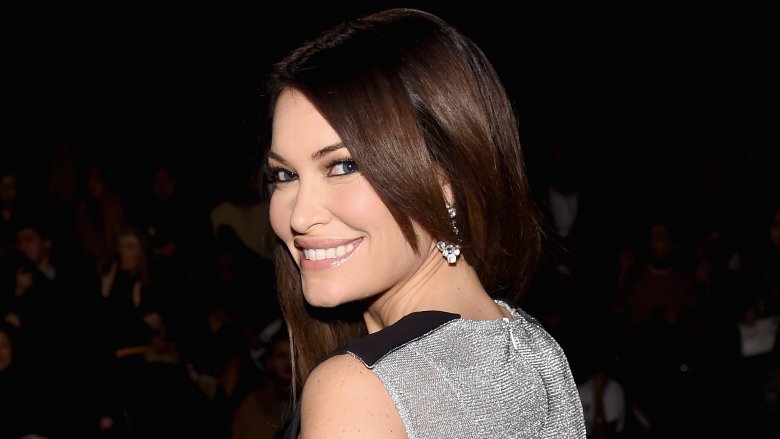 Getty Images
Guilfoyle wasn't going to let anything stand in the way of her dream of becoming an attorney, so to pay the bills, she hit the workforce between those college courses. "When I was in college at UC Davis, I had three jobs: I was working at the district attorney's office as an intern, I worked at the clothing store Clothestime, and I was modeling and doing different jobs in and around San Francisco and Sacramento," she told Cosmopolitan.
Guilfoyle definitely downplayed her foray into the modeling industry. She wasn't just a regular shmegular model. She was working for a big-time company. "I modeled everything from clothes, swimwear and lingerie, including Victoria's Secret! I met an incredible number of interesting people through modeling and really learned a lot about self-confidence and self-worth," she told People.
For those who look down upon her lingerie-clad past, it's likely Guilfoyle couldn't care less. "I don't have any regrets about all of the jobs in the different fields that I've worked in," she told Cosmopolitan.
Must-have political connections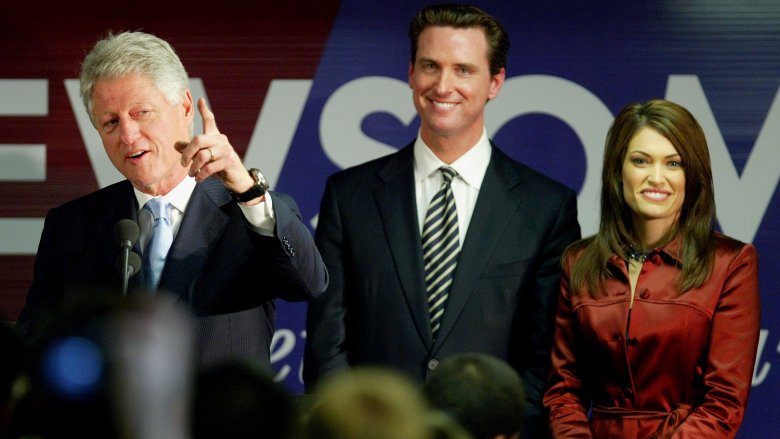 Getty Images
Kimberly Guilfoyle clearly has a thing for a man who's entrenched in politics. In fact, Trump Jr. isn't even her first bureaucratic beau. Long before she was chowing down and stuffing her face during The Five's Kimberly's Food Court segment, Guilfoyle became the first lady of San Francisco when her then-husband, Gavin Newsom, was elected mayor. Guilfoyle called her stint as a politician's wife one of the greatest honors of her life, according to Fox News.
Guilfoyle's gig as a Court TV analyst and Newsom's mayoral gig kept them apart for long periods of time and played a role in their union's demise. "Unfortunately, the demands of our respective careers have made it too difficult for us to continue as a married couple," the pair said in a statement. "Over the past 10 years, we have developed a tremendous bond of love and respect for each other. That will never change." Their divorce was finalized in February 2006, but, Newsom wouldn't be the last politician enchanted by Guilfoyle.
Eyeing the White House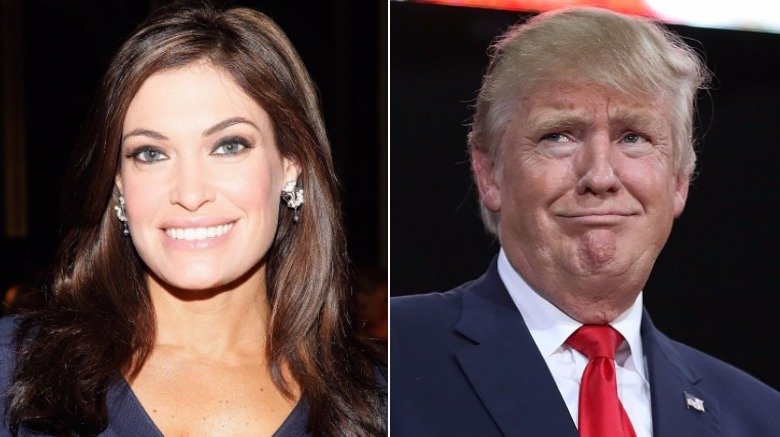 Getty Images
The Fox News host announced in 2017 that she was eyeing a job as White House press secretary, and President Donald Trump was allegedly considering the idea, too. "I'm a patriot, and it would be an honor to serve the country," she told The Mercury News. "I think it'd be a fascinating job. It's a challenging job, and you need someone really determined and focused, a great communicator in there with deep knowledge to be able to handle that position."
But her dreams of working in the administration did not come to fruition. In June of that year, Fox News signed the bubbly broadcaster to a long-term contract, locking her in for an extended stay on The Five. Placing her under contract with Fox was a sign that her chances of being employed at 1600 Pennsylvania Avenue were slim. 
Though she didn't get to work alongside President Trump, she was still able to make connections within the White House, which is evident now that we know the truth about her rumored romances with folks within the administration, and we're not just talking about Don Jr....
She was linked to a former White House staff member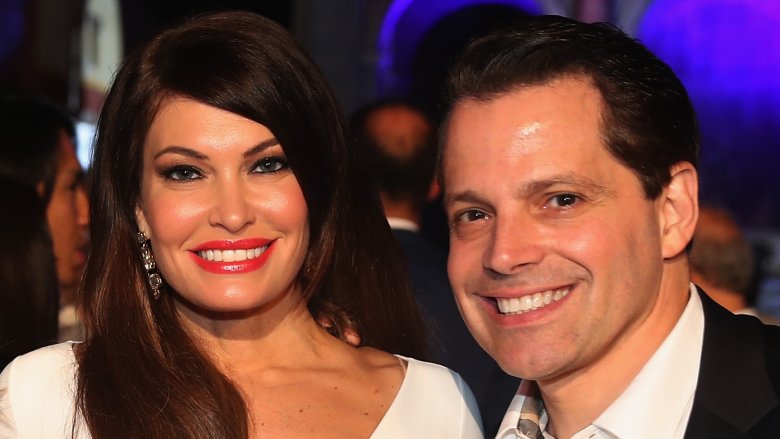 Getty Images
Former White House Communications Director Anthony Scaramucci had a tough time working under the Trump administration. Not only was he canned 11 days into his job, but his wife of three years, Deidre Bell, filed for divorce in July 2017, while she was nine months pregnant. The divorce turned nasty when Scaramucci allegedly denied he was the child's father.
Following the split, Scaramucci was spotted with Guilfoyle frolicking in Rome and house hunting in Manhattan. Naturally, the public assumed these two were a couple, but a source told Page Six they are "just very good friends who enjoy each other's company..." A source close to the television personality denied the rumors, as well. "Kimberly thinks the world of Anthony. He is one of her best friends, but they are not a yet a couple..."
Things between these "friends" didn't last, and Scaramucci eventually reconciled with his wife, reported TMZ. 
She's a friendly ex
Staying cordial with a former flame is no easy task, but the Fox News host has seemingly mastered the art of ending all of her long-term relationships on a high note. "I work hard and strive to give time to people in my life who've counted on me in the past. I like to be your best friend, toughest advocate," she told Mediaite.
As a two-time divorcée, perhaps she isn't a pro at marriage, but Guilfoyle has certainly figured out how to end her unions without holding on to any lingering resentment. "My second husband, Eric Villency (pictured), is the father of my beautiful boy Ronan Anthony (pictured). Even though we're divorced, I'm still very close with his family," she said. "Even when people don't stay married, they can still be a family together."
We're sure Donald Trump Jr. can relate. He and his estranged wife, Vanessa, have managed to remain cordial following their divorce announcement, and he even gave her a public shout-out on Mother's Day 2018.
A blunt beauty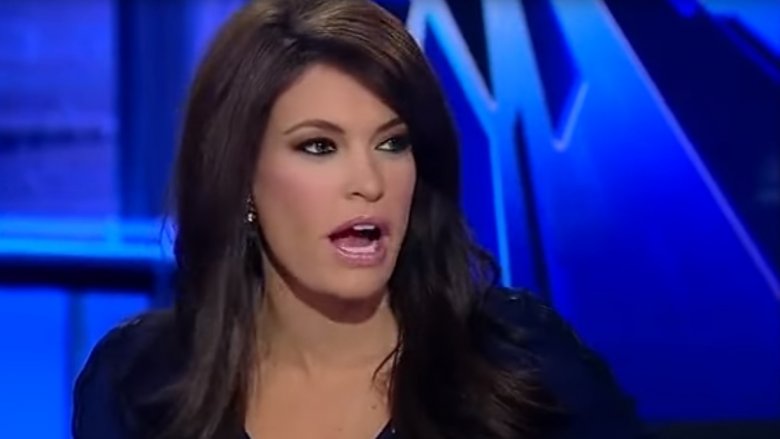 YouTube
As a co-host of The Five, Kimberly Guilfoyle earns a living chatting about current news in the political world and beyond. The spotlight is always on her because, let's face it, she's undeniably stunning and she's never afraid to tell it like it is.
But her penchant for being outspoken came back to bite her when the panel addressed female voters and jurors in October 2014. Guilfoyle stated that beautiful, young women should automatically be excused from jury duty "so they can go on Tinder or Match.com" instead. She said they should not sit on juries because they "don't get it. They are not in that same life experience of paying the bills, doing the mortgage, kids, community, crime, education, health care. They are like healthy and hot and running around without a care in the world."
For someone who strives to be a positive role model for women, her comments were shallow, to say the least, and if one applied her reasoning to female voters, was she suggesting some women shouldn't vote?  Guilfoyle said that wasn't her intent, telling Elle, "Come on, young women should vote, I am a huge supporter ... I take this very seriously." 
She loves giving back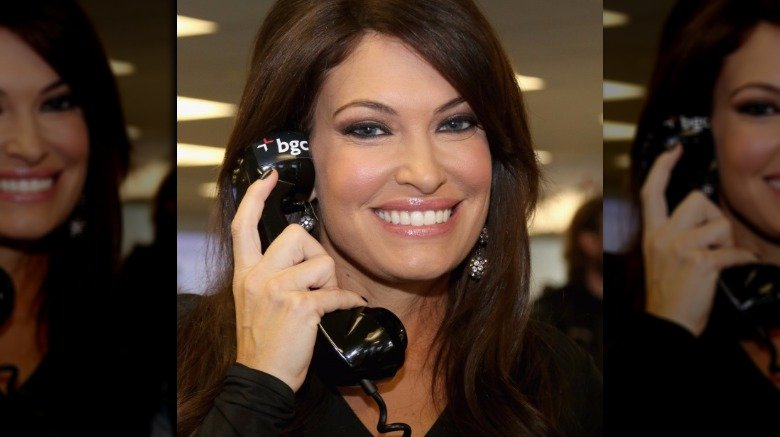 Getty Images
Part of her job as a prosecutor was to go to bat for those in need, and helping others is a major part of Guilfoyle's life. "I always love to give back and impact the lives of others in a positive way," she told Bella NYC.
Her charitable commitments include working as the ambassador for the Special Olympics NYC Junior Committee and serving on the board of the Esophageal Cancer Education Foundation. "There's no better feeling than knowing you are helping out others, especially those who are in need," the altruistic TV personality said.
It was her late mother and father who instilled in her the drive to become an advocate for the less fortunate. "My parents always taught me to make this life about other people, and that's what I aspire to do," she said.
Let's recap: she has brains, beauty, and a heart of gold. If her alleged relationship with Trump Jr. is fact and not fiction, he really lucked out.