What's The Age Difference Between Kristin Chenoweth And Her Fiancé Josh Bryant?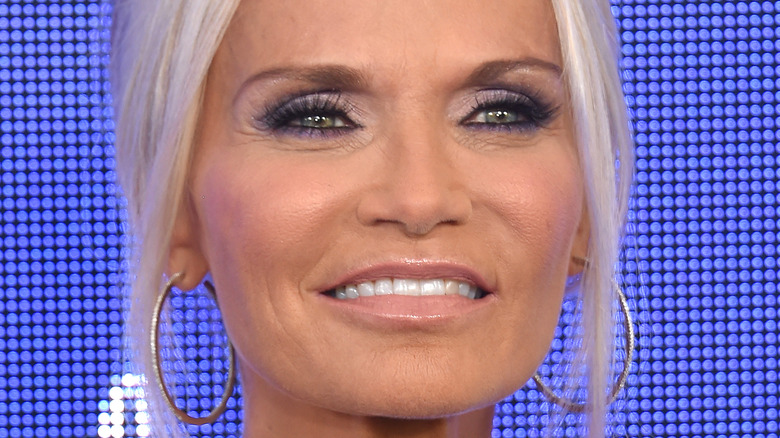 DFree/Shutterstock
May-December romances are not uncommon in Hollywood — in fact, celebrity relationships with major age gaps are common. For example, with Broadway and television star Kristin Chenoweth.
Chenoweth has a romance of her own with guitarist Josh Bryant. After becoming friends online and starting to date in August 2018, the couple quarantined together during the global pandemic. While this time was rough on many couples, it seemed to be magic for Chenoweth and Bryant, who grew closer together during that time. They kept themselves busy with creative projects but also made sure to take some time apart. "He took a couple of walks on his own, as did I because you just can't be with someone 24/7," Chenoweth told People, adding, "That's the truth. And yet we managed to make it work somehow."
It sure did work. The pair became engaged in October 2021 after 3 years of dating. Though the pandemic and their busy schedules caused them to postpone their nuptials, they're still planning to marry. Since they don't intend to let a global pandemic stand in their way, they're certainly not going to let something as trivial as an age difference influence their relationship. But how much older is Chenoweth than Bryant?
Kristin Chenoweth has more than a decade on Josh Bryant
Kristen Chenoweth met her current beau Josh Bryant when his then-band, Backroad Anthem, played for her niece's wedding. "I noticed him, and he noticed me, but we were dating other people," she told Jess Cagle on "The Jess Cagle Show." She explained, "The next summer, my nephew gets married and hires the same band, and we re-met." She became online pals with Bryant and the whole band after the first family event, "so by the time we met at that second wedding is when sparks flew," she explained. Bryant, sitting in the background during the interview, named the exact date of that second wedding, August 3, 2018.
The pair grew closer while quarantining together, and kept themselves busy by making TikTok videos. They also participated in a musical parody called "Tiger King: The Musical." Chenoweth sang the song "Little Pieces," written by former co-worker Andrew Lippa, while Bryant directed the video.
Chenoweth wasn't really familiar with the social media platform before joining in March 2020, telling People, "I didn't know what TikTok was, I didn't necessarily want to do TikTok." But she credits Bryant for helping her learn it. "My boyfriend is 14 years younger than me. Thus, I'm good at TikTok," she said with a laugh. That's right, Chenoweth is 54 and Bryant is 40. She's not concerned about the age difference telling Access Hollywood, "it shouldn't matter if you find your person."
Josh Bryant is exactly a foot taller than Kristin Chenoweth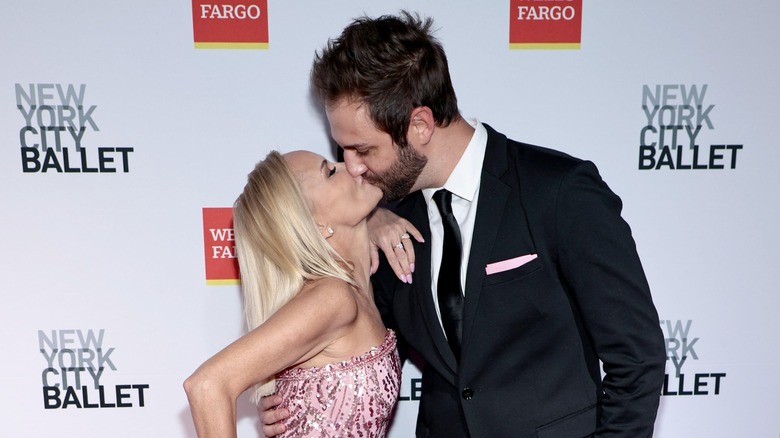 Dimitrios Kambouris/Getty Images
Though Kristin Chenoweth may be older than her fiancé, Josh Bryant takes the prize when it comes to height. The petite Chenoweth is only 4 foot, 11 inches tall and Bryant is exactly a foot taller than her at 5 foot 11.
Chenoweth has a history of dating very tall men — from Broadway star Marc Kudisch (6 foot) to former Bachelor Jake Pavelka (5 foot 10) to screenwriter Aaron Sorkin (6 foot 2). The shortest of her former beaux seems to be "Robot Chicken" creator Seth Green, who rings in at 5 foot 4. Perhaps dating all these tall men is why she told TMZ, "I have a bad neck."
But like the age difference, height doesn't seem to matter. The two got engaged on October 29, 2021, sharing the happy news on Instagram. "Guess you're stuck with me now," Chenoweth captioned the photos of his rooftop proposal at New York's Rainbow Room. "I love you and I'm never letting you go." Though they postponed their wedding in July 2022, they're still planning to hold an intimate celebration. "We've talked about like, 'Just go off and do it,'" she told "Live with Kelly and Ryan" (via People), "but my mother is like, 'If you do that to me ... don't do that to the family. So, we're going to do a small thing and just have our closest [loved ones]."