Why Hayden Panettiere's Short-Lived Music Career Never Took Off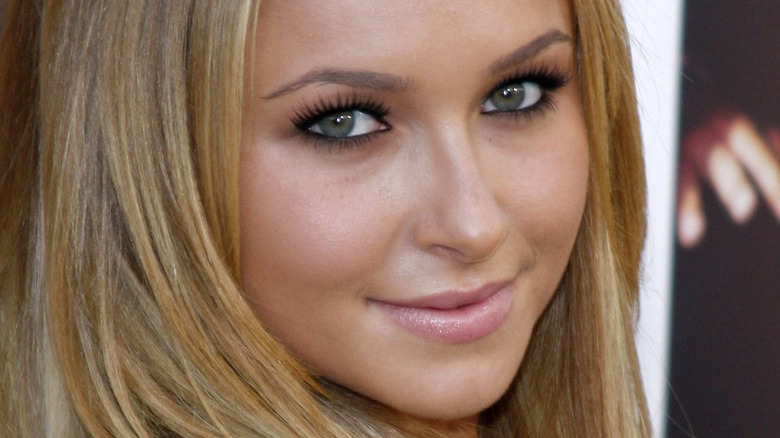 Tinseltown/Shutterstock
You'll probably know Hayden Panettiere best for her acting career. She was one of the most promising stars of the mid to late 2010s, getting her big break in 2006 when she landed the role of cheerleader Claire Bennet on the NBC supernatural series "Heroes." Before that though, she actually got a number of acting credits under her belt on both the small and big screen, including appearing in "Ally McBeal" and "Raising Helen," before later going on to land lead roles in the likes of "Nashville," "I Love You, Beth Cooper," and, of course, "Scream."
But did you know that just like a slew of other big young stars of the 2000s (paging Hilary Duff, Miley Cyrus, and Selena Gomez) Panettiere also attempted a foray into the music world? Yep! We almost saw this star take over the charts the way she took over the TV and movie screens and was even about to release an album way back when — but that never exactly came to fruition.
Hayden Panettiere was no fan of her own music
Hayden Panettiere dropped a few songs in her teenage years, including covering several Disney tracks for the company's compilation album as well as dropping a few of her own pop tracks like "Wake Up Call" (which came with its own very 2000's-esque music video) — but she never made it to a full-length release. Panettiere admitted to Vulture in 2013 that she was no real fan of the music she released dropped, and wasn't exactly thrilled when she realized "Wake Up Call" sounded similar to Paris Hilton's notorious "Stars Are Blind." Which, hey, we're still totally obsessed with, by the way. "I was like, Ohhhh my God," she admitted, claiming that she was so not feeling the track that it actually put her off recording more and she had a little friction with her record label, Disney's Hollywood Records. "But at that point, I was a puppet, basically. It wasn't me," she added, suggesting she probably wasn't too sad her album never saw the light of day.
The album was expected to be released in 2009 and "Wake Up Call" was even promoted in ads from the clothing brand Candie's, but that wasn't enough to give this star the glittering music career many thought she'd enjoy. But that didn't stop Panettiere's music career altogether. Oh, no.
Hayden Panettiere returned to the music scene as someone else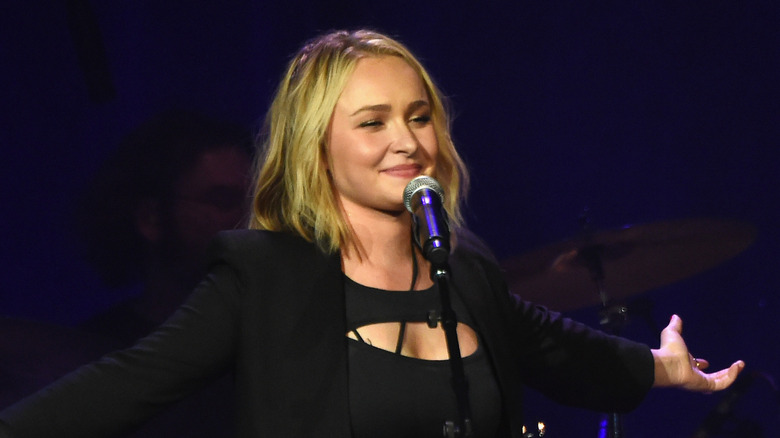 Rick Diamond/Getty Images
Hayden Panettiere did make her big return to the music career after her album disaster ... but as someone else. The star landed a role in the ABC country music drama "Nashville" as Juliette Barnes, a new-to-the-scene starlet who competed with Connie Britton's more seasoned singer Rayna James. The show saw Panettiere sing all her own songs as the up-and-coming country star with a pop twist, and the actor admitted it actually helped cure a lot of the stage fright she once felt — which may also have contributed to the demise of her once-promising music career. "It's one thing when you put yourself out there [as a solo artist], it's another thing when you're playing a character," she explained to Times Colonist in 2012, adding she felt a little more sheltered in her "Nashville" role.
As Juliette Barnes, Panettiere actually saw some success in the country music world. The song "Telescope" from the TV show reached No. 33 on Billboard's US Country Airplay chart as well as hitting No. 36 on Billboard's Hot Country Songs chart. Not bad for someone who never even got to release their debut album!