The Shady Side Of Pink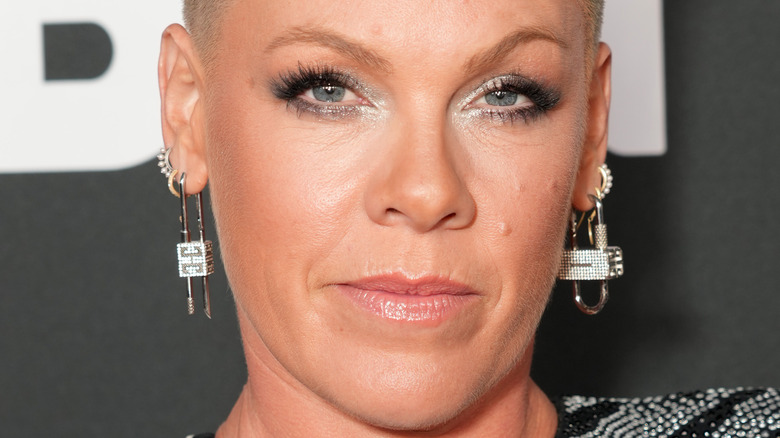 Kevin Mazur/Getty Images
Nearly a quarter of a century after she first burst onto the scene with the feisty R&B of "Can't Take Me Home" and Pink is remarkably still a chart force to be reckoned with: her 2023 ninth studio effort "Trustfall" reached number two on the Hot 100 and pole position on the other side of the Atlantic.
Of course, over the years, the artist born Alecia Beth Moore has almost become just as renowned for telling it like it is as her empowering sound, and several of her fellow pop juggernauts have been on the receiving end of her no-nonsense approach, too. Speaking to The Telegraph in 2023, she affirmed that she wasn't about to back down from speaking her mind anytime soon, no matter whose feelings she might hurt. "These days, everybody wakes up offended," she said. "... Here's the thing about me: if I say something, it's because I meant it. And if you don't like it, that's going to have to be your problem."
Indeed, Pink could definitely teach a few of the "Drag Race" brigade a thing or two about throwing shade. From dissing presidents and castigating record company executives to blasting magazines and calling out internet breakers, here's a look at 14 times the multiple Grammy Award winner lived up to the name of her 2003 single, "Trouble."
She put a record executive in his place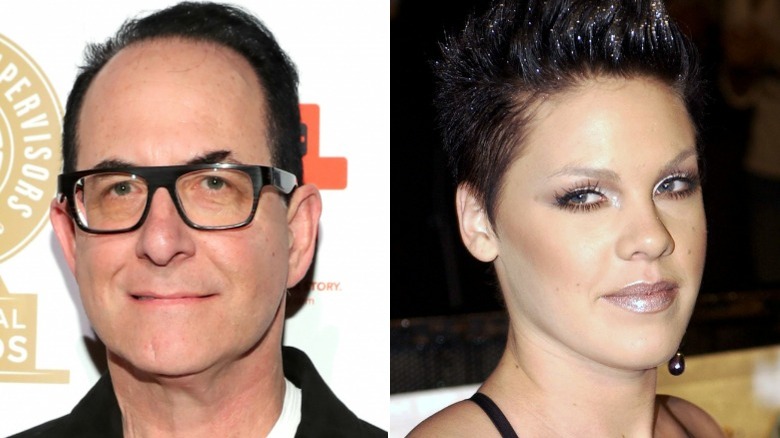 Brian Rasic/Getty, Rich Polk/Getty Images
The apparent beef between Pink and Christina Aguilera has become the stuff of pop legend. But you might not know that it was one of the early '00s most prominent A&R executives, Ron Fair, who instigated it.
In her 2009 "Behind the Music" documentary for VH1 (via The Sun), Pink recalled how she felt put out during a record company meeting about the star-studded collaboration "Lady Marmalade" when Fair instantly expressed his favoritism. "He didn't say 'Hi' to any of us and said, 'What's the high part? What's the most singing part? Christina's going to take that part,'" she explained. Of course, Pink was never going to take this snub lying down and claimed to have immediately put Fair in his place. "I stood up, and I said, 'Hi. How are you? So nice of you to introduce yourself. I'm Pink. She will not be taking that part. I think that's what the f***ing meeting's about.'" 
The singer's quick response appeared to have had the desired effect as she and Aguilera were both given an equal chance to shine in the "Moulin Rouge" soundtrack cut.
Pink reopened old wounds with Christina Aguilera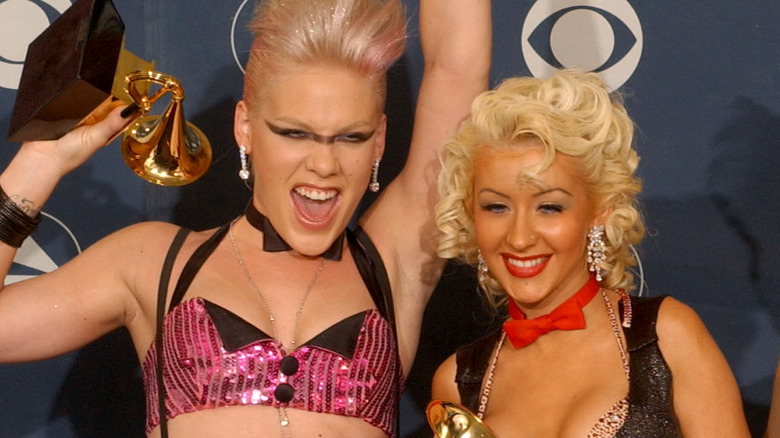 Vince Bucci/Getty Images
Rumors about Christina Aguilera and Pink's apparent dislike of each other had swirled around the pop world since they collaborated with each other on the 2001 hit single, "Lady Marmalade." But it wasn't until a 2017 appearance on "Watch What Happens Live" that Pink first publicly addressed their beef. The acrobatic singer admitted to host Andy Cohen that she and Aguilera had clashed back in the day due to their similar alpha female status but had since patched things up. However, while promoting her ninth LP "Trustfall" six years later, Pink couldn't resist getting another jab in against the younger star.
Speaking on "The Chris Wallace Show," Pink recalled how she upset Aguilera on the video shoot for the "Moulin Rouge" soundtrack number simply for where she'd parked her derriere. "I didn't know I was sitting in her chair," she explained. "... I was homeless at 15. Like, you can't talk to me any kind of way. So you know, you picked the wrong one." Pink later expressed her disappointment on Instagram that this decades-old story had continued to detract from her music. "Some of the responsibility lays with me and my inability to lie, and my uncanny ability to overshare," she added. "My real disappointment lies in the fact that the art can never be the focus when you're a woman."
Pink threw Prince's advice back in his face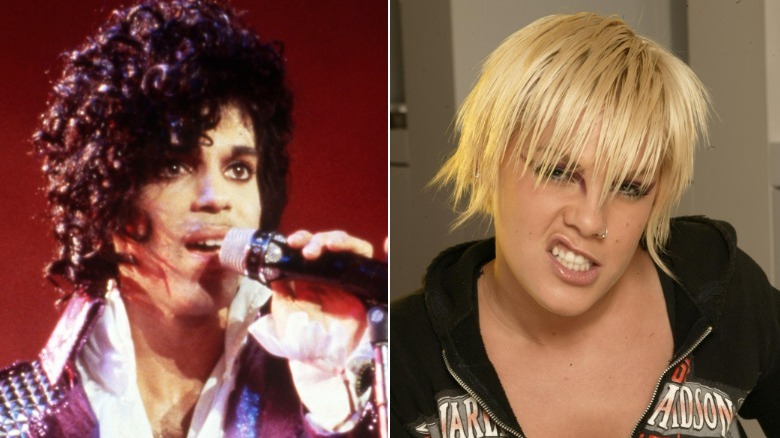 Dave Hogan/Getty, Icon And Image/Getty Images
Even the musical genius that is Prince couldn't escape Pink sharp's tongue. And this was when the gulf in their public profiles was at its greatest, too. Yes, in a 2016 interview on the Nova FM show (via Mirror), the "Get the Party Started" singer admitted that she told the Purple One where to go when she was only 19.
Pink explained how the pair came to blows when she asked the pop legend about the prospect of a collaboration when she was a complete unknown. "He asked if I owned my masters. I told him 'No, I didn't,' because I had actually just got a record deal so it was a little early for me to be demanding my masters back." A slightly apologetic Pink then added, "He told me to call him when I did. I told him he was a rude f*** then I went on stage." 
The star acknowledged that she had difficulty in taking advice on board back in her early days and now realizes that Prince was only trying to help her. Speaking shortly after his untimely death that same year, she described his loss — and that of David Bowie, who also died earlier that year — as being monumental. "The world lost a lot of sparkle this year," she said. "... These people are irreplaceable and it's just really, really sad.
She rubbed Madonna the wrong way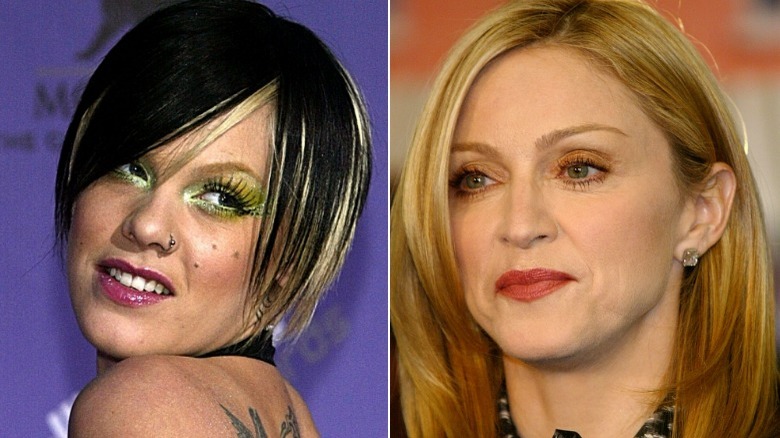 Carlo Allegri/Getty & Carlo Allegri/Getty Images
While appearing on "The Howard Stern Show" in 2023, Pink claimed that she had made an enemy of Madonna after rubbing the Material Girl the wrong way on another chat show, "Live with Regis and Kelly," two decades earlier.
The "Just Like Fire" singer recalled how Madonna tried to "play" her when the pair appeared together on the daytime TV institution back in 2003. How did she do that, you may ask? Well, after accepting an invitation to meet Madonna backstage, Pink was deemed — incorrectly she insists — to have become something of a fangirl in her presence. And so when Regis Philbin brought up the subject of their introduction, she decided to set the record straight.
Pink explained, "... So I just said a joke when Regis brought me out, he said, '... I heard you're just falling over yourself backstage. How does it feel?' I'm like, 'I thought she wanted to meet me?'" As she tells it, her apparent quip did not go down well with Madonna, and the chances of any future collaboration instantly disappeared there and then.
Pink blasted L.A. Reid in song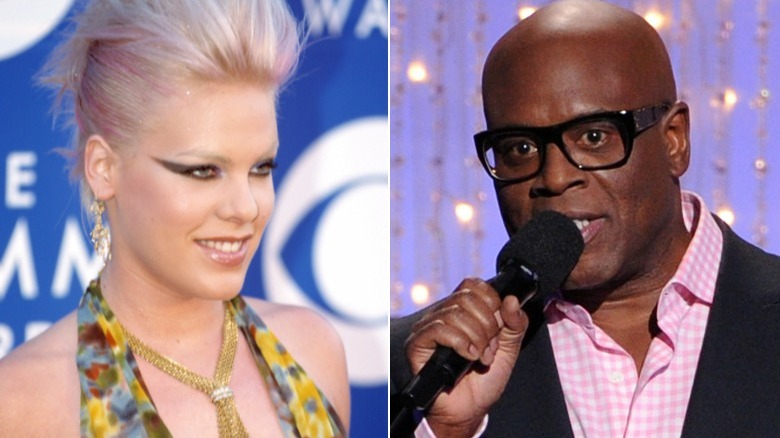 Everett Collection/Shutterstock, Kevin Winter/Getty Images
Pink proved that sometimes revenge is a dish best served in an angsty pop-rock anthem in the early '00s when she took aim at her record label head during one particular lyric in "Don't Let Me Get Me." Referring to the industry mogul L.A. Reid, the hitmaker sings, "L.A. told me, 'You'll be a pop star, all you have to change is everything you are.'"
As she explained to Rolling Stone soon after, these lyrics weren't too far away from what her boss actually told her. When asked exactly why he wanted her to change her whole identity, Pink replied, "I'd gone to my first industry dinner, where they pay $8,000 a plate. The next day I got a call from the label asking me to take etiquette classes. They tried to convince me that it's better to know the rules and then break them. I said, 'If I know them and break them, I'll just have a guilt trip.'"
The Top 10 single wasn't the first time that Pink had clashed heads with the man in charge of her early career. She also admitted that she'd repeatedly fought with him in the six years since he first spotted her talents as part of the R&B girl band, Choice. Perhaps unsurprisingly, the star claimed that she always won.
She argued Rolling Stone magazine is a waste of trees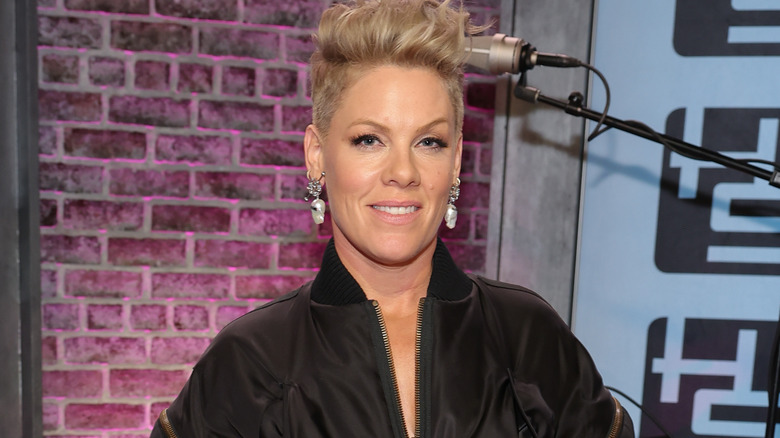 Mike Coppola/Getty Images
Hell hath no fury like a Rolling Stone list omission scorned! In 2022, the iconic music magazine ranked their favorite ever 25 Grammy Award performances. And when Pink realized she wasn't included alongside the likes of Taylor Swift and Beyoncé, she let the publication know exactly what she thought of them.
In the comments section of a Rolling Stone Instagram post about the article, a furious Pink wrote the since-deleted response, "Bahaha, you guys have been irrelevant since 1990." She went on to namecheck Muddy Waters, John Lennon, Tina Turner, and Hunter S. Thompson as examples of the caliber of artists that the magazine used to feature. "Then they sold out and all credibility went to s*** when 'style over substance' and 'revenue over authenticity' went into play," she sniped.
And Pink wasn't done there, either. The star also blasted its writers for covering the likes of "Jersey Shore" star Snooki before insisting that this wasn't simply a case of sour grapes — but rather a matter of integrity. "Believe me I could give a s***," she wrote. "But this is the biggest sellout in f***ing history when it comes to a publication we all once trusted."
Pink was grossed out by Kanye West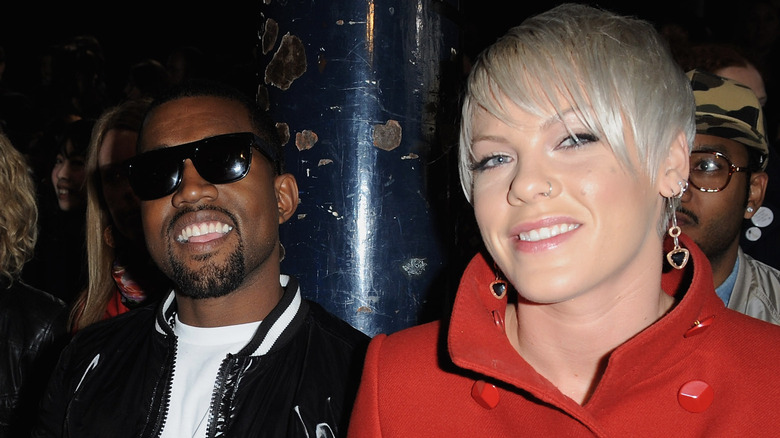 Pascal Le Segretain/Getty Images
In 2009, Pink was one of the first stars to put her head above the parapet and call out the then-seemingly untouchable Kanye West. Yes, shortly before the rapper disgraced himself by interrupting Taylor Swift's speech at the MTV Video Music Awards, he was blasted by the "Just Like A Pill" singer for his conduct at another high-profile event.
On this occasion, it was the Paris Fashion Week show staged by Stella McCartney that West made himself a nuisance at. Pink explained to FHM Australia (via Entertainment Weekly) that she was also in attendance alongside famous animal rights activist Paul McCartney and the PETA Vice President. In a blatant case of failing to read the room, West apparently spent most of his time complaining about the lack of fur on display.
Pink said, "I was just so grossed out by him. I'm like, 'You're an idiot!' There are so many people who I think are a waste of skin and he's up there. I should wear him. Go on, donate yourself, Kanye. People can wear your fur." The day after the VMAs furor, Pink proved she was firmly Team Swift by tweeting, "Kanye West is the biggest piece of s*** on earth. Quote me."
She once labeled Miley Cyrus 'tacky'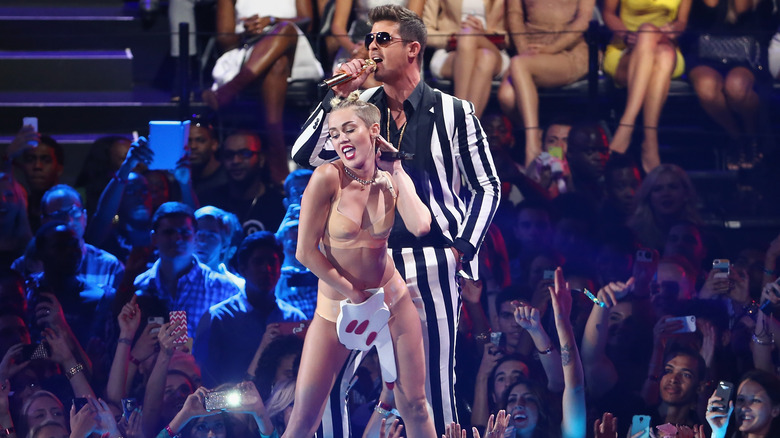 Neilson Barnard/Getty Images
Miley Cyrus' raunchy reinvention in the early 2010s appeared to split audiences down the middle, with some arguing she was simply expressing her creative freedom and sexuality, and others believing she was simply resorting to the age-old "sex sells" approach to success. It seems fair to say that Pink's opinion fell in the latter category.
When asked about Cyrus' radical transformation by E! Online, the "Family Portrait" singer said, "Am I into it? No, I think it's tacky. She's really freaking talented. She's beautiful. She can sing her a** off. And to go up there and do that? She's cheating herself and she's cheating the rest of us." Pink went on to claim that she has always tried to act with integrity when it comes to her art "I believe if people are going to get up and get out of bed and go to work and spend their hard-earned money on me to entertain their family, I'm going to do it well and I'm going to do it interestingly and with class and creativity," she argued.
But hey, maybe the "Flowers" hitmaker has managed to prove her critics wrong since then? After all, eight years later, Pink told Entertainment Weekly that Cyrus would be a worthy replacement for her own vocal lines in a modern-day remake of "Lady Marmalade."
Pink blasted Chris Brown's miming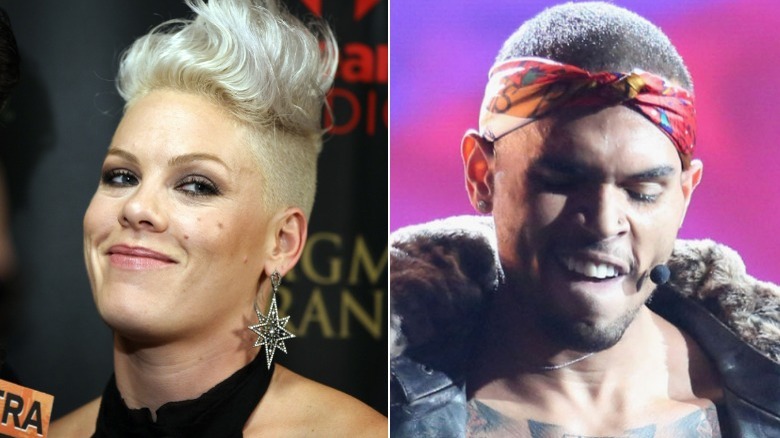 Isaac Brekken/Getty, Christopher Polk/billboards2012
From Ella Mai and Jhene Aiko to H.E.R. and Chloe Bailey, Chris Brown still appears to have a queue of female singers willing to work with a man who has a repeated history of violence toward women. Suffice it to say, it doesn't seem as though Pink will be adding her name to that list any time soon.
In 2012, the "Feel Good Time" singer risked incurring the wrath of Brown's army when she blasted his performance at the Billboard Music Awards. Pink tweeted, "One day if I lipsync, I hope I do it as well as him." The singer's husband Carey Hart also showed solidarity on Twitter by writing of Brown's act, "I'm pretty sure I saw my wife did that same performance, but she was three months pregnant and actually sang the song."
Pink later told News.com.au that she received death threats from Brown's disgruntled fans for her comments, adding, "People that wouldn't have the balls to say anything in person but they get a keyboard under their fingers and, well, there's that saying, 'Anonymity is a shield from the tyranny of the majority.'" Still, the performer also acknowledged that her conduct on the social media platform maybe wasn't the best either — and that comments intended as jokes don't necessarily read that way online. "Twitter brings out the best and worst people — myself included," she stated.
She slammed Kim Kardashian's nude selfie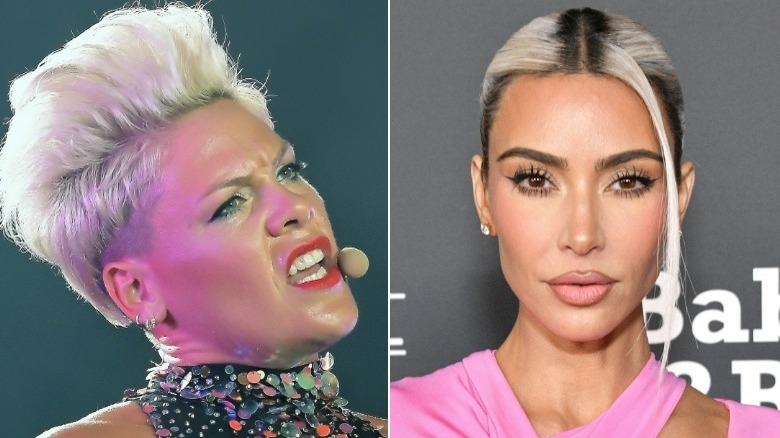 A.PAES/Shutterstock, Araya Doheny/Getty Images
In 2016, Kim Kardashian once again broke the internet with a selfie that left little to the imagination. But while the gossip sites were undoubtedly delighted with the reality star's lack of inhibitions, Pink felt compelled to write an empowering yet shady message about the star's nude selfie instead. The "So What" hitmaker tweeted, "Shout out to all of the women across the world using their brains, their strength, their work ethic, their talent, their 'magic' that they were born with, that only they possess. It may not ever bring you as much 'attention' or bank notes as using your body, your sex, your t**s, and a***s, but women like you don't need that kind of 'attention.'"
Pink later told "Watch What Happens Live" host Andy Cohen that she'd been prompted to pen the note after Kardashian belittled one of her musical icons on Twitter earlier that same day. "Honestly, she went in on Bette Midler and if you go in on Bette Midler, you're going to hear from me," she said. "Just don't talk to Bette Midler about anything." Indeed, the veteran Hollywood star had earlier taken aim at the same nude selfie that Pink had commented on, quipping on Twitter, "If Kim wants us to see a part of her we've never seen, she's gonna have to swallow the camera." In retaliation, Kardashian made a wisecrack about it being well past Bette Midler's bedtime and accused her of being a fake friend.
She called out Selena Gomez's 'stupid music video'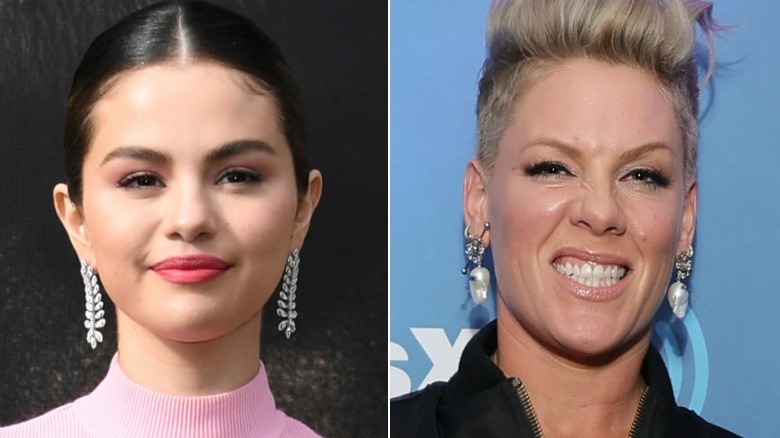 Mike Coppola/Getty, Jon Kopaloff/Getty Images
Pink made herself an enemy of Selena Gomez's fan base in 2012 when she inadvertently called out the Disney Channel graduate on an animal rights issue. The "What About Us" singer had taken to Twitter with the following request, "If there are any animal activists around Malibu — at Leo Cabrillo State Beach, there are horses being painted for a stupid music video. Shame."
The "stupid music video" in question was Gomez's "Love You Like A Love Song." And Pink was undeterred when she discovered the identity of the artist, adding, "Whether [you are] a fan of mine or [whoever's], I won't stop speaking out about animal cruelty. I've taken responsibility in the past, so should she."
A spokesperson for Gomez insisted to People (via HuffPost) that no ponies had been harmed during the shoot. They also claimed that the paint used was non-toxic, that it had been applied safely by airbrush, and that a Humane Society rep had been on set at all times. However, perhaps in light of Pink's comments, Gomez decided to remove the animals from the finished promo.
She asked George W. Bush how he can sleep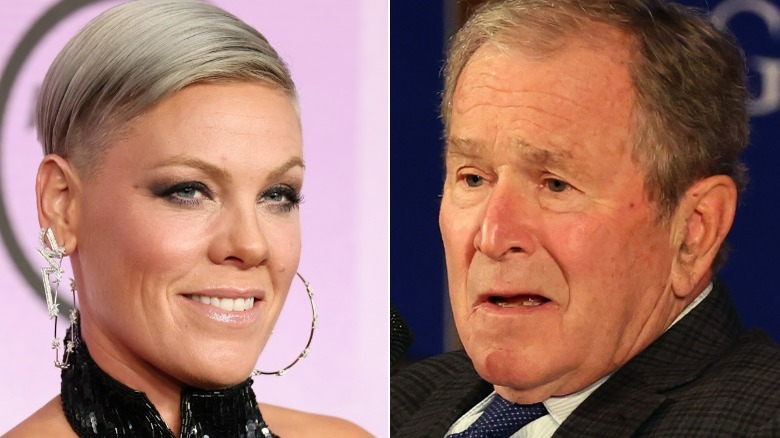 Amy Sussman/Getty, Richard Rodriguez/Getty Images
Undeterred by the backlash received by the Dixie Chicks following their criticism of President George W. Bush, Pink decided to pen an open letter to the 43rd on her 2006 studio album, "I'm Not Dead." And as you'd expect, its tone wasn't exactly congratulatory. Referencing Bush's stances on everything from the Iraq War and gay marriage to the No Child Left Behind Act, "Dear Mr. President" posed questions such as "How do you sleep while the rest of us cry? How do you dream when a mother has no chance to say goodbye?" and "What do you feel when you look in the mirror? Are you proud?"
Pink told MTV News that she didn't expect a response from the target of her ire — in fact, she didn't think he'd probably even get close to hearing it. But in the unlikely event that it did somehow end up on the White House stereo, she figured that he'd at least support her right to freedom of speech. "I hope the president is proud of the fact that we live in a country where we can do things like that, where we can have dissent, talk, communicate and share our opinions," she noted. 
Pink mocked Donald Trump's rally attendance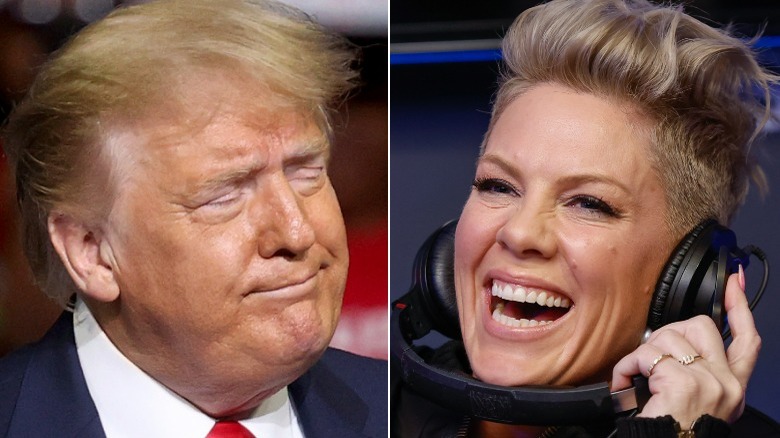 Mike Coppola/Getty & Win Mcnamee/Getty Images
In 2020, Donald Trump went against his own coronavirus taskforce's advice by staging a rally at Tulsa's BOK Center. The 45th had claimed beforehand that the event would be packed out. But footage showed that, in reality, a notable percentage of the 19,000 seats available were said to be empty. And one of his biggest celebrity detractors couldn't stop herself from rubbing his nose in it.
Yes, alongside the hashtag #donkeyshow, Pink tweeted, "I think I sold that same place out in five minutes." The "Who Knew" hitmaker then blasted Trump for holding the rally in the first place, writing, "Don't hurt the people that love you. I would never ask people to come to an arena right now. No good person would."
Of course, this wasn't the first time that Pink had made her feelings about Trump crystal clear. Three years earlier, she was asked whether she would update her anti-George Bush song, "Dear Mr. President," following the entrepreneur's shock rise to power. She tweeted, "There aren't words for this shameful person."
Pink repeatedly mocked Britney Spears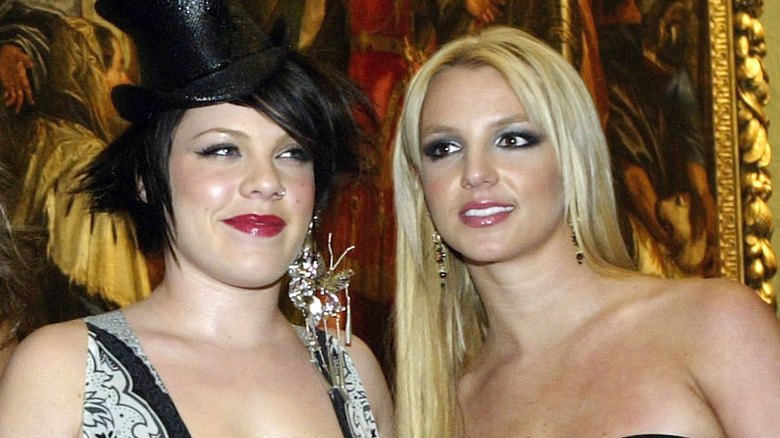 John Gichigi/Getty Images
While promoting her ninth studio effort "Trustfall" in 2023, Pink claimed that she had no ill will toward Britney Spears. In fact, she told People that she now felt very protective of her. It's fair to say that the "There You Go" singer hasn't always been so kind toward her fellow pop superstar, though.
Firstly, she appeared to throw shade at Spears with the 2002 single, "Don't Let Me Get Me," singing, "Tired of being compared to damn Britney Spears. She's so pretty, that just ain't me." While performing that track at a festival in 2007, a period in which the "Baby... One More Time" hitmaker was clearly struggling with the pressures of fame, Pink changed the middle lyric to "She's so crazy," per Digital Spy. 
And then in 2009, she criticized Spears for apparently miming in concert. "I would never go to a show where the person was lip-synching," Pink told Women's Health. "When you grow up listening to Janis Joplin, you"re not going to want to see somebody mime." When the outlet's interviewer pointed out that the singer had seemingly also taken aim at Spears with the track, "Stupid Girls," Pink argued that she had actually always liked and been a defender of the pop star.
In 2011, she dragged both Spears and Christina Aguilera — the latter of whom had just been arrested for public intoxication — in the same tweet, quipping, "Out of Myself, Britney, and Christina, didn't everyone think I was gonna be the troublemaker? Look ma! No cuffs!"