RHONJ: Rachel Fuda's Plastic Surgery Explained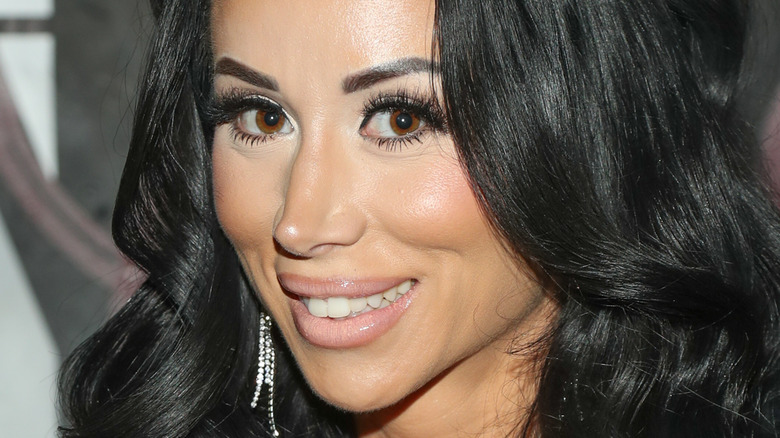 Manny Carabel/Getty Images
Nose goes!
"Real Housewives of New Jersey" OG Teresa Giudice's housewarming party quickly turned ice cold once Jennifer Aydin arrived on the scene ready to wreak havoc — all while the Bravo cameras were rolling. "I called [Rachel] up and I said, 'I'm sorry that I spoke about your nose job,'" Aydin bellowed during a heated exchange with cast newcomer Rachel Fuda. "People bad-mouth me about my terrible nose job. I felt bad about your terrible nose job, and I just felt bad. I was calling to apologize," she quipped. And scene! 
As one can imagine, Fuda was not too happy with the passive-aggressive dig and stormed out of the party, but not before her husband made sure his wife didn't want to "check" Aydin first. As Jersey Housewife mainstay Melissa Gorga loves to say, "THANK YOU, JESUS," she did not. PHEW. But speaking of nose jobs, what's the real scoop behind Fuda's schnauze? And has she had any other plastic surgery done? The answer may or may not surprise you.
Rachel Fuda owns up to her rhinoplasty
"Real Housewives of New Jersey" newbie Rachel Fuda OWNS IT, BABY.
Fuda does not deny that she had her nose done in 2019. In fact, when Jennifer Aydin took it upon herself to ask her if her nose was indeed hers, Fuda copped to having work done right away. "No, I got my nose done," she answered matter of factly. Alas, Aydin's prying questions didn't end there. "Is it still..." Aydin asked slowly before Fuda finished her question for her. "Swelling?" Fuda asked. YIKES. It's worth noting that after the party, Aydin did call and apologize for interrogating her about the authenticity of her nose. "So we leave the mozz party, she calls me [and] she's like, 'Hey, I hope I didn't offend you by, like, bringing up your nose job. You know I'm just like not really happy with my results,'" Fuda later recounted over lunch to "RHONJ" friend of Jennifer Fessler.
Still, Fuda didn't stop there. In February, she had one more cosmetic procedure done...
Rachel Fuda is serious about her smile
As the saying goes, a smile is worth a thousand words.
Rachel Fuda reads very much like an open book regarding the cosmetic dentistry work she's had done. "Sip sip hooray I got a new smile today," she posted to Instagram on February 15 with a photo of her showcasing her brand new pearly white veneers and raising a glass of champagne in celebration. And fortunately, she documented the entire experience and saved it to her Instagram Story Highlights aptly titled "SMiLE.".According to Fuda, the decision to get veneers wasn't one she made overnight. In fact, Fuda had actually used a brand of clear aligners for more than four years before deciding to make the leap to veneers. "[I] was just never happy. I knew it was the shape of my teeth and hollowness in my smile," she revealed. And just for the record, she's not still healing, or erm, swelling after this procedure either. "No recovery time at all!" she gushed about her non-existent downtime after having the veneers put on. "I was just numb and had to wait for that to wear off," she explained.