Inside Jamie Lynn Spears' Life After Her Estrangement From Britney Spears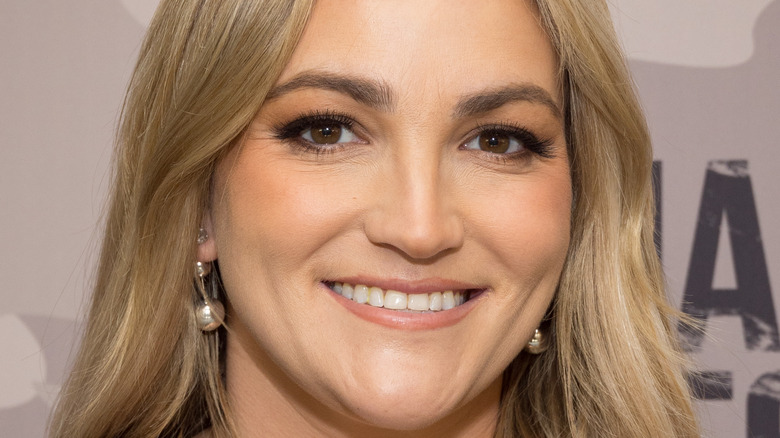 Emma Mcintyre/Getty Images
The following article includes mentions of mental health struggles and abuse allegations.
The world may know her best as Britney Spears' younger sister, but Jamie Lynn Spears is all grown up now — with a voice of her own. She's using it, amidst a very public feud between herself and her older sister that's been dragged through headlines and blasted on social media. 
Jamie Lynn launched to fame in 2005 as the star of Nickelodeon's hit show "Zoey 101," which she starred in for three years until her teenage pregnancy at 16 years old infamously rocked the network, the tabloids, and her career. Living in the shadow of her pop princess sister's fame couldn't have been easy for the younger star, but an unplanned pregnancy complicated her life even further. Jamie Lynn took years away from the public spotlight following the birth of her daughter, Maddie, but she's back to reveal the truth about her family's struggles and growing up as Britney's little sister.
Following Britney's lengthy conservatorship battle, accusations from the "Toxic" singer were thrown left and right about the alleged lack of family support she received. Once the picture-perfect sister duo, cracks began to surface that tarnished the public's perception of the relationship between Britney and Jamie Lynn. What really went down, the public may never fully know — but there's plenty of she-said-she-said to break down in this strained sisterhood. We're diving inside Jamie Lynn Spears' life after her estrangement from Britney Spears.
Jamie Lynn Spears released a bombshell memoir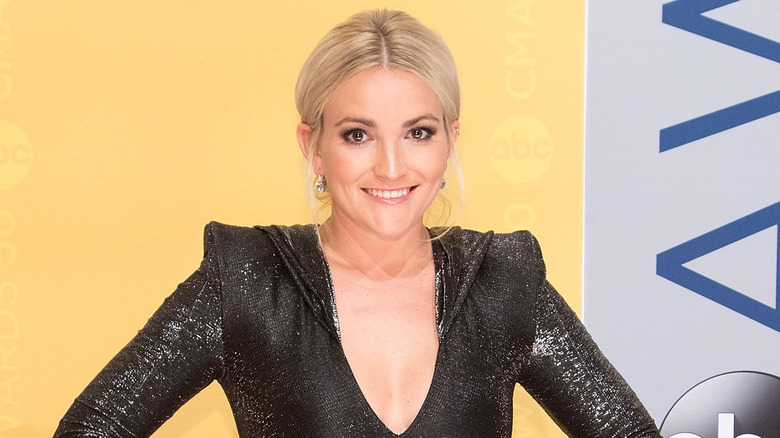 Taylor Hill/Getty Images
A couple months after Britney Spears was officially freed from her 13-year-long conservatorship in November 2021, Jamie Lynn Spears released a jaw-dropping memoir titled "Things I Should Have Said" in January 2022. The tell-all book shed light on what it was like growing up Spears, from a broken family to the mental health struggles she endured silently for years. In the memoir, the Nickelodeon star wrote (via E! News), "We were a tight-knit family torn apart by money, distorted truths, and undisclosed personal issues." 
One of the most shocking revelations in "Things I Should Have Said," however, was Jamie Lynn claiming that her sister's alleged paranoia led Britney to grab a knife from the kitchen and ask her little sister to sleep next to her. Britney didn't take too kindly to this claim, writing in a since-deleted tweet, "Jamie Lynn ... congrats babe! You've stooped to a whole new level of LOW. I've never been around you ever with a knife or would I ever even think to do such!!!" 
Soon after, Jamie Lynn defended her decision to write the memoir. Taking to Instagram to release a statement, she revealed that she wanted to speak her truth so she could heal from the past. "I hate to burst my sister's bubble, but my book is not about her. I can't help that I was born a Spears too, and that some of my experiences involve my sister," Jamie Lynn wrote in part, adding, "No matter what comes, I will always love my big sister, and be here for her."
If you or someone you know needs help with mental health, please contact the Crisis Text Line by texting HOME to 741741, call the National Alliance on Mental Illness helpline at 1-800-950-NAMI (6264), or visit the National Institute of Mental Health website.
Her eye-opening interview on the Call Her Daddy podcast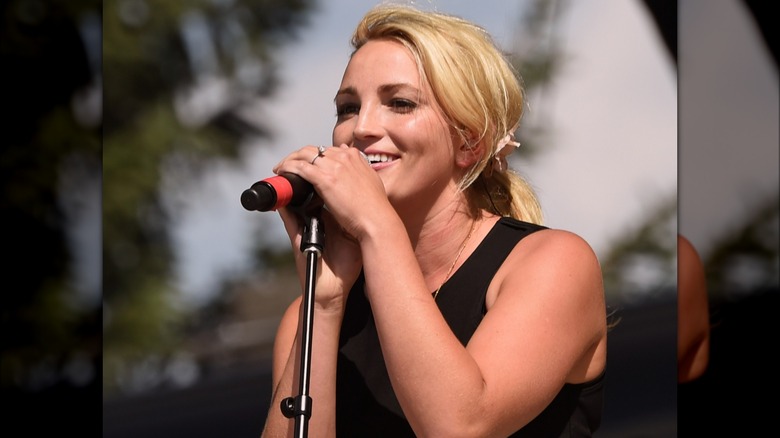 Rick Diamond/Getty Images
Jamie Lynn Spears dropped some major bombshells about the back-and-forth spat between her and Britney Spears when she appeared on Alex Cooper's "Call Her Daddy" podcast in early 2022. As previously mentioned, Britney was less than thrilled about the memoir "Things I Should Have Said" and its press tour, even sending her sister a cease-and-desist letter around the time this interview dropped — during which Jamie Lynn shared alleged texts between the famous sisters to back up her claims of supporting Britney during her conservatorship.
Jamie Lynn also argued that someone should have stepped forward on Britney's behalf at the start of her long-fought legal battle. "Somebody should have said, 'Stop the f***ing presses, give this girl a f***ing minute,'" Jamie Lynn admitted, noting that it was her high school friends who broke the news about Britney's highly publicized shaved-head incident to her in 2007. "I had to pretend like it didn't bother me," Jamie Lynn tearfully confessed, saying she hid her emotions. "I guess I just kind of acted like it wasn't a big deal, but it was [a] huge deal."
The "Zoey 101" actor, who was also dealing with her teenage pregnancy at the time, admitted it was difficult keeping this quiet from her big sister at her family's suggestion. "I needed her more then," she said. "... Could you imagine what a difference it probably would have made if I was able to have my sister then?" Britney quickly took to Instagram to call out Jamie Lynn's emotional interview.
She defended herself in her feud with Britney Spears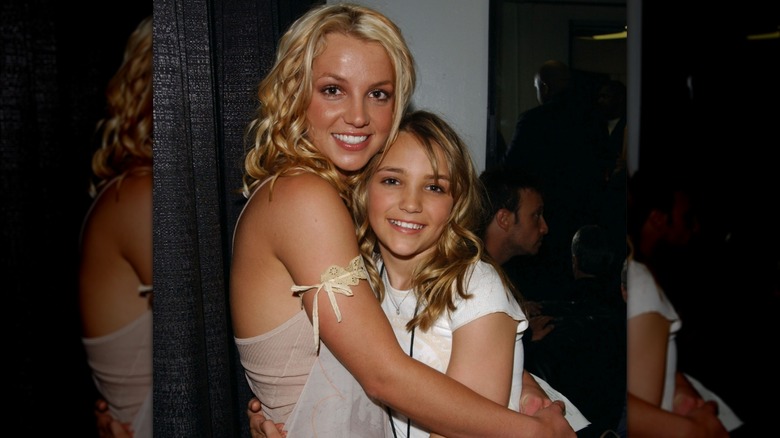 Frank Micelotta/Getty Images
Britney Spears has made no secret of calling out those closest to her in the wake of her newfound freedom — and she's had less-than-kind words for younger sister Jamie Lynn Spears. In 2021, Britney shared her distaste for her estranged family on Instagram, writing in part, "I don't like that my sister showed up at an awards show and performed MY SONGS to remixes!!!!! My so-called support system hurt me deeply." For context, Britney was referencing Jamie Lynn's tribute performance to her big sister at the Radio Disney Music Awards in 2017. 
Amidst accusations that she was complicit in Britney's ongoing conservatorship, Jamie Lynn claimed to "Good Morning America" while promoting her memoir in 2022 that she attempted to help her sister leave it: "When [Britney] needed help, I set up ways to do so. Went out of my way to make sure she had the contacts she needed." Britney swiftly alleged in a series of since-deleted tweets, "[My sister was] never around me much 15 years ago at that time ... so why are they even talking about that unless she wants to sell a book at my expense???"
It's not clear where this up-and-down relationship stands, as of this writing. In December 2022, Britney posted photos of Jamie Lynn on Instagram, writing in the since-removed caption, "Congratulations on being so brave, inspiring, and showing guts and glory in your show." However, the "Lucky" singer slammed Jamie Lynn's comments about struggling while growing up in her shadow the following month.
Jamie Lynn Spears is starring in Sweet Magnolias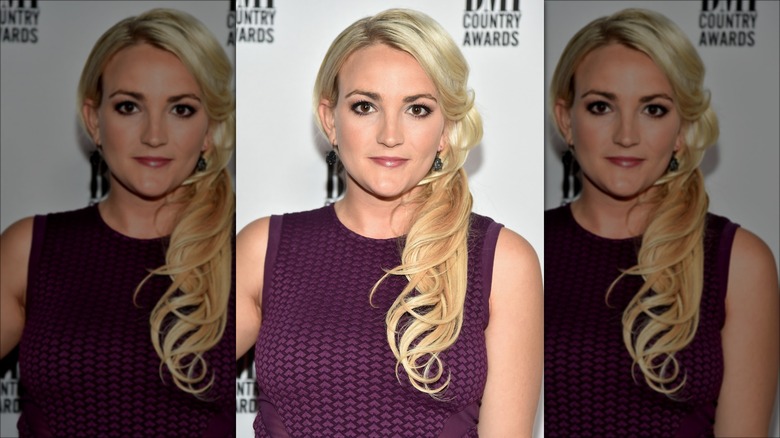 Michael Loccisano/Getty Images
Jamie Lynn Spears hasn't lost her acting chops since her days on "Zoey 101." She landed a spot as Noreen Fitzgibbons on the Netflix series "Sweet Magnolias." The show follows a group of close women in South Carolina as they go through life, love, and obstacles together in a small-town Southern community. Modeled after the four-part collection of novels by Sherryl Woods, the series launched in 2020.
"I had been in denial, not really admitting to myself how much I missed acting," Jamie Lynn admitted at the time in an interview with The Hollywood Reporter. "I was working on my music for a while, and then I focused on my family for a bit. With acting, I was just waiting for a project that made sense." The actor-singer plays the role of a nurse who finds herself involved in an affair with a doctor that leads to a pregnancy that fuels the town's rumor mill. 
It's a fitting project for Jamie Lynn, whose own unplanned teenage pregnancy sparked a firestorm of gossip and put her career to a halt back in 2008, as previously mentioned. "Although it was nerve-racking to get back in front of the camera, this felt very natural for me. I remember being 16 years old, being pregnant in a small town. And then on top of it, the whole world was watching," she said. Meanwhile, proud mom Lynne Spears previously showed her support for Jamie Lynn's new gig on Instagram, writing, "Excited about Jamie Lynn's role in the new @netflix show #SweetMagnolias."
Zoey 101 is getting the reboot treatment
Fans will be happy to know the hit series "Zoey 101" is making its comeback. In January 2023, Nickelodeon announced a young adult movie would premiere on Paramount+ starring Jamie Lynn Spears in her titular role as Zoey Brooks. "I'm beyond thrilled to be back alongside my PCA family and continue the story of Zoey and all the characters fans know and love. As an executive producer, it's been an exciting opportunity to work with such incredible talent as well as Paramount+ and Nickelodeon," Spears stated of the reboot (via Deadline). With the premise involving a wedding, for which the former Pacific Coast Academy students come together years later, Spears will be reunited onscreen with some familiar faces, such as Erin Sanders as Quinn Pensky, Sean Flynn as Chase Matthews, Matthew Underwood as Logan Reese, and more original cast members.
But not all former "Zoey 101" stars are excited about its comeback — including Alexa Nikolas, who played Nicole Bristow throughout the show's first two seasons. Following the news, the actor joined in on a protest outside of Los Angeles' Tri Star, where the series was filmed. Alleging that she endured abuse on set, Nikolas told TMZ, "It just kind of feels counterintuitive to support a network that I feel was complicit in childhood trauma."
Nickelodeon previously faced accusations by former "iCarly" and "Sam & Cat" star Jennette McCurdy that she was offered $300,000 worth of hush money to stay silent about alleged abuse she experienced on set, including unwanted massages and being pressured into underage drinking.
If you or someone you know may be the victim of child abuse, please contact the Childhelp National Child Abuse Hotline at 1-800-4-A-Child (1-800-422-4453) or contact their live chat services.
If you or anyone you know has been a victim of sexual assault, help is available. Visit the Rape, Abuse & Incest National Network website or contact RAINN's National Helpline at 1-800-656-HOPE (4673).
The actor has feuded with Alexa Nikolas
As previously mentioned, not all is right in the world of "Zoey 101" — especially when it comes to Jamie Lynn Spears and her former co-star, Alexa Nikolas. The two starred alongside each other on the hit Nickelodeon series during its initial run, but their rocky off-screen relationship took a turn for the worse, particularly following the release of Jamie Lynn's 2022 memoir. 
"I was pretty surprised to see her lying up a storm in there," Nikolas claimed on Instagram following its release, in reference to an alleged bullying incident discussed in the book, in which Jamie Lynn accused Nikolas of spreading rumors about her on set and got big sister Britney Spears involved to defend her. "... Typical move for a bully to play the victim card/gaslight others while straight up lying," Nikolas stated, further alleging that the bullying was actually the other way around. Nikolas also called out her former co-star for seemingly failing to support her after coming out against Nickelodeon with abuse allegations.
Nikolas may not be on good terms with Jamie Lynn, but she did thank Britney for publicly apologizing years later in a since-deleted tweet for yelling at her over the alleged bullying against her little sister. "... Thank you for apologizing. As you know I forgive you," Nikolas wrote on Instagram.
If you or someone you know may be the victim of child abuse, please contact the Childhelp National Child Abuse Hotline at 1-800-4-A-Child (1-800-422-4453) or contact their live chat services.
If you or anyone you know has been a victim of sexual assault, help is available. Visit the Rape, Abuse & Incest National Network website or contact RAINN's National Helpline at 1-800-656-HOPE (4673).
Jamie Lynn Spears is keeping busy being a mom
In addition to her work, Jamie Lynn Spears also keeps busy as a mother of two. She welcomed her first child, Maddie, with ex-boyfriend Casey Aldridge in 2008, amidst public criticism of her surprise teenage pregnancy. "You have your first love, or what you call love, in high school. You think it's forever, and then oh my gosh, I'm pregnant," she reflected to Nylon in 2020. "I am mortified to have to tell my parents this and my family this. I do not care what TMZ thinks about it. That was all I was thinking about: 'These are the people I love that I have to tell, and also, I'm pregnant. There's a human being growing inside of me, and I'm so young, I'm almost a baby myself.'" 
These days, Maddie is all grown up, with Spears celebrating her eldest daughter's big moments online. "Anddd just like that, my baby's in high school," the proud mom wrote in a 2022 Instagram post, adding, "Swipe to see how time literally flies by.....don't take a second of it for granted."
The "Sweet Magnolias" star welcomed second daughter Ivey Joan with husband Jamie Watson in 2018. Gushing to People about expanding their brood, Spears said that baby No. 2's middle name is in "honor [of] my Aunt Sandra, who passed away 10 years ago from ovarian cancer. She was the most graceful woman I've ever known." Spears also frequently shares photos of her youngest daughter on Instagram, showcasing Ivey's sassy personality and stylish fashion sense. 
She is still close with mom Lynne Spears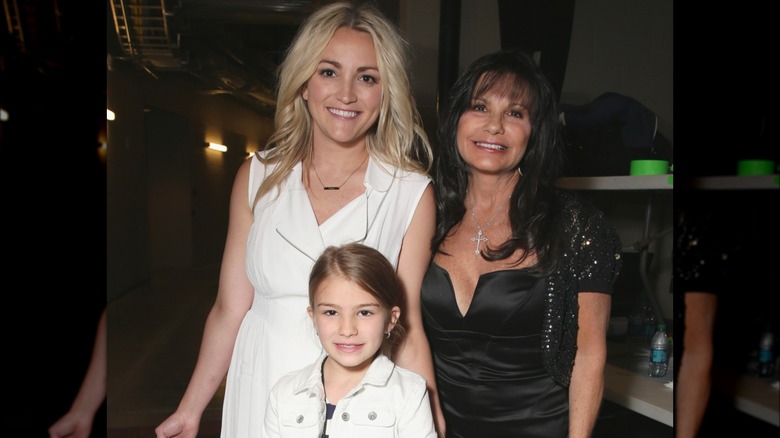 Todd Williamson/bbma2016/Getty Images
Britney Spears has leveled serious allegations against her mother in the Spears' family feud, but sister Jamie Lynn Spears still has a close relationship with Lynne Spears. The "Sweet Magnolias" star, for example, took to Instagram in February 2023 to celebrate the "Zoey 101" revival announcement and shared her gratitude for those closest to her. In a series of photos that included a shot with mom Lynne and youngest daughter Ivey, Jamie Lynn wrote, "Bittersweet feels. I truly love all of these humans. The NEW ERA of ZOEY would not exist without each and every person doing their part to create this magical experience."
Meanwhile, Lynne applauds her younger daughter regularly on her own social media page. In addition to proudly celebrating Jamie Lynn's memoir announcement on Instagram in 2021, the Spears matriarch also enjoys being a grandma to the singer-actor's daughters, often posting photos of the girls and calling herself "MeeMaw." 
While Lynne's relationship with her youngest daughter is strong, the same sadly can't be said for her and Britney. The "Stronger" singer has been vocal about her anger toward her mother, accusing Lynne of abuse and of not doing enough to end the conservatorship. In October 2022, Lynne apologized for any hurt Britney felt in an Instagram comment. However, she previously shared on Instagram, "Britney, your whole life I have tried my best to support your dreams and wishes! Your rejections to the countless times I have flown out and calls make me feel hopeless! I have tried everything."
If you or someone you know is dealing with domestic abuse, you can call the National Domestic Violence Hotline at 1−800−799−7233. You can also find more information, resources, and support at their website.
Jamie Lynn Spears has struggled with her self-esteem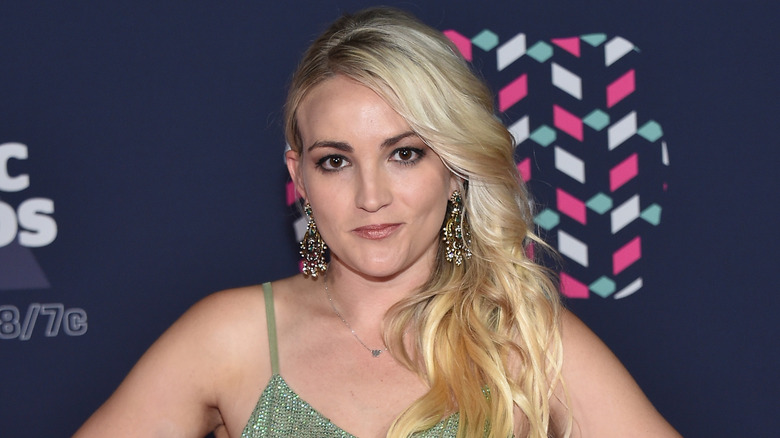 Mike Coppola/Getty Images
Growing up in big sister Britney Spears' shadow, Jamie Lynn Spears felt she had big shoes to fill. In January 2023, the "Sweet Magnolias" star opened up about the effect that fame had on her at an early age, as well as her mental health, while starring on Fox's reality show "Special Forces: World's Toughest Test" — where she and 15 other celebrities were put through a boot camp-style training program, complete with a series of challenges led by staff sergeants. 
During the show's premiere, Jamie Lynn got vulnerable about her struggles with anxiety and self-esteem, saying she longs to feel like her own person outside of the Britney bubble. "I'm so proud of her, love her to death, but I don't know. I just feel like sometimes I've never really been able to have anything for myself," the star confessed. The mother of two went on to reveal that she joined the series to give her children something to be proud of, admitting that she's often struggled with self-esteem while hiding her own struggles in an effort to be there for her kids.
Jamie Lynn's daughters have become a huge source of inspiration and drive for the "Zoey 101" star, who said in an interview with "Access Hollywood" around this time that she was called to write her memoir so she could find her own voice. "I found it really important, obviously, to use my voice and show that it matters to my daughters, because I never want them to feel afraid to share their truth," Jamie Lynn explained.
If you or someone you know needs help with mental health, please contact the Crisis Text Line by texting HOME to 741741, call the National Alliance on Mental Illness helpline at 1-800-950-NAMI (6264), or visit the National Institute of Mental Health website.
She has leaned on her husband for support
While Jamie Lynn Spears has faced a rough few years battling her public family feud and managing the stress that comes with it, the "Zoey 101" alum also has a family of her own to focus on these days — and her husband, Jamie Watson, has stuck by her side through it all. The "Sweet Magnolias" star found love with Watson after the pair were introduced through mutual pals, and they tied the knot in 2014 in an intimate New Orleans ceremony.
"I was an 18-year-old single mom, when this guy came into my life, he made me laugh more [than] I ever had before, and his never changing consistency gave me stability for the first time in my life," Jamie Lynn wrote in a sweet tribute on Instagram, while celebrating their eight-year wedding anniversary in 2022. "I felt a sense of peace with him, and I think that's what being in love is suppose [sic] to feel like, just feeling at peace."
Watson, who's 10 years Jamie Lynn's senior, revealed in a 2016 TLC special titled "Jamie Lynn Spears: When the Lights Go Out" that he had no idea who the Nickelodeon star was upon meeting her for the first time. "I'm just a normal guy with a normal job," Watson — whose own career keeps him out of the public eye, as he works for a company that sells electronics to corporations — confessed (via People). "I did not know about the family. I didn't know she had a TV show. I didn't know anything about her."
Jamie Lynn Spears subtly supported Britney's wedding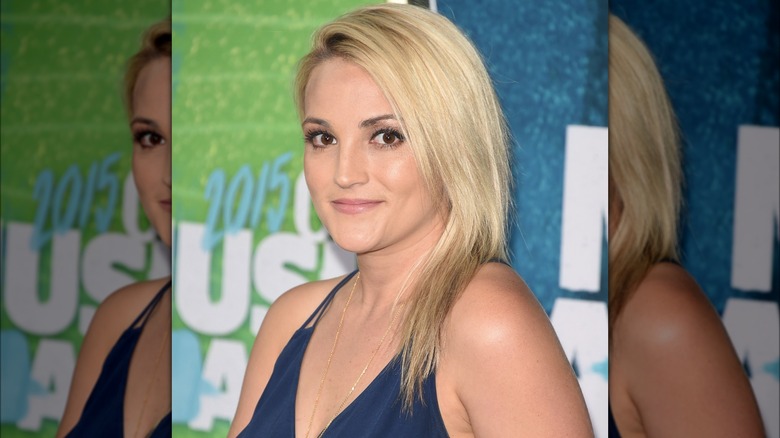 Jason Merritt/Getty Images
Britney Spears may have served as a bridesmaid at Jamie Lynn Spears' 2014 nuptials, but the younger Spears wasn't invited to her older sister's intimate June 2022 wedding to Sam Asghari — though she did give a subtle nod in support of it. 
The wedding took place in front of Britney's closest friends — excluding her family — inside the pop star's Los Angeles mansion. After frequently slamming her family on social media, it wasn't exactly a surprise that none of the "... Baby One More Time" singer's relatives got an invite. High-profile guests like Madonna, Paris Hilton, Drew Barrymore, and Selena Gomez did attend the big day, however, where Britney said "I do" in a custom-made Versace gown.
For her part, though Jamie Lynn didn't get to see her sister walk down the aisle, she sent her congratulations in a different way — through Instagram. The "Zoey 101" star liked Britney's since-deleted Instagram post featuring a slideshow of photos from the wedding, which fans took as a show of support. Meanwhile, mom Lynne Spears also supported her estranged daughter, commenting on the post, "You look radiant and so happy! Your wedding is the 'Dream' wedding! And having it at your home makes it so sentimental and special! I am soooo happy for you! I love you!"
Is there hope for a Spears family reconciliation?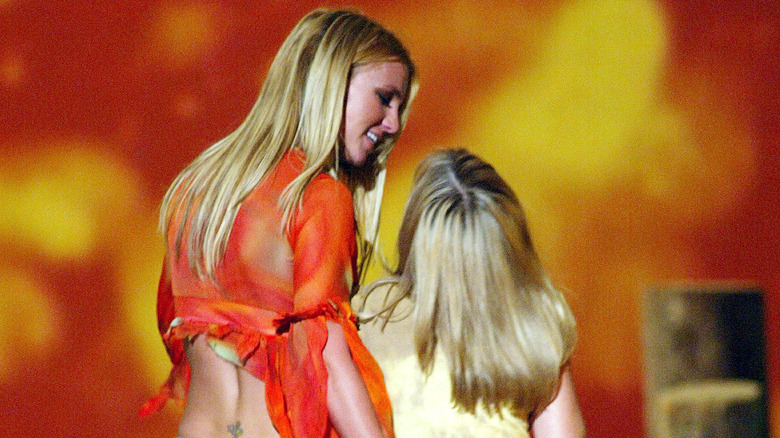 Kevin Winter/Getty Images
With all that's surpassed following the end of Britney Spears' conservatorship, there's no telling what the likelihood is of patching up this famous family's wounds — though hope may be on the horizon. In December 2022, the Grammy-winning pop singer reached out to estranged mom Lynne Spears with an invite to grab a coffee and chat via Instagram while vacationing in Mexico. While we're uncertain as to whether this apparent olive branch was genuine, one thing is for sure — and it's that Jamie Lynn Spears is not giving up on the idea of the Spears family reconciling.
"I think that it's a healing process that I'm working through," Jamie Lynn told ET of her family's struggles in 2022, while defending her unconventional upbringing and the way the Spears' dealt with Britney's skyrocket to fame. "I can't speak for anyone else because each of us are in the family and we are dealing with things individually and from our own point of views, so I think we have to respect each other's process as we go through it, but it's all in real time."
When asked by Extra TV around this time whether or not she saw a future reunion with her sister, Jamie Lynn simply said, "My relationship is and always will be that I'm her little sister, I love and support her, that nothing will change that." She also hoped that one day her family could get back to some level of normalcy, saying, "I love them, and I want happiness for all of them."