Everything We Know About Zachary Levi's Unconfirmed Relationship With Caroline Tyler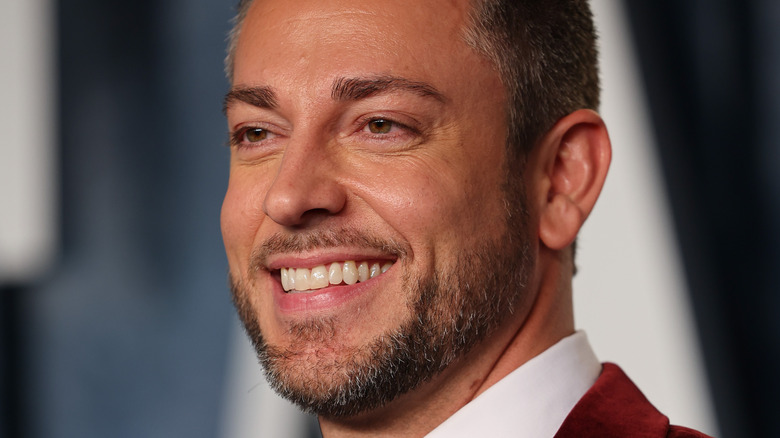 Cindy Ord/vf23/Getty Images
In June 2014, Zachary Levi and Missy Peregrym secretly married in Hawaii. The "Shazam" actor talked to E! News about the private ceremony, admitting that he sometimes feels like he shares a bit too much with the public. "It was nice to just kind of have our own little personal, very small wedding," he said. "It was really beautiful, excellent and intimate." But in April 2015, it was reported that their relationship fell apart. The two quietly filed for divorce in December 2014, after about six months of marriage. 
Since the divorce, Levi has stayed mum about his relationship status. But in July 2021, the actor was spotted walking in New York City with Caroline Tyler. The two were holding hands, making people believe the two were in a relationship or at least romantically linked.
In March 2015, the "Chuck" star spoke about married life. "Nobody can prepare you for marriage," he told People. "Marriage is a whole other animal." He added that when people are just dating, there's easier ways out, but once the couple is married, a lot more commitment is involved. "You're responsible for another person's life as they are yours," he said. And it seems that he's carrying these learned lessons into his new rumored romance.
Zachary Levi and Caroline Tyler have a private relationship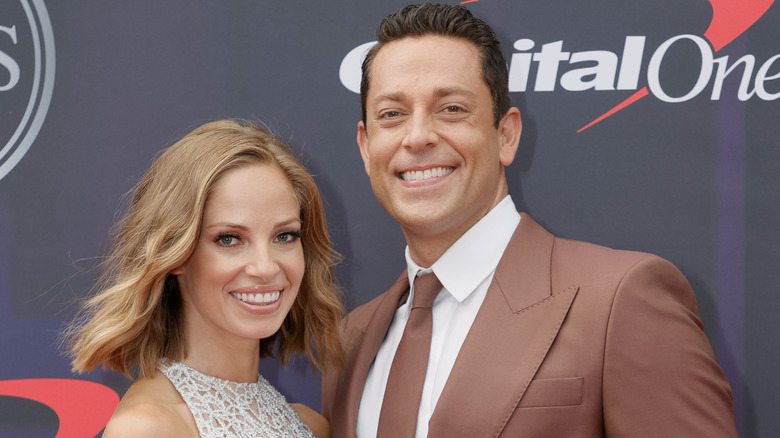 Michael Loccisano/Getty Images
Following his divorce from Missy Peregrym, Zachary Levi became one of Hollywood's most eligible bachelors. But in 2021, he appeared on the red carpet with a mystery woman named Caroline Tyler. They attended the ESPYs together, marking their first public outing as a rumored couple. This was also the only time the two made a public appearance together at an event. It's also noted that the two are very low-key about their relationship, as Tyler's Instagram is set to private. 
Although there's not a lot of information on the "Thor" actor's rumored girlfriend, the two seem to enjoy each other's company, whether they are just good friends or romantically linked. Before attending the ESPYs, Levi posted a couple of videos on Instagram of the two walking together, hand in hand. "We're taking a stroll here in NYC, taking in the lovely weather," the actor said in one of the videos (via Distractify). "And you know, we're going to find a drink. Hair of the dog. That's what they say. Someone says that anyway." Levi also posted a photo with Tyler on the beach, indicating that they both enjoy doing regular activities together such as going on vacations and taking walks outside.
Zachary Levi has been tight-lipped about his love life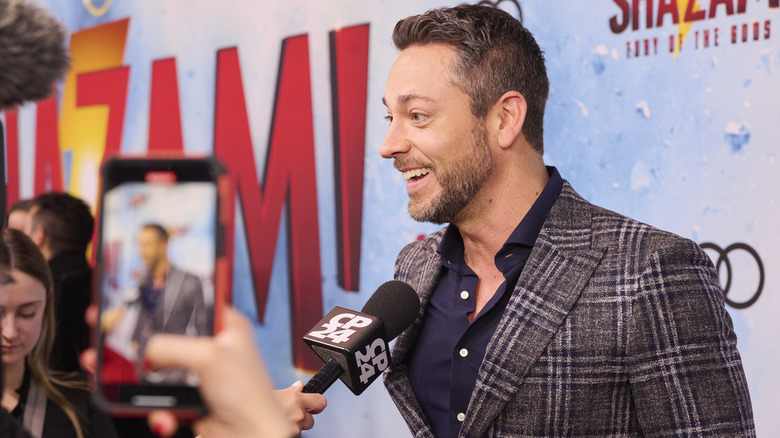 Robert Okine/Getty Images
In a 2019 interview with Access Hollywood, Zachary Levi briefly talked about his romantic life. "I've been in this really kind of very good, healthy moment of being with me, loving myself, working on myself — getting stronger and healthier and waiting for that right woman to enter my life," he said. "I don't know where she is, but I'm trusting that's all going to time out the way it's supposed to." Later in the interview, the "Tangled" actor admitted that he's tried out a dating app or two to find connections. He then added that he believes people should learn to love themselves first before putting themselves out there to be open to loving others. 
In 2020, the "The Marvelous Mrs. Maisel" actor played it coy when he talked about dating during the COVID-19 pandemic. He mentioned to ET that he was focusing on connecting with "loved ones," whether that's in the dating world or not. "I don't talk about that stuff," he added, indicating that he still prefers to keep his romantic life as private as possible. And since there is little information on his rumored romance with Caroline Tyler, it's safe to say that he still wants to keep his love life out of the spotlight.