A Deep Dive Into Tessa Thompson And Michael B. Jordan's Off-Screen Relationship
Joe Maher/Getty Images
Tessa Thompson and Michael B. Jordan's on-screen chemistry in the "Creed" franchise is undeniable, but their real-life friendship also runs pretty deep. However, their natural affection for each other wasn't an instantaneous bond. Thompson revealed on "Jimmy Kimmel Live" that her chemistry test with Jordan was "awkward." The actor told the late-night host that her introductory meeting with Jordan was on film, and she said "Apparently there's a part of the footage where he is looking at my butt." Despite Jordan's cheeky stare, the director must have seen something special between the two actors and they would go on to become "Creed's" beloved couple.
Over the years, Thompson and Jordan cozied up on many red carpets together and many wondered if they were an item IRL. After filming together for nine years, the two actors naturally bonded. However, it appears they kept their relationship strictly platonic and saved their chemistry for their respective characters, Bianca and Adonis Creed. In fact, Thompson and Jordan were so committed to their roles that they went above and beyond prior to filming "Creed III."
Tessa Thompson and Michael B. Jordan attended couples therapy together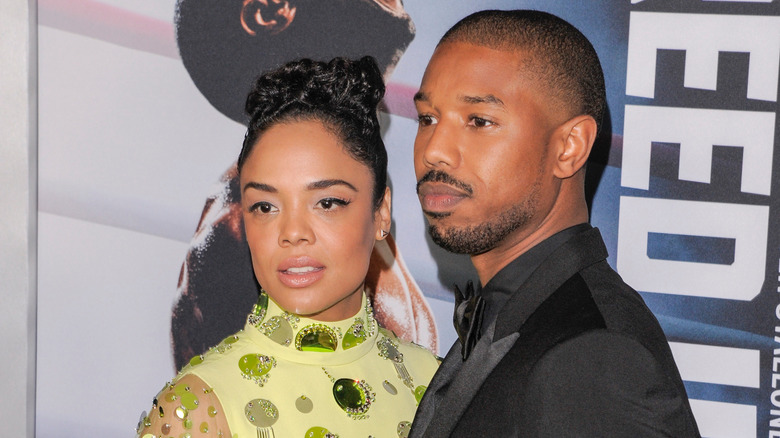 Ron Adar/Shutterstock
Although they're not a couple in real life, Tessa Thompson and Michael B. Jordan sought couples therapy in order to prepare for their roles as a married couple in "Creed III." Over the three movies, Bianca and Adonis go from love interests to husband and wife with a baby girl. 
The third installment shows cracks in their relationship and the two actors went to marriage counseling as their characters, which Thompson described as "very weird" (via Refinery29). She explained, "OK we were in therapy, yes, as Bianca and Adonis, but we were also reflecting on our own relationships. Since we've been making these movies for eight, nine years, we've seen each other through various stages in our own romantic things. So we know stuff about each other's lives. We shared and talked about it." As they underwent therapy as their fictional characters, Thompson and Jordan grew closer as people.
Thompson and Jordan have also evolved personally through the years. "I think we've changed so much over the course of making these films. Eight years isn't nothing. But I think more than that, it's like, we have matured as humans and I think we've grown so much as our characters have grown," Thompson shared in an interview with Ode. However, the one thing that has remained the same is how much they continue to adore each other.
Tessa Thompson is proud of Michael B. Jordan's directorial debut for Creed III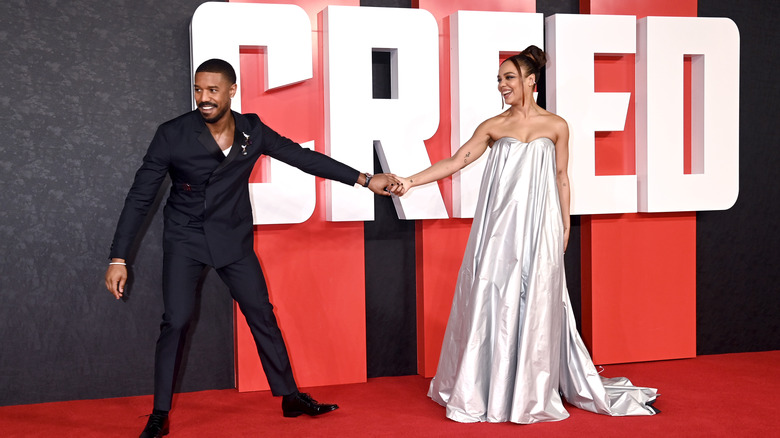 Dave J Hogan/Getty Images
After starring as Adonis Creed for the first two "Creed" movies, Michael B. Jordan decided to try his hand as a director for the third film. "I first tapped into my character Adonis nine years ago. And having had that opportunity to work with Ryan [Coogler] and Steven [Caple Jr., "Creed II" director] to help infuse what a character like Adonis would be going through, I felt ready," he told Deadline.
Jordan's on-screen love Tessa Thompson shared with Elle UK, "I'm so proud of him, and I think he did such a fantastic job and directed something that's not easy to do ... He made a really joyful experience for everyone. To do that, and to also make a great quality film is really hard to do." 
Thompson also shared one quality about Jordan that stood out to her: "He was never grumpy ... maybe cute-grumpy occasionally to me, but I never saw him grumpy to anyone else, and I'm very proud of him for that because we all get grumpy." With all the love they have for each other, we wouldn't be upset if Jordan and Thompson became a real-life couple. For now, we'll just have to be happy watching them as Bianca and Adonis on the big screen.