Who Is Malin Akerman's Husband, Jack Donnelly?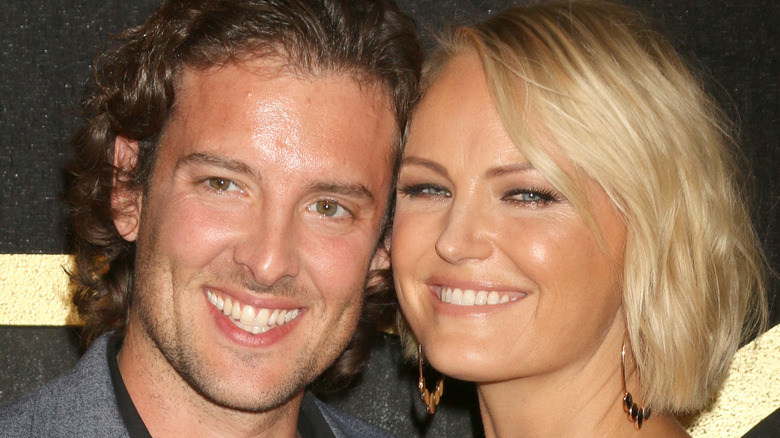 Kathy Hutchins/Shutterstock
Malin Akerman has an impressive filmography, which includes starring in the superhero movie "The Watchmen," the hit series "Billions," and a number of studio comedies such as "27 Dresses" and "The Heartbreak Kid." She has become well-known to audiences, but her husband Jack Donnelly may not be as recognizable. The former model met her future husband through her sister's boyfriend, who was friends with Donnelly in England. However, it took a few years until sparks flew between Akerman and Donnelly. "All of a sudden, he came back from England a year ago, and I was like, 'Wow, have you always been this cute?'" Akerman said on "Live with Kelly and Ryan" in April 2018 not long after the couple got engaged. "He was brilliant with my son, and that was it."
A year after the two started dating, Donnelly popped the question to the "Rampage" actor following a romantic dinner in Brooklyn. They tied the knot in December 2018 with a bohemian wedding in Tulum, Mexico. Among the guests were actors Carla Gugino and Michelle Monaghan and musician Rob Thomas.
Months later, the newlyweds did not shy away from packing on serious PDA. "We're in the honeymoon stage," Akerman told Us Weekly in March 2019. Even when Akerman's son from her previous marriage was around, the couple loved to lock lips. That honeymoon phase extended into 2023, as the couple was spotted again kissing while out for a walk in Los Angeles. In fact, this need to be around each other bled into their professional lives.
Inside Jack Donnelly's acting career before dating Malin Akerman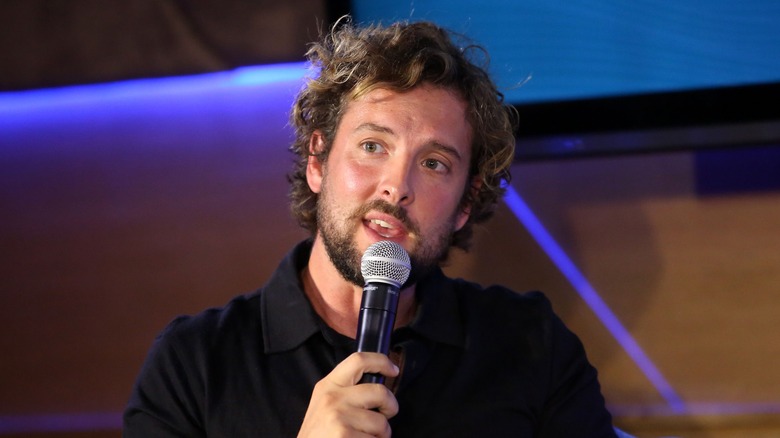 Jesse Grant/Getty Images
Jack Donnelly is an actor who started appearing on television in the early 2010s, but his breakout role came when he starred as Jason in BBC's "Atlantis" series, which ran for two seasons. During his stint on the show, Donnelly shot a spicy photo spread for Attitude's sex issue and spoke about being approached by fans. "I am starting to get recognised, but only because people come up to me and go 'Are you Lee Mead?!'" Donnelly told the publication.
Unfortunately for the "Atlantis" star, the series was cut short. Donnelly did not play coy and admitted he was "gutted" when he learned the news. "I loved that job — it was the greatest thing that's ever happened to me," he told Digital Spy in 2015. Although the Brit was best-known for his dramatic acting in the series, the majority of his background was in lighter fare. "I've always thought I could come back to comedy at some point," he told Digital Spy while contemplating his post-"Atlantis" career.
In 2017, Donnelly starred in a Hallmark movie as Prince Adrian in "A Royal Winter," but soon after returned to his comedic roots. He teamed up with Malin Akerman in 2020's "Friendsgiving," where they shot a raunchy sex scene together. "It's a really, kind of, intimate, crazy scene, and so thank God we know each other well," she told "The Talk" in 2020, via Entertainment Tonight Canada. That "intimate" shoot was not the real-life couple's last collaboration.
Why Malin Akerman and Jack Donnelly work together so often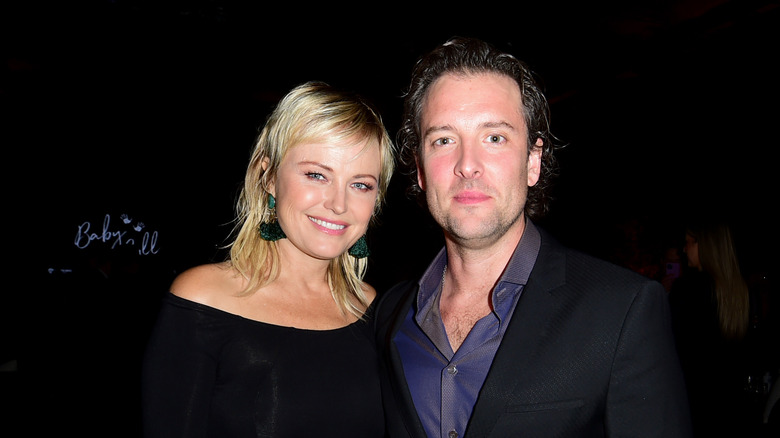 Vivien Killilea/Getty Images
In 2021, Malin Akerman and Jack Donnelly teamed up again for the film "A Week in Paradise." They played a Hollywood couple — Akerman, a famous movie star, and Donnelly, a well-known director — who break up after Donnelly's character impregnates a woman with whom he worked.
The film was released in 2022 and was one of two projects the couple collaborated on that year. They also starred in the horror-comedy "Slayers." That movie was spearheaded by director K. Asher Levin, a friend of the couple, who approached Akerman about working on the film. "Then the second question was 'Do you think Jack would want to play in this?'" the "Chick Fight" actor told ScreenRant in 2022. Although the two enjoyed filming together, there was slight tension during a joint interview when Donnelly said the highlight of the project was improvising with co-star Thomas Jane. "What about working with your wife?" Akerman jokingly responded. "And working with my wife, too! Absolutely, as a vampire!" he replied.
Speaking about that film with another outlet, the "Atlantis" alum mentioned why the couple preferred to work with each other. "[B]ecause it means we can keep the family together and travel together," he told Bleeding Cool in 2022. That same year, it was revealed that the pair teamed up once more. Akerman and Donnelly signed on for the thriller "Us or Them," which will likely not be their last on-screen collaboration.