Michelle Yeoh And Jamie Lee Curtis' Bond Is Stronger Than We Ever Knew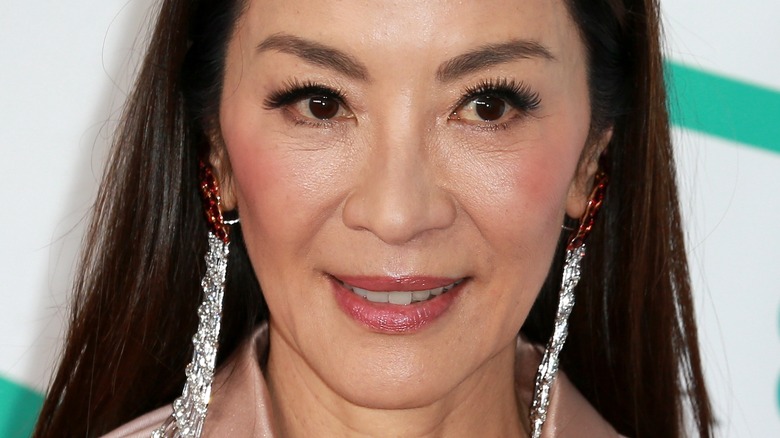 Fred Duval/Shutterstock
When Michelle Yeoh made her film debut in 1984's "The Owl vs. Bumbo," little did she know that some 39 years later, she would make history as the first Malaysian to win a Golden Globe in the Best Actress category. But her success is barely a surprise — at least to her. With how dedicated and committed she has been to her craft over the years, Yeoh knew it was only a matter of time before she gained the recognition she deserves. "I waited a long time for this, and luckily it came," she told the Independent in May 2022. "Some people wait their whole life and the opportunity might never come. I was patient. I was resilient. I never stopped learning. And so I was ready when the opportunity did present itself." And given her popularity, it's no surprise that Yeoh has racked up a collection of famous friends in Hollywood, with the most notable being her "Everywhere Everything All At Once" co-star Jamie Lee Curtis.
In the award-winning movie, Yeoh played lead character Evelyn Wang, while Curtis potrayed the role of Deirdre Beaubeirdre, an inspector working for the Internal Revenue Service. But even though their characters were not chummy on-screen, Yeoh and Curtis have forged a beautiful friendship in real life. "The love between me and Jamie Lee Curtis, it's all real, yeah," Yeoh gushed to People in 2023. But beyond what we've seen, Yeoh and Curtis have a bond stronger than we'll ever know.
Michelle Yeoh and Jamie Lee Curtis have known each other for many years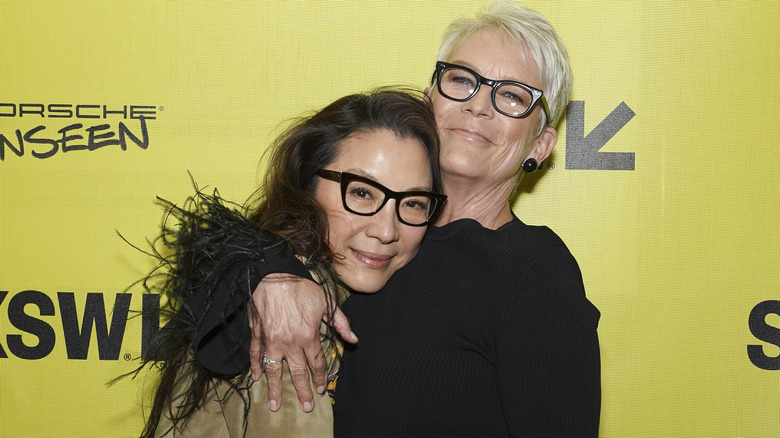 Amy E. Price/Getty Images
Though their friendship entered the spotlight during the 2023 award season, Jamie Lee Curtis and Michelle Yeoh have known each other for quite some time, as revealed in Yeoh's March 2023 interview with People. But it wasn't until they worked together on "Everything Everywhere All At Once" that the two women formed a deeper connection. "We fell in love on first email. She was like, 'Let's ditch the directors of the movie, the Daniels, and run away!' I was like, 'A woman after my own heart,'" Yeoh quipped. And for the "Crazy Rich Asians" star, time has nothing on her bond with Curtis. "When you meet someone and have that connection, it's not the length of time you've known them. A friendship became a very precious relationship," she explained.
Not only do Yeoh and Curtis have the most beautiful real-life friendship, but they are also aware of each other's iconic status — awards or not. "For me, she's already a winner. She's always been a winner," Yeoh said of her co-star. For their roles in "Everything Everywher All At Once," both women earned nominations at the 2023 Oscars, with Yeoh taking home the Best Actress in a leading role category and Curtis snagging the Best Supporting Actress title, a feat she's since credited to her dear friend. "Michelle Yeoh is the reason that for the rest of my life, you will say, 'Oscar-nominated actress Jamie Lee Curtis,'" she told Variety ahead of her win.
Michelle Yeoh and Jamie Lee Curtis are re-defining female friendship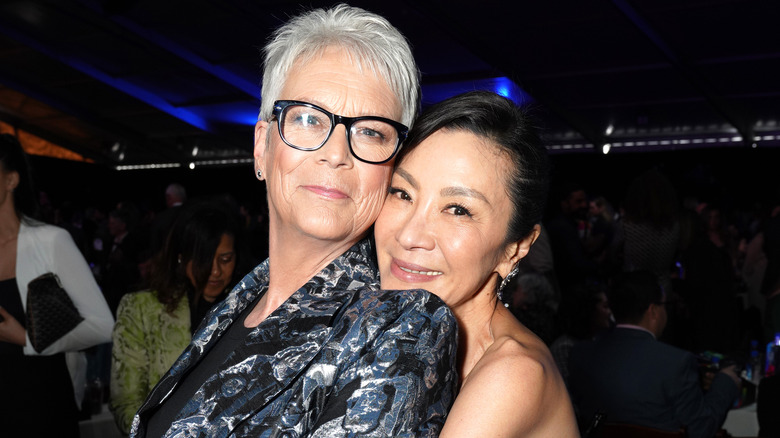 Presley Ann/Getty Images
In a world and industry where women are constantly pitted against each other, Jamie Lee Curtis and Michelle Yeoh are redefining the concept of female friendships. Following Yeoh's Best Actress win at the 2023 Golden Globes, Curtis threw punches into the air, excitedly celebrating her friend's historic win. This moment of undeniable pride and true support from one friend to another has since served as an inspiration for many, so much so that the "Freaky Friday" star was gifted a shirt with a picture of the viral celebration. "I'm still stunned that a moment of natural exuberance and joy, became some sort of a symbol for women supporting other women," Curtis wrote in an Instagram post of herself wearing the shirt.
But the Golden Globes wasn't the last we saw of Curtis' overjoyous celebatory style. Following her Best Supporting Actress win at the 2023 SAGs, Curtis shared a warm embrace with Yeoh, before planting a kiss on the "Crazy Rich Asians" star. And when asked about the kiss, Curtis explained it came from a place of suprise. "I didn't know I actually kissed Michelle until they showed me," the "Blue Steel" actor told ET. "I'm telling you, the word shocked — you people, you must think we all think we're gonna win things. I'm not of that ilk." Above all, though, it's all love between these two women. "I love her. We love each other," Curtis said.