What Melanie Martin Has Been Up To Since Aaron Carter's Death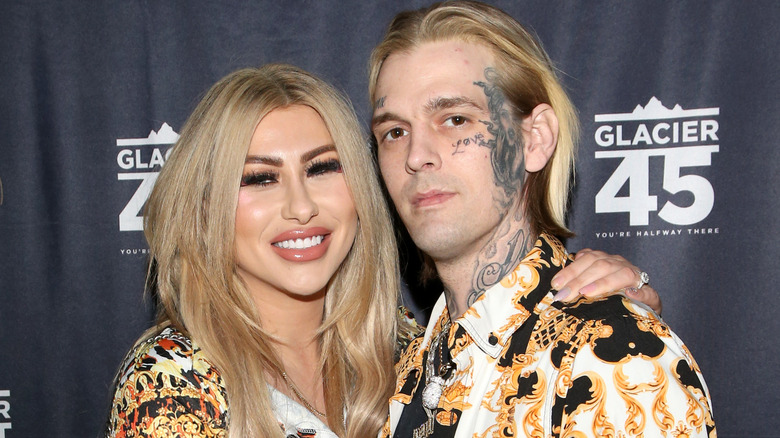 Gabe Ginsberg/Getty Images
The following article includes mentions of addiction and domestic abuse.
The tragic death of Aaron Carter sent shockwaves through the music industry and around the world. The former child star and singer, who publicly battled addiction issues and depression, was found dead in his California home on November 5, 2022, reportedly next to cans of compressed air and prescription bottles. He was 34. The news sparked a flood of tributes from his family and loved ones, including Nick Carter, who said he was "heartbroken" over his brother's passing. "Even though my brother and I have had a complicated relationship, my love for him has never ever faded," the Backstreet Boys member wrote on Instagram. "I will miss my brother more than anyone will ever know. I love you, Chizz."
Aside from Nick, Aaron was mourned by his former fiancée Melanie Martin, with whom he shared his son Prince Lyric. Per People, Aaron and Melanie had an on-and-off relationship since going public as a couple in early 2020. They got engaged just six months into their relationship, and though they never made it down the aisle, Melanie thanked Aaron for showing her "what true love is." "You always believed in me. Even when I didn't believe in myself," she wrote on Instagram. "I love you always babe." Months after Aaron's death, Melanie is still coming to terms with her grief but has managed to stay strong for her son Prince. 
Melanie Martin regained full custody of her son Prince
In September 2022, mere months before his tragic death, Aaron Carter and Melanie Martin lost custody of their son due to concerns about domestic violence and substance abuse. Per The U.S. Sun, the "I Want Candy" singer volunteered to enter an outpatient treatment program at a rehab facility in Los Angeles in an effort to win back Prince. Speaking with the outlet, he said, "I want my son back. Being a dad is the most important thing to me. Just being domesticated and civilized and adulting and taking care of my responsibilities."
Sadly, his efforts were futile: Carter died without ever regaining custody of his son. Per People, Prince remained under the care of Martin's mother as his legal guardian until December 2022, when a family court decided that Martin was fit to care for the child and granted her full custody of her son. In a statement to the outlet about the court's decision, Martin said Carter would've been totally "ecstatic" about the news. "Aaron took it really hard when our son got taken away," she said. "This victory is in honor." Since then, Martin has made a rare public appearance with her 1-year-old son. On January 16, she took him out on a stroll while on a shopping trip with her friends at The Grove mall in Los Angeles. Prince, with his blonde haircut, appeared to be the spitting image of his late father in photos obtained by the UK tabloid the Daily Mail. 
Melanie Martin continues to honor Aaron Carter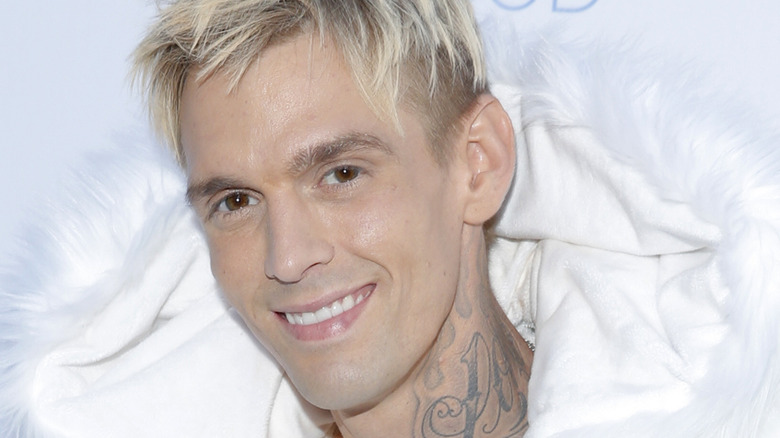 Alison Buck/Getty Images
Melanie Martin is still grappling with the loss of Aaron Carter nearly months after his tragic death. On March 25, Martin opened up about her journey with grief as she paid tribute to Carter in an emotional Instagram post. "Missing you and trying to heal every day," she told the singer. "I wanted to be with you forever — you were it. A part of me will never have closure but I'll have the memories forever." Since his passing, Martin has flooded her Instagram page with photos and clips of Carter and their beautiful family. She expressed her gratitude for the wonderful life they shared together and promised to cherish all the memories she has of Carter. "I love you with all my heart," she told the singer. "Until we meet again."
Amid her grief, Martin has also called on fans to be more kind and compassionate toward one another as she posted on Instagram about receiving nasty comments, prank calls, and even death threats in the wake of Carter's passing. "Aaron stood for acceptance, authenticity, kindness and generosity, but most importantly, LOVE!" she stressed. "The world seems to be suffering from an epidemic of hate. Let's change that together and spread LOVE together." She added, "Let's do it for Aaron!"
If you or anyone you know needs help with addiction issues, help is available. Visit the Substance Abuse and Mental Health Services Administration website or contact SAMHSA's National Helpline at 1-800-662-HELP (4357).