What Sasha Obama's College Life Is Really Like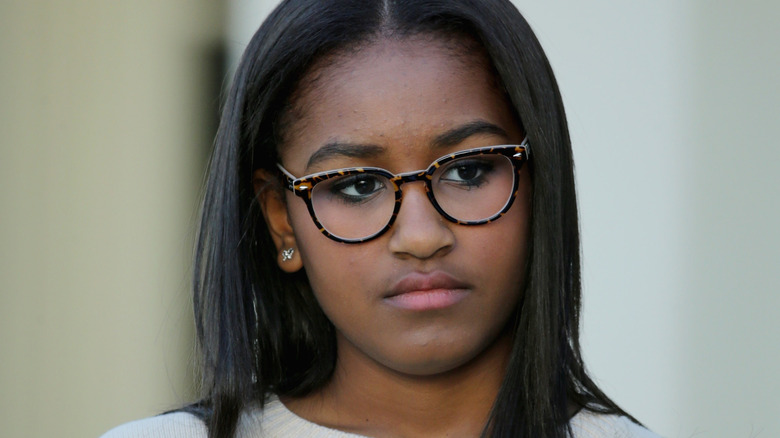 Chip Somodevilla/Getty Images
It only seems like five minutes since a beaming and very colorfully-dressed Sasha and Malia Obama nearly stole the show at their father's presidential inauguration at the ages of seven and ten, respectively. Of course, the sisters are now both fully grown adults with career ambitions of their own, and so far neither have opted to follow in the political footsteps of the 44th, Barack Obama.
Indeed, having previously interned on the short-lived Halle Berry show "Extant" and Lena Dunham's zeitgeist-defining "Girls," Harvard University graduate Malia is now a promising screenwriter: her first official credit is on Donald Glover's satirical horror "Swarm." Meanwhile, Sasha, the youngest White House resident since the late John F. Kennedy Jr., appears to be busy preparing for a career in psychology.
But what exactly do we know about the latter's college life? From special security and sorority houses to transfers and tattoos, here's a look at 11 fascinating insights.
Sasha Obama began her studies at the University of Michigan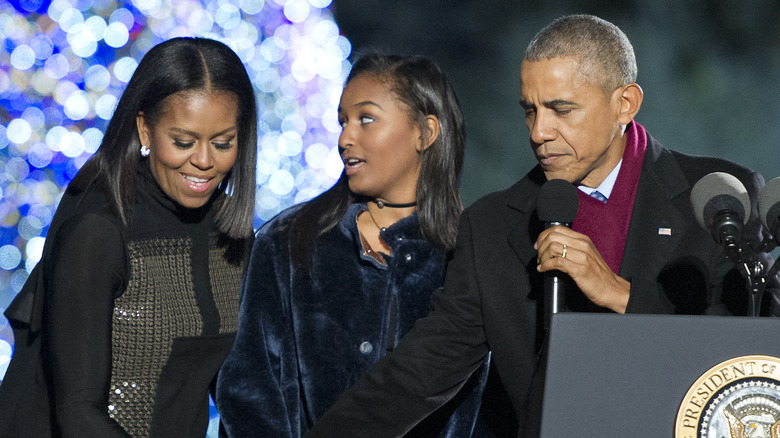 Pool/Getty Images
After graduating from private school Sidwell Friends in 2019, Sasha Obama enrolled at the University of Michigan. This made her the first member of her immediate family to eschew an Ivy League college in favor of a Big Ten University: sister Malia had graduated from Harvard University, the same institution that their parents had studied Law at. Michelle Obama and Barack Obama had also previously attended Princeton College and Columbia University, respectively. 
Luckily, Sasha appeared to be accepted by other collegegoers with Jessica Brisner telling The Detroit News, "I think it's cool that even though her family went to Ivy League schools, she decided that UM was the caliber high enough to match that of an Ivy League school."
Rumors about Sasha's choice of further education began when an Instagram photo of the teen and a couple of pals at the Ann Arbor campus surfaced on Instagram. The snap was captioned, "So proud to say I'm going to college with my sisters!!" while it also tagged in the University of Michigan itself. 
Sasha Obama's first day at college was emotional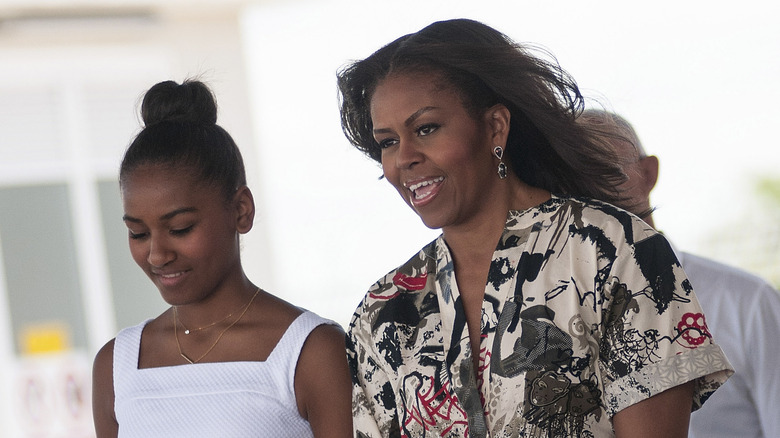 Awakening/Getty Images
Although Sasha Obama has yet to officially comment about any of her experiences at college, her mother has. And as you would expect, the youngster's first day at the University of Michigan was something of an emotional one for the entire family.
While appearing on "Today," Michelle Obama admitted to host Jenna Bush Hager that she'd initially tried to keep her composure while saying goodbye to her youngest daughter: "We didn't want to embarrass her because, y'know, she had roommates." But the significance of the occasion eventually got the better of the former first lady and her visiting husband and eldest daughter.
Michelle recalled, "It was at the end, after lunch, when we said that final goodbye, when we got into a car me, and Barack, and Malia — who was there with us — and then Sasha drove off on her own, and said that last goodbye, that's when we were like [crying noises]." Although the "Becoming" author expressed pride that both her daughters had forged their own paths, she did confess to feeling melancholic about the fact that she and her husband were now empty nesters.
Sasha Obama was initially accompanied by Secret Service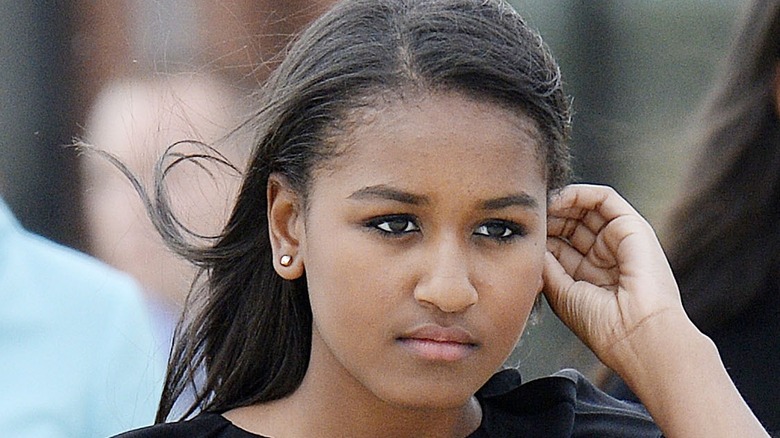 Pool/Getty Images
As the daughter of the 44th President of the United States, Sasha Obama had a summer freshman orientation at the University of Michigan slightly different from the norm, as third-year film student Zach Lassen explained to The Detroit News: "I was walking by pushing a vacuum and she [Sasha] walked out right in front of me. I said, 'Excuse me.' It was a crowded hallway with her and some Secret Service dudes."
So how did other students respond to such intrusion? Well, although he revealed that several were slightly perturbed by inadvertently walking into something resembling a James Bond film, Lassen personally felt that it was cool to have an Obama in the classroom.
While Sasha received official protection during her early days at the college, it seems likely that she eventually had to look after herself. Although her dad Barack Obama signed a lifetime security protection bill for every man to have presided over the White House, this didn't extend to any offspring. Indeed, any first daughters or first sons are only guaranteed proper security until the age of 16.
Sasha Obama didn't join a sorority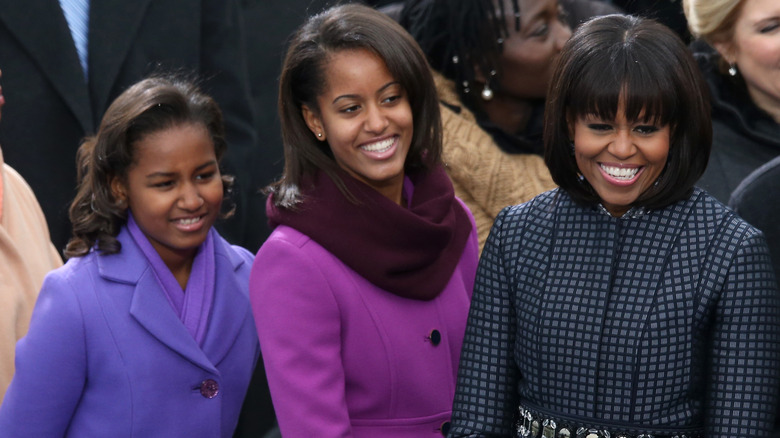 Mark Wilson/Getty Images
While Sasha Obama decided against attending the same college as her mother Michelle and older sister Malia, she did follow their lead in another way: the teen refused to join a sorority.
According to TMZ, Sasha didn't register for rushing, the process in which all university sororities are explored by interested students. That was sad news for the likes of Alpha Chi Omega who was no doubt preparing to have an Obama in their midst. Sasha had previously spent a night at their house before she enrolled at the college, and many of her Sidwell Friends high school classmates became members, too.
Perhaps Sasha will become an honorary member of a sorority instead like her mom. In 2008, Michelle Obama was invited by Alpha Kappa Alpha, the first African-American intercollegiate sorority, to do just that. And after months of mulling the offer over, the then-first lady eventually accepted.
Sasha Obama's learning was interrupted by the pandemic
Pool/Getty Images
Less than a year into her studies at the University of Michigan, Sasha Obama had to leave her campus and return to the family home due to the COVID-19 pandemic. And as mother Michelle Obama told Jennifer Lopez in an Instagram Live interview, older sister Malia also had to leave her new life at Harvard University temporarily behind.
So how did the Obama daughters cope with being in the company of their mother and father 24/7 again? Well, Michelle joked that the pair had already become sick of her but that she was just glad they were safe and sound. The former first lady acknowledged on "The Ellen DeGeneres Show," "This is like no other time in history, particularly for our kids, who are so used to being occupied and stimulated all the time." In another chat with People, Michelle revealed that she was determined to treat Sasha and Malia differently now that they were all back under the same roof: "They didn't come back into the house into the same set of rules, because I didn't want them to miss out on independence. They came back as young women and our conversations are more peer-oriented than they are mother-to-daughter."
Sasha Obama transferred to the University of Southern California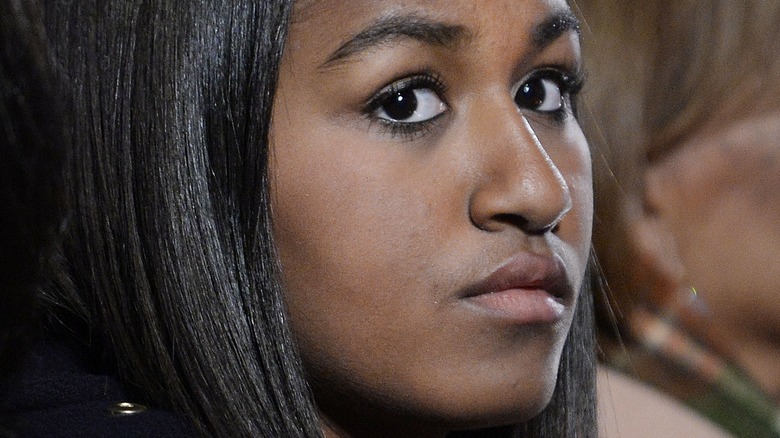 Pool/Getty Images
After spending her first year as a college student at the University of Michigan and then being forced to learn online at her parents' home due to the coronavirus pandemic, Sasha Obama once again experienced a major educational change in 2022 when she transferred to the University of Southern California.
As with her previous alma mater, this news wasn't officially confirmed at the time. Instead, it was up to the press to put two and two together after Sasha was repeatedly spotted walking around the campus of the Golden State's oldest private research university. The former POTUS' youngest daughter had enrolled in its psychology program.
But Sasha had obviously had enough of living on campus. Instead of residing in a house share with her fellow students, she decided to shack up with her older sister Malia Obama, who by this point had already graduated from Harvard University and was busy forging a career as a screenwriter, in a Los Angeles apartment.
Sasha Obama spent her final year living with her sister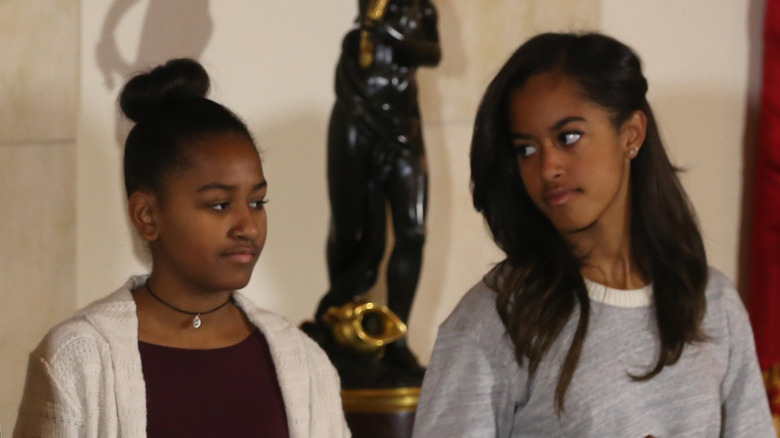 Mark Wilson/Getty Images
Sasha Obama's living arrangements in her final year at the University of Southern California may have differed from many of her fellow students: she moved in with her aspiring screenwriting older sister Malia Obama in a Brentwood apartment. But that doesn't mean that she enjoyed a life of pure luxury.
In her book "The Light We Carry," mother Michelle Obama revealed that her two daughters had bought much of their furniture from IKEA and yard sales. This perhaps isn't too much of a surprise as the Obamas have always tried to ensure that their two daughters know the value of money: in 2016, for example, Sasha took a waitress job at seafood restaurant Martha's Vineyard to make her own spare cash instead of relying on her parents' fortune.
Michelle also revealed her pride at seeing her two offspring become so close in a chat with People: "You try not to react too much because it's like, you don't want to go, 'Oh my gosh, I'm so happy for you!' because then they think, 'Well, maybe this is not a good thing if my mom likes it.' So I just said, 'Okay, well that's interesting that you guys are going to try living together. We'll see how it goes.' It feels good to know that the two girls you raised find solace at a kitchen table with one another. It's like the one thing you want for them."
Sasha Obama began dating Clifton Powell Jr.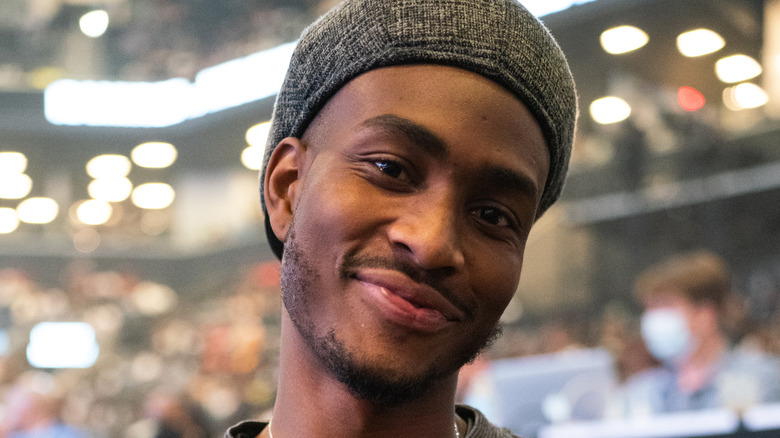 Cassy Athena/Getty Images
In 2022, the Daily Mail reported that Sasha Obama had bagged herself a celebrity boyfriend while studying at the University of Southern California. The son of the same-named "Ray" actor, Clifton Powell Jr. began his career playing basketball at the same college but after just a year he dropped out to pursue his passion for film.
Evidence came in the form of several photos of the beaming pair taking a walk together and another snap in which they can be seen firmly embracing. Now a commercials writer and director who's worked with high profile brands such as Peloton and Nike, Clifton is four years older than Sasha. But the age-gap, and the studies-distracting potential, doesn't appear to bother the latter's mother.
While appearing on "The Ellen DeGeneres Show," Michelle Obama referenced the fact that both of her daughters now have boyfriends — Malia Obama had been dating fellow Harvard University graduate Rory Farquharson since 2017 — joking, "They loved the Jonas Brothers. Now they are bringing grown men home."
Sasha Obama got inked?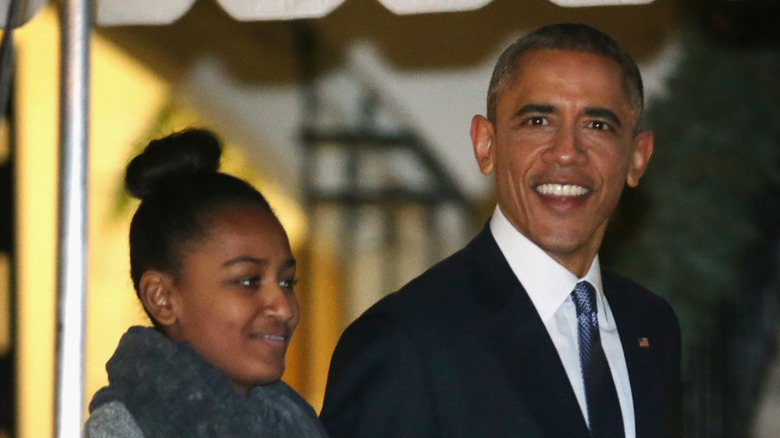 Chip Somodevilla/Getty Images
College is supposed to be all about experimentation. And while Sasha Obama has kept a relatively low profile while studying at the University of Southern California, she's still had a slightly rebellious phase. As well as dating a former basketball star boyfriend four years her senior, the former presidential daughter has also allegedly gone against her parents' wishes by getting inked.
According to MailOnline, Sasha got a tattoo on her inner elbow of a hot air balloon while taking some downtime from her psychology studies. This may sound like a relatively innocuous form of expression but mother Michelle Obama has previously gone on record about her dislike of such artwork.
In an interview on "The Kelly Clarkson Show," the former first lady revealed that she and husband Barack Obama tried to deter their two children from ever visiting a tattoo parlor through the prospect of humiliation: "We used to threaten our kids. If you get a tattoo, we're going to get exactly the same kind, and show it on TikTok or whatever."
Sasha Obama has become a style icon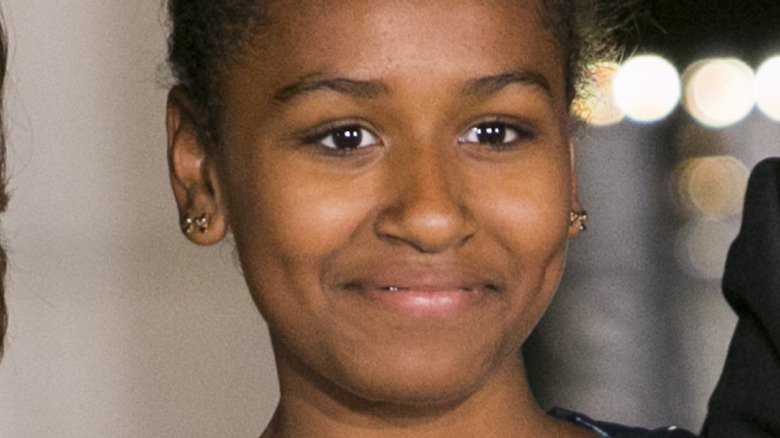 Pool/Getty Images
Sasha Obama's rumored hot air balloon tattoo isn't the only way she's distanced herself from her formal first daughter style since becoming a college student. The twenty-something has been pictured at both the University of Michigan and the University of Southern California sporting a very individual fashion sense that has had the glossy magazines raving.
In 2022, for example, Hola gushed about the knitted multi-colored sweater, equally bright tote bag and overalls combo she completed with a pair of limited edition Nikes, describing it as a "stylish and iconoclastic outfit that mixed different colors and styles, with the slouchy fit and sneakers giving her look a uniquely '90s vibe."
And earlier that same year, the Daily Mail wrote that Sasha "looked every inch the cool and casual California girl in her laid-back ensemble" after being pictured wearing a bohemian tank top, low-rise jean shorts and black-rimmed spectacles while on campus. No doubt that fashion sense runs in the Obama family. Mother Michelle, father Barack and older sister Malia have all been hailed for their distinctive style over the years, too.
Sasha Obama has some star-studded company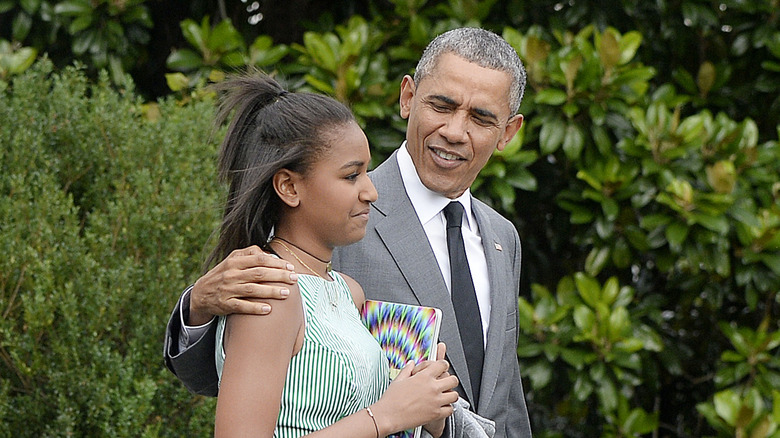 Pool/Getty Images
Sasha Obama isn't the only famous face currently attending the University of Southern California. In 2022, a star of the provocative teen drama that has no doubt given every concerned parent the heebie-jeebies, "Euphoria," was pictured arriving at the same campus block just minutes after the former first daughter. Storm Reid, who plays Gia Bennett, the younger sister of leading lady Zendaya's Rue in the HBO hit, isn't taking the same psychology course as Sasha. The actor is majoring in Drama and minoring in African-American studies. But it seems likely that the pair have crossed paths at some point.
Barack Obama's daughter's decision to transfer from the University of Michigan has confirmed USC as the place-to-be for celebrity offspring. The institution also counts the late Kobe Bryant's daughter Natalia Bryant on its current student roll call, with previous alumni including the son of rapper Snoop Dogg, Cordell Broadus, and Phil Collins' daughter Lily Collins.