The Real Reason Why Kate And Prince William Can't Hold Hands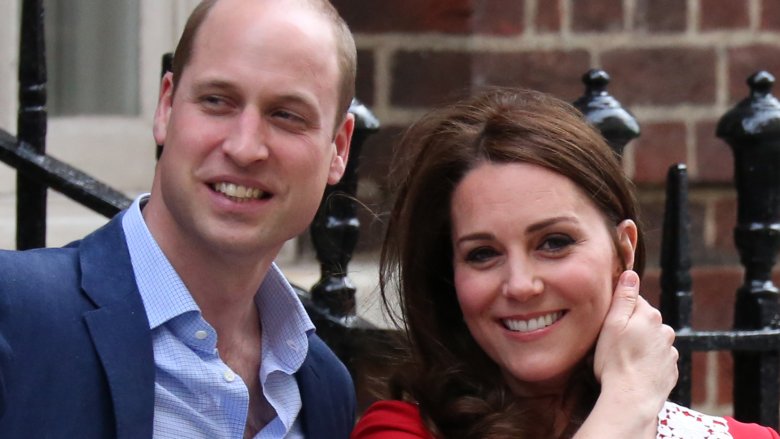 Getty Images
Ever wonder why Kate and Prince William are rarely seen acting lovey-dovey in public? Well, apparently there's very real reason for their lack of PDA.
According to AOL, Prince William and his wife, Kate Middleton, keep their distance from one another during outings because of his grandmother, Queen Elizabeth II, who has set an example for how royals should behave in public. The queen, who has rarely been photographed smooching her husband, Prince Philip, has kept things professional during her reign, treating her royal status less as a birthright and more as a job. And, as such, she and her "co-workers" can't just go around holding hands with their significant others. They need to keep it together and get work done.
As body language expert Robin Kermode told the Daily Mail, "The Queen rarely holds hands with her husband in public and this seems to have set an unwritten precedent for the other royals."
So, when William and Middleton are out performing their royal duties, they are not just a couple — they're also representatives of the British monarchy. And they need to act like it.
Plus, it's obvious that William and Middleton love one another and don't need to demonstrate the seriousness of their relationship to the world — we mean, they've had three kids together, for goodness' sake. "It is very clear that William and Kate are emotionally close, however, they do not seem to feel the need to prove their love – particularly when on official state business," Kermode noted. "They come across as a strong, independent couple and while they are always on show, they do not feel the need to 'show' their love for each other to the world."
William's younger brother, Prince Harry, has a little more leniency when it comes to getting flirty with his lady love and new wife, Meghan Markle, as he's currently sixth in line to the throne and likely won't ever be king.
Still, it's worth noting that there are no set rules about showing affection in public for the royal family. So, we may still see William and Middleton getting cozy in the future, depending on the occasion and the present audience, of course. For example, it's perfectly acceptable for the couple to act lovingly toward one another after welcoming a new addition into their family, as the two were spotted holding hands while leaving the hospital with their third child, Prince Louis, in April 2018 (via Elle). At the time, William was also photographed putting his arm around his wife as she cradled their newborn.
It's all about the specific situation.