Jenna Bush Hager Cringes Over Kourtney Kardashian's Controversial Bathroom Habit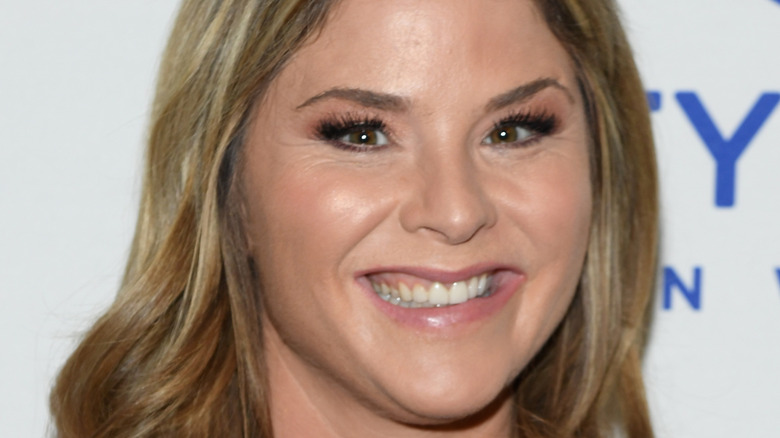 Gary Gershoff/Getty Images
Kourtney Kardashian is arguably one of the most laid-back sisters out of the clan and typically shies away from drama. However, she unwittingly came under fire from fans when she posted a carousel of images on Instagram with her now-husband, Travis Barker. Kardashian and Barker are no strangers to outrageous moments. The first couple of pictures shows her with her newly bleached hair rinsing her mouth out with water at her bathroom sink and then a close-up of her taking a bubble bath. The next pic, which sparked outrage from her followers, was an aerial shot of her bathroom filled with plates of food and bottles of champagne.
Kardashian's Instagram Stories showed even more shots of her enjoying her feast in her bathroom. One image, taken by celebrity photographer Ellen von Unwerth, showed Kardashian and Barker in the bathtub with her eating a sandwich and him guzzling champagne from the bottle. Suffice it to say, fans were not having it. "Food on the toilet and floor? Gross!" an Instagram user commented. "Not only food in the toilet, but on the floor??? On the toilet bowl cover??? Lmao," another replied.
The Poosh founder's fans were not the only ones with strong opinions about her eating habits. After the Instagram photo faux-pas, Jenna Bush Hager shared her thoughts about Kardashian's bathroom picnic.
Jenna Bush Hager is not a fan of eating in a bathtub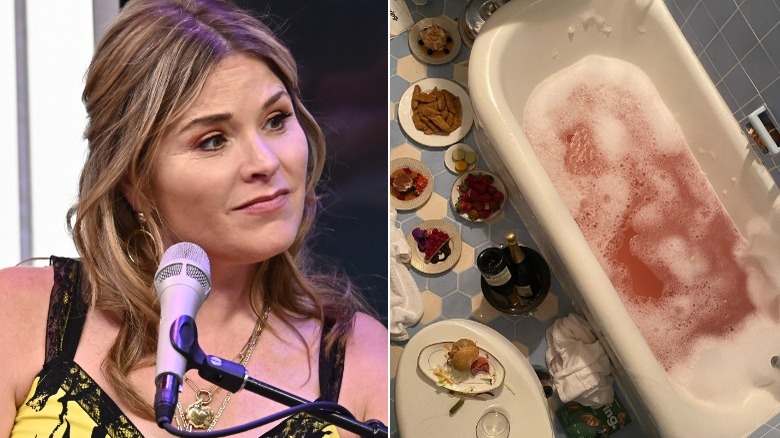 Astrid Stawiarz/Getty/Instagram
Kourtney Kardashian's Instagram pics have a lot of people grossed out, and Jenna Bush Hager is definitely one of them. On Today with Hoda & Jenna, Hager pointed out the various foods that were spread out over Kardashian's bathroom, including chicken fingers, berries, and a half-eaten cheeseburger on the toilet. Cringing, Hager told Hoda Kotb, "I like the idea of picnics. I don't know that I'd take my food to the bathroom. I don't like the idea of eating in a bathtub, or anywhere close to that area." Admitting that Kardashian's bathroom "looks large," Hager went on to say, "Guess what happens in there? The same thing that happens in my bathroom."
Playing devil's advocate, Kotb played out a scenario where Hager might be soaking in her tub with a glass of wine and her husband offers her a little snack. Shaking her head, Hager responded, "I don't like that. There's certain rooms called dining rooms, kitchens, and they were named that way because the bathroom, one or two activities are supposed to happen there. Eating is not one of them."
Kardashian reacted to the public outcry by reposting the aerial shot in her Stories with swirly-eyed emojis, writing, "the comments about this photo." She clarified that the pics were from a photo shoot for the plant-based company Daring that were taken last year after her marriage to Travis Barker. Hopefully, germaphobes can rest easy now.