What Happened To Stacy London From What Not To Wear?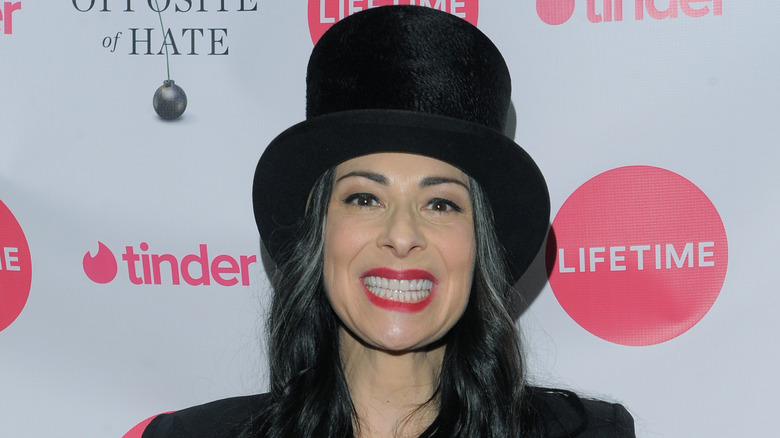 Ron Adar/Shutterstock
Stacy London was a "What Not to Wear" fan favorite. The silver-streaked stylista, and her cohost Clinton Kelly, ambushed the fashion-failing public and transformed them from dowdy dud to hip hottie, all for under $5,000. The makeover show ran for a decade before it was canceled in 2013. "After 10 incredible seasons, we felt that it was the right time to end the series," TLC announced (via Huffington Post).
Kelly and London were bickering best buds on set, but it was a different story once the cameras stopped. In fact, the co-stars couldn't stand each other. In his 2017 memoir, "I Hate Everyone, Except You," Kelly questioned the reason for their contentious relationship. "Why did I love and loathe Stacy?" He pondered. "Maybe there was some jealousy on my part," Kelly admitted. London wasn't impressed and blocked him on Twitter, per Page Six. For a hot minute, it seemed London and Kelly's feud could end after she conceded that she could "hold a grudge" and seemingly expressed regret over the Twitter blocking manoeuver. Not so fast, though! London then shared that "forgiveness doesn't mean things are reparable."
Despite her cohost headaches, London loved every minute on "WNTW," admitting it was a transformational experience. "This show changed me and the trajectory of my life," She acknowledged (via Huffington Post). "It feels like the end of an era, and I look forward to my next chapter." So, what was the next chapter? What happened to Stacy London from What Not to Wear?
She's on a menopausal makeover mission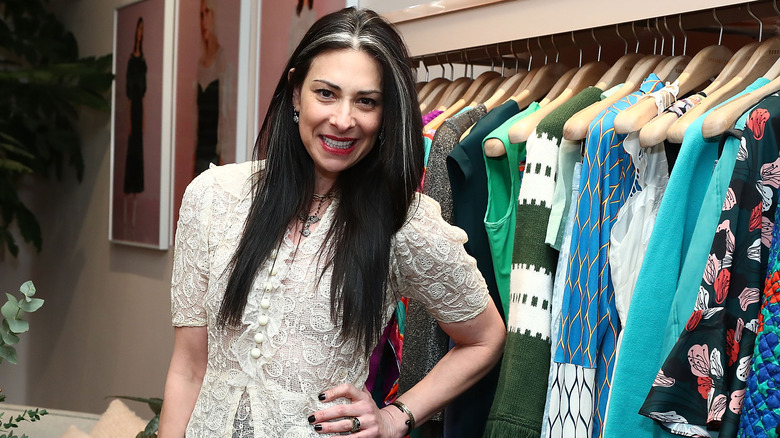 Astrid Stawiarz/Getty Images
Fans were left asking what happened to Stacy London after "What Not to Wear" finished. She'd been super popular during her time on the show — despite making it onto the shady list of TLC stars. London isn't doling out makeovers these days, but that doesn't mean she's turned her back on fashion. In fact, she's combining her love of style with her desire to effect change. London runs State of Menopause, a portal that provides beauty and wellness tips and offers "symptom-specific solutions for menopausal women."
She suffered with her own menopausal transition and is dedicated to helping others who are struggling. "We're not claiming to cure menopause," London told Everyday Health. "We're trying to mitigate symptoms with acute symptomatic relief." Another goal is to show that life isn't over when the big M hits. "Every natural progression has an end. Yes, it's a change, but that's not necessarily a bad thing," she said. "Why can't we acknowledge that saying goodbye to a certain part of your life doesn't mean there isn't something else to say hello to?"
London also advocates for the Sollis Health Warriors campaign. "I opened up to Sollis about my journey with psoriasis and psoriatic arthritis, how it worsened in menopause, and want to empower others and for us all to learn to advocate for ourselves," she shared on Instagram, encouraging people "with chronic and invisible health conditions" to up their smarts on how to decrease their symptoms.
If you listen you can hear her roar
Stacy London's "What Not to Wear" days are done, as are her monthly cycles, but she's far from over — in fact, her work's only starting. "Just because you can no longer bear children doesn't mean your usefulness is gone," she told Everyday Health. "I see this as a vehicle to have conversations about women at midlife and the effects of menopause that just don't seem to occur. Menopause still seems to be a taboo subject."
As for any other advice? It might seem strange coming from somebody who's spent so much time in front of mirrors. Still, London recommends women "look for your reflection elsewhere in the eyes of the people who love and adore you." And she endorses ripping up the over-50s style guidebook. "I've had enough rules for my lifetime. My only rule is that you control the narrative of your story. That's what I want for you!"
Meanwhile, London rang in 2020, announcing that she was in her "first serious relationship with a woman." She posted a meme comprising two pics of her and her partner, Cat Yezback, with the caption, "so no one was going to tell me that Stacy from What Not to Wear is gay and has a hot butch girlfriend????" After declaring that her personal life is nobody's business but hers, she shared that she'd been in a relationship and "truly in love, with this beautiful, sexy, kind soul" for a year.