Sam Claflin's Life After Hunger Games And His Painful Divorce
Cindy Ord/vf23/Getty Images
This article discusses mental health issues, ableism, and assisted suicide.
English actor Sam Claflin has been a bright spot in Hollywood since the early 2010's with roles in blockbuster series like "Pirates of the Caribbean" and "The Hunger Games." His role as the mysteriously charming Finnick Odair in the latter made him a household name, beginning with 2013's "Catching Fire" as he fought alongside Jennifer Lawrence's heroine, Katniss Everdeen. 
From there, Claflin's career has skyrocketed with a variety of roles in film and television that have challenged him in new ways. "I wanted to prove to myself that I could do things that are different and out of the box," the actor shared with Variety. "I hoped that a few people would watch and think, 'Oh, wow. Actually, he's not just this guy.' Now, especially — I'm not 23 with a six-pack and on the up-and-coming list anymore. I'm the older guy." 
Beyond the big screen, Claflin has also stretched within his family life, becoming an (ex-) husband and a father. As his career continues to climb, Claflin's eyes have continued to catch on to roles that keep him busy both in and out of the spotlight.
His post-Hunger Games breakout with the Mother of Dragons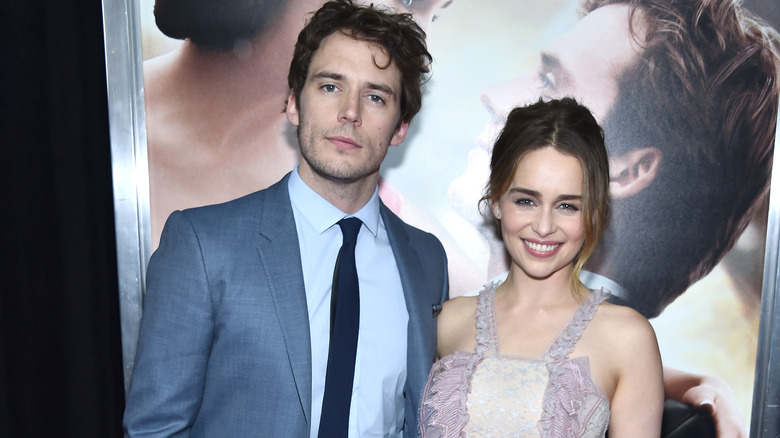 Dimitrios Kambouris/Getty Images
Finnick Odair's story may have come to a tragic end when "The Hunger Games: Mockingjay Part 2" premiered in 2015, but for Sam Claflin, his story seemed to be writing several new chapters simultaneously. The next year, he co-headlined the tear-jerker film "Me Before You" alongside "Game of Thrones" icon Emilia Clarke. The film, based on the novel by Jojo Moyes, told the love story of Clarke's bubbly caretaker Louisa and Claflin's cantankerous Will — a man with quadriplegia. "There's an element of me in every single character that I play," he shared with AOL's Build Series. "... You have to leave a part of yourself with each character ... [And with this role] I felt like I had the opportunity to kind of create something new." 
The film wasa global success, grossing $208 million worldwide on a $20 million budget. Despite its box office takings, the film received less than glowing reviews and significant backlash from disability activists and allies who perceived the film's ending — wherein Claflin's character Will chooses to die by assisted suicide rather than live with quadriplegia — as suggesting that life with a disability isn't worth living. Speaking to The Guardian, the film's director, Thea Sharrock, suggested that critics had missed the mark. "It's a fundamental misunderstanding of what the message is," she said. "It's a fictional story about how important the right to choose is."
If you or anyone you know is having suicidal thoughts, please call the National Suicide Prevention Lifeline​ by dialing 988 or by calling 1-800-273-TALK (8255)​.
He's continued to star in book adaptations and spin-offs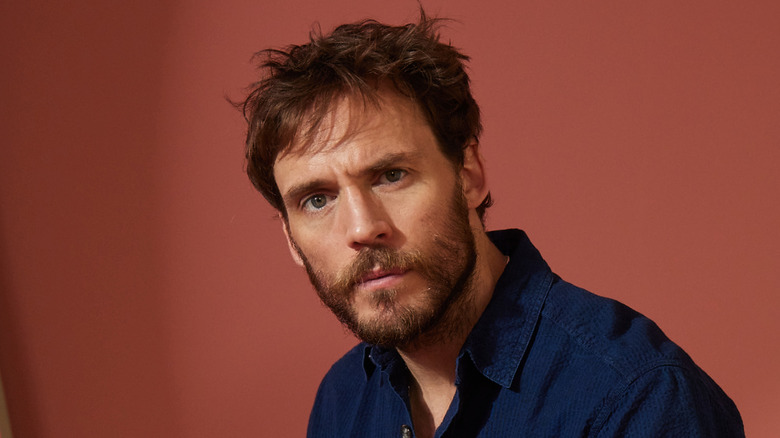 Corey Nickols/Getty Images
The majority of Sam Claflin's career has been fated around book adaptations or spin-offs. From "The Hunger Games" to "Me Before You," to the "Sherlock Holmes" series spin-off "Enola Holmes," Claflin is known for being guided by the written word – whether intentionally or not. Reese Witherspoon's Book Club has even dubbed him the "Book To Screen King." "I have a bookshelf at home, but basically it consists of the book adaptations that I've made," Claflin joked to InStyle. "I only ever hear about the projects after I know there's a script out there, and someone says, 'Oh, did you realize it's a novel?'"
In 2014, he starred opposite "Emily In Paris" star Lily Collins in the romantic dramedy "Love, Rosie," based on Cecelia Ahern's 2005 novel. But it hasn't just been fictional romances that Claflin has opened his heart to, professionally. He starred in 2017's British wartime film "Journey's End," adapted from the 1928 play by R.C. Sherriff. A year later, he and Shailene Woodley headlined the true story "Adrift," based on the memoir of Tami Oldham Ashcraft. In the film, Claflin starred as Richard, the altruistic fiance of Woodley's Tami, who set sail together through a harrowing, hurricane-filled trip in open water. "[Before this] I hadn't done any real sailing at all," Claflin revealed to Cosmopolitan. "... It was kind of 'learn on the job' for me, but one that I kind of embraced with open arms. I loved every aspect of it."
He channeled his inner rock star for Daisy Jones and the Six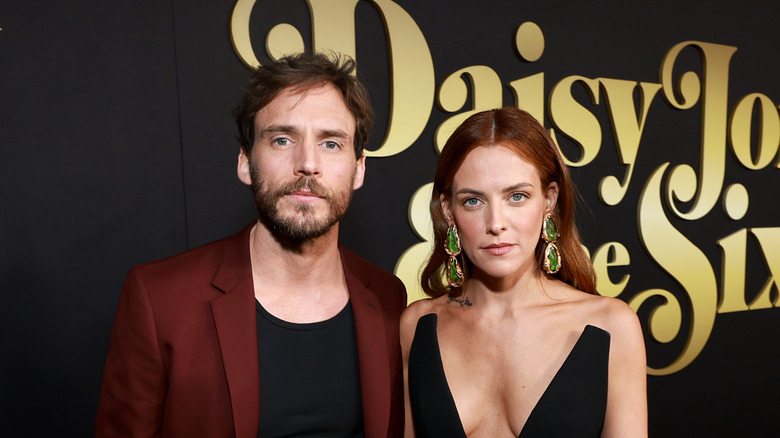 Matt Winkelmeyer/Getty Images
Audiences tuned in to 2023's "Daisy Jones and the Six" in droves both on screen and via its hit soundtrack. Based on the best-selling 2019 novel of the same name, Sam Claflin turned heads as Billy Dunne, the rugged rock star with a troubled past and frontman of the titular fictional 70's rock band. "This is the most petrified I've ever been about a role, and I think it's partly because I knew how far I had to come," Claflin shared with InStyle. "I was so out of depth." 
Prior to filming, the actor trained for five weeks in a so-called "rock star boot camp," which included him picking up a guitar for the very first time. When the COVID-19 pandemic hit, Claflin took part in Zoom jam sessions with his fictional bandmates to keep the music going, both literally and figuratively. Eventually, he crooned his way through ten episodes opposite Riley Keough as Daisy Jones and ended up with a new lease on life. "I think my relationship with myself is a lot better than it was," he told Variety. "Before, I didn't like who I was or what I had to say. Whereas now, after going through the journey of Billy Dunne, I realize how therapeutic or cathartic it was to tell a story that feels really authentic to me. It allowed me the opportunity to approach life differently."
Even the good guy can play bad sometimes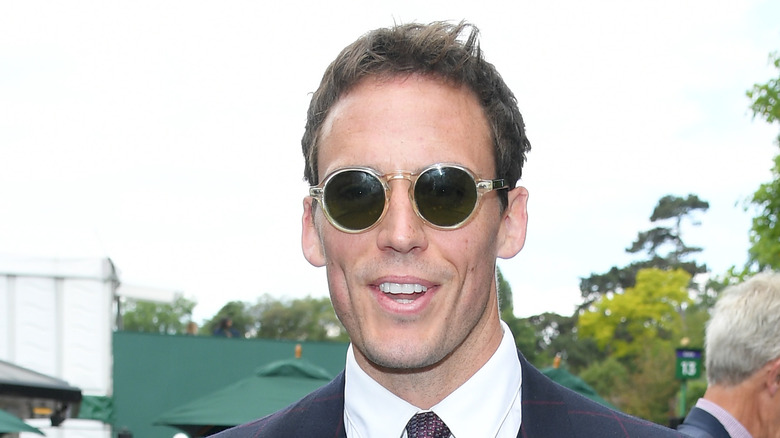 Karwai Tang/Getty Images
Sam Claflin has generally played a good guy in the majority of his filmography, but after wrapping "The Hunger Games," he's also charted new waters in the name of villainy. One of his biggest baddie roles was as the scheming Oswald Mosely on the BBC series "Peaky Blinders" opposite Cillian Murphy, based on the fascist British MP of the same name. He loved researching the role. "Playing Mosley — and dipping my toe into that world, the political sphere of the 1930s, is hugely eye-opening," Claflin told Gentleman's Journal. "It's an amazing opportunity to learn more about the world." 
But not all of his villain research has been enjoyable. As he told Outtake Magazine, preparing for his role in Jennifer Kent's 2018 film "The Nightingale" was a process he found traumatic. He portrayed Hawkins, a seedy British officer who commits a number of violent atrocities against others. "I had to do a lot of really horrific reading, some really dark material," he told Outtake. "That sort of thing ... will change you. It opened my eyes to things that I was completely unaware of, things I hope to never experience, and I hope that no one has to experience it." 
His character-driven villainy moved into more mustache-twirling territory in the ill-received 2019 film reboot of "Charlie's Angels," where he brought shady entrepreneur Alexander Brok to life. Through all of these roles, Claflin has balanced out his make-believe hero complex with some pretty dark demeanors.
He's been on both sides of love in his film work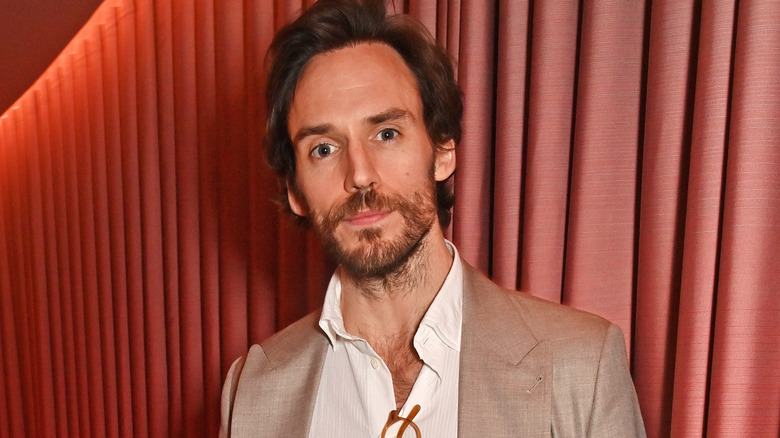 David M. Benett/Getty Images
It hasn't been all good vs. evil in Sam Claflin's filmography. He's also straddled the line of being lucky or unlucky in love in a number of romance movies. In 2017's "My Cousin Rachel," he starred as Phillip — a man who becomes infatuated with his cousin's widow, played by Rachel Weisz. While that story ended in tragedy, he was more lucky while playing author Henry Copper in the 2022 film "Book of Love." Starring opposite Verónica Echegui, his character eventually falls for the ghostwriter who re-wrote his book into a successful romance novel. "I think [this story] teaches you a lot about yourself, what you want, what you don't want," he told ET. 
Of course, some characters Claflin has portrayed have even fallen into the in-between love category – at least, that was the case with 2020's "Love Wedding Repeat," a remake of the 2012 French film "Plan de Table." Claflin played Jack, the brother of the bride looking to reconnect with his sister's beautiful former roommate. By the end of the film, there are multiple scenarios presented to the audience as to how Jack's romantic pursuits actually turned out.
He started a family with his then-wife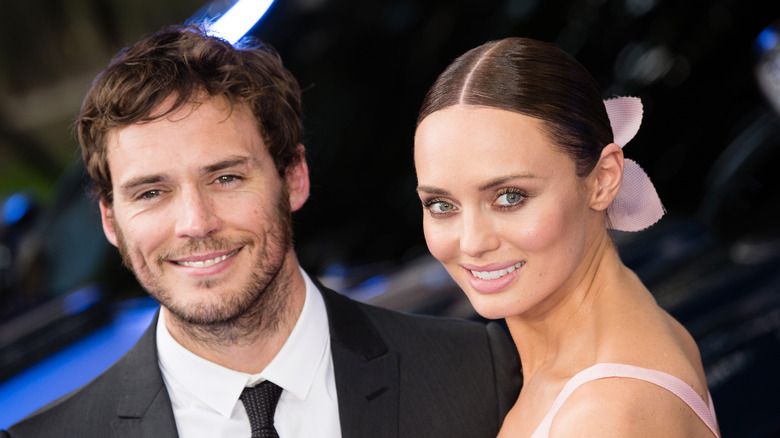 Jeff Spicer/Getty Images
After meeting in an audition room in 2011, Sam Claflin married fellow actor Laura Haddock in 2013, right at the height of his "Hunger Games" fame. The pair welcomed their first child, son Pip, in 2015, and their daughter Margot in 2018. Despite getting divorced a year later, Claflin has continued to focus on his family. "When I was asked what I wanted to be when I was older, when I was a kid, I never used to ... specify a job. I just said, 'I want to be a dad,'" Claflin shared with People in 2018. "I want to be a good dad, and I want to be a cool dad.'" 
When the global pandemic hit in 2020, Claflin took on the responsibility of caring for his children while still balancing his career, while sharing custody with his ex. "I think being a parent, on my own — and proving that I can do it on my own — has been challenging," Claflin told Gentleman's Journal. "... I've had to home-school my eldest. Juggling that with work has been hard. I know other people are doing it, with even more kids and even more responsibilities, but it's definitely a tricky old game!" Even as Claflin has continued to expand his career post-pandemic, he maintains that being a dad is his priority. "Of course it's hard, [but] it's all worth it," Claflin told People in 2015. "The rewards are just endless. [It's] literally the best thing that's ever happened to me."
His divorce took its toll on him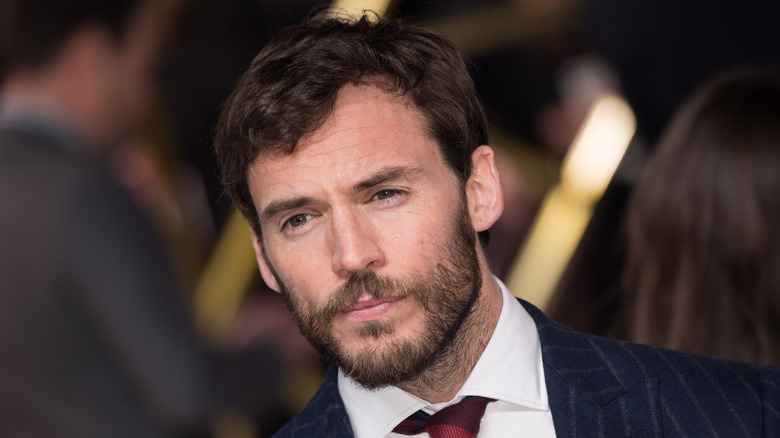 Jeff Spicer/Getty Images
After being together for almost a decade, Sam Claflin and his wife, "Guardians of the Galaxy" actor Laura Haddock, announced their divorce via their respective Instagram Stories feeds in 2019. The shared statement read, "We will move forward with nothing but love, friendship, and a deep respect for one another whilst we continue to raise our family together." 
While the former couple has continued to co-parent their two children, Claflin has expressed the negative impact that the separation has had on him. "[Divorce is] a horrendous thing to go through," he told GQ in 2023. "Every break-up is difficult, and obviously having kids makes it even more. During [COVID-19], I really f***ing struggled with the kids and, mentally, where my life was." But being the actor that he is, he has channeled his emotions to not only help him branch into new roles, but also dive deeper into them. 
An example of this creative expansion is in his role as Billy Dunne in "Daisy Jones and the Six," in which he played a rock star that goes through marital issues. "These emotions are still quite raw for me," he shared with GQ. "I can just take from that and put myself in this situation because I lived through it."
If you or someone you know needs help with mental health, please contact the Crisis Text Line by texting HOME to 741741, call the National Alliance on Mental Illness helpline at 1-800-950-NAMI (6264), or visit the National Institute of Mental Health website.
He's learned to love again (and again)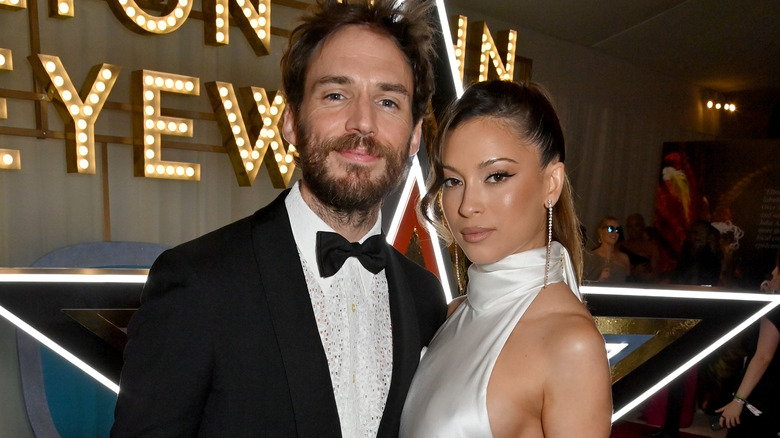 David M. Benett/Getty Images
Sam Claflin has been able to find love after love after all. In September 2020, The Sun (via Cosmopolitan) speculated that he was getting close to The Saturdays singer Una Healey on a dating app. But all rumors aside, he seemed to find the real deal when Claflin began seeing model Cassie Amato. The two went public with their romance via Instagram in September 2022, and Amato publicly supported Claflin at the "Daisy Jones and the Six" premiere in March 2023. Though the couple has not spoken publicly about each other too often, they are known for their flirty exchanges with each other on social media. On Instagram, Amato drummed up hype for her beau's performance in "Daisy Jones and the Six" by sharing a selfie accompanied by the caption, "[The miniseries] is going to knock your f***ing socks off." In response, Clalflin wrote, "You knock my socks off."
There is also a common thread that ties together Claflin's former and current loves: he reportedly met them on the celebrity-filled dating app Raya. The app is an exclusive service that has an acceptance rate that rivals several Ivy League schools, so it's not your average swipe-and-type situation. "You become more understanding of what love is the older you get and the more times you've been in love and falling out of love, or whatever it is," he told ET in 2022.
His next role is a thrilling one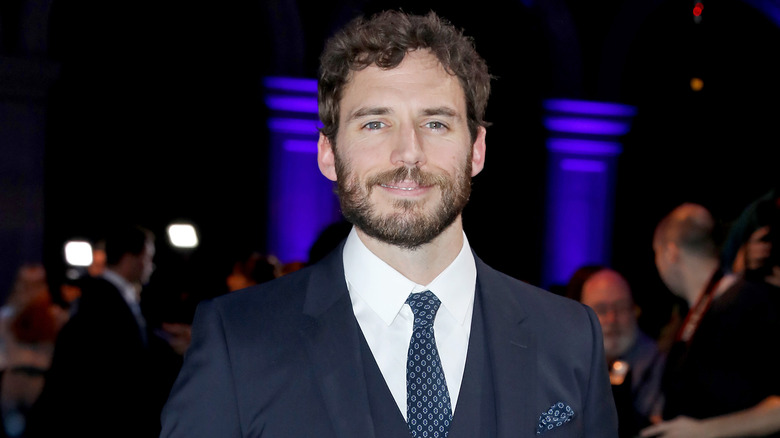 David M. Benett/Getty Images
In 2022, it was announced that Sam Claflin would follow up his "Daisy Jones and the Six" performance with the leading role in a new supernatural thriller called "The Bagman." Directed by Colm McCarthy, best known for his work on several "Peaky Blinders" episodes, the film stars Claflin as a father who is forced to literally confront his childhood fears when the monster he once destroyed returns for another bout. And this time, his family is also at stake. 
The film is helmed by Lionsgate, which was also the producer of "The Hunger Games." In a statement, the motion picture president of the studio said of Claflin's casting, "Since we first worked with him on 'Catching Fire,' Sam has grown into a compelling leading man. We're thrilled that he responded so strongly to this project." "The Bagman" also stars "The Good Doctor" and "Misfits" actor Antonia Thomas, along with Frankie Corio, the young actor best known for her leading role in the Academy Award-nominated film "Aftersun." 
As he explained during an interview with Radio Times in 2023, his passion for delving into intriguing new characters means that he won't be losing momentum in his acting career any time soon. "I'm just really happy to be doing what I love and to be paid for it," he gushed. "... The gift of what I get to do is to explore and learn more about other people's worlds."