What Happened To The Dolan Twins?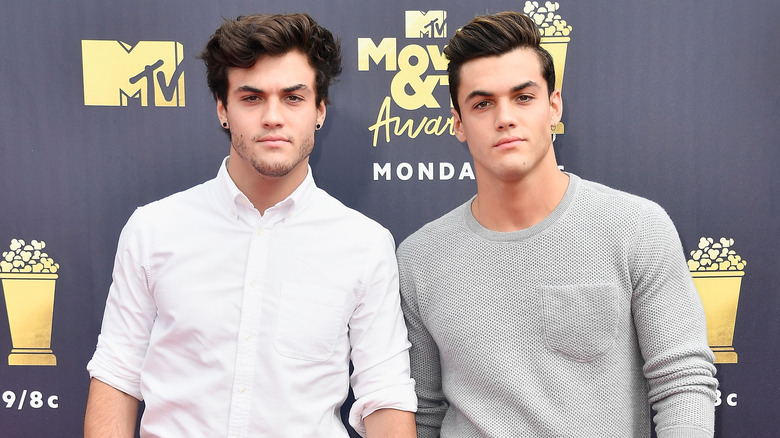 Frazer Harrison/Getty Images
Who knew six-second videos could change your life forever? When Vine emerged on the social media scene, it created a plethora of new content creators that entertained the masses. One, or should we say two, of those people included the Dolan twins. Ethan and Grayson Dolan exploded on the app in 2013 due to their comedic videos. It didn't take long for the twins to garner millions of followers — many who followed when they transitioned to YouTube. Ethan shared with Extra, "We moved onto YouTube because we realized we wanted to create longer content and really put extra time into the videos, and there's a lot more room for creativity on there."
From reaction videos to vlogging about their lives — fans couldn't get enough of their content. So much so they amassed a staggering 10 million subscribers on the platform. Their work put them on the map, and they became some of the most famous content creators. While we have seen numerous social media personalities from Vine and YouTube continue to thrive, Ethan and Grayson seem to have faded from the limelight in recent years. So, what happened to the Dolan Twins? Well, we are here to fill you in on all the details about their departure from social media fame.
The Dolan twins quit social media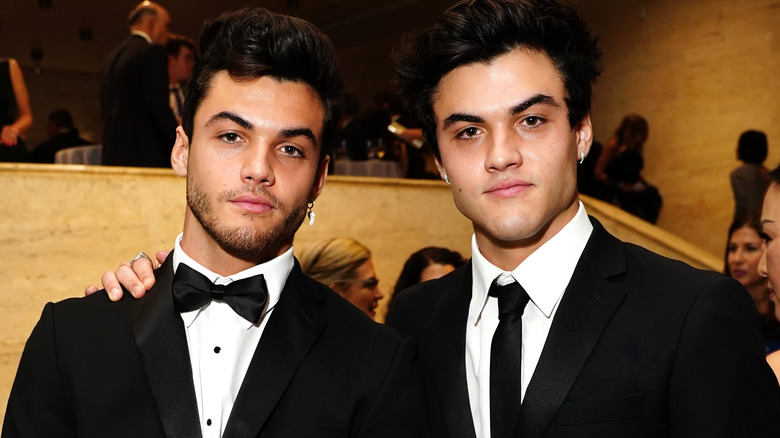 Sean Zanni/Getty Images
Fans eagerly waited to watch Ethan and Grayson Dolan's weekly video on YouTube. But, that excitement began to die down in 2020 after fans felt they had changed. To address this issue, the twins posted a video titled "We Need To Talk," where they explained that they were struggling to find a content style that would work for them and their fans, but it seemed they were willing to try and resurge their love for creating content. However, Ethan and Grayson only posted a few more times on YouTube before calling it quits on their channel at the start of 2021.
Their abrupt exit from YouTube had fans wondering what went wrong. Well, the twins opened up about their reasoning for departing the social media platform on the "Impaulsive" podcast. Ethan shared, "It's hard to find the balance of what you want to film and what the fans want to see. I feel like I've become trapped in my 17-year-old body as soon as the f**king camera turns on because this is what my audience likes." It was clear that the twins were not feeling authentic in the content they were creating, and it wasn't just YouTube that they decided to quit, but all social media platforms. Both Ethan and Grayson have not posted on Twitter or Instagram since 2021. While fans were devastated, they just wanted the best for the two content creators.
Where are Ethan and Grayson Dolan now?
Ethan and Grayson Dolan have basically become nonexistent on the internet. After they left social media, the two tried to keep up with fans through their podcast, "Deeper," per Distractify. However, the podcast didn't last long, and its last episode aired in May 2021. Since then, it's been hard for fans to keep up with the Dolan twins.
In July 2021, just after their podcast ended, the two content creators briefly appeared on Jennette McCurdy's "Empty Inside" podcast. At the time, it hadn't even been a year since their last video on YouTube was posted. However, they were adamant about continuing their social media hiatus. Ethan shared, "I realize I'm changing so rapidly in my life. ... I'm really striving to mature myself and think about the things that I'm really passionate about or that I want to change, and I can't learn them all fast enough to be speaking about them on a weekly basis."
In December 2022, fans thought they got another new glimpse of the twins' lives after a video of them began circulating on TikTok, per Distractify. However, the video was actually from the same 2021 interview they did with McCurdy. That was the last time the Dolan twins have publicly been seen. Although it seems they are no longer a part of the social media world, fans are hopeful that the duo will reappear one day.