Donald Trump's Unsealed Indictment Resurfaces Love Child Rumors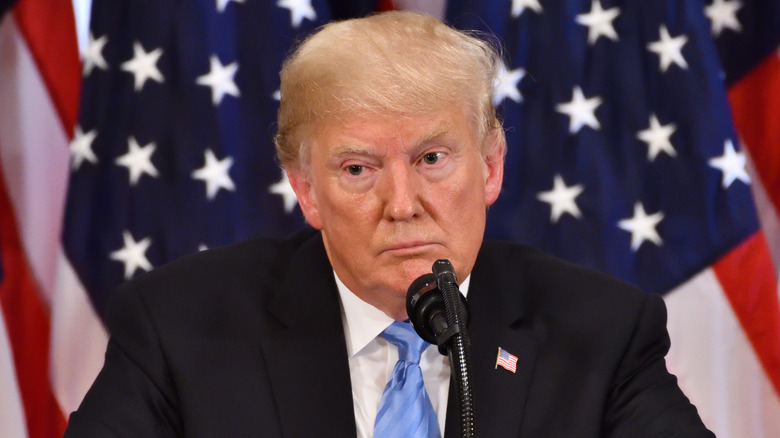 Evan El-Amin/Shutterstock
Donald Trump might be in an even bigger mess than we thought, with new revelations about his personal life surfacing alongside his legal woes. On March 30, the Mar-a-Lago owner was indicted by a Manhattan jury, making him the first former president of the United States to face criminal charges. The charges, 34 in total, are in connection to a 2016 hush money payment he made to Stormy Daniels, an adult film star he reportedly had an affair with back in 2006. Following his indictment, Trump jetted off to New York where he surrendered and was subsequently placed under arrest. 
Following his arrest, Trump was arraigned in a New York court where he pleaded not guilty to all 34 charges. After his court appearance, the former president returned to his Mar-a-Lago residence where he expressed displeasure over his ongoing criminal case. "The only crime I have committed is to fearlessly defend our nation from those who seek to destroy it," he said in a press conference (via NBC News). In his speech, Trump alluded to being targeted for political reasons and not because he committed any crime. "They can't beat us at the ballot box, so they try to beat us through the law," he said.
As the case continues to ramp up, however, more details are coming into the light. From the look of things, Trump's dirty past is catching up to him rather fast.
Donald Trump's can of worms is opening up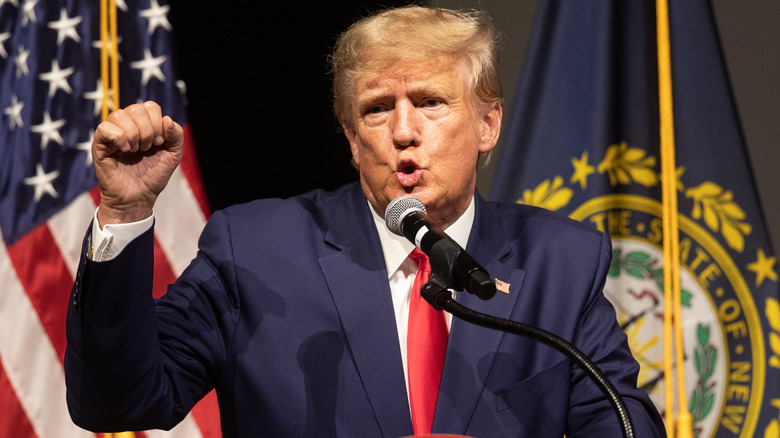 Scott Eisen/Getty Images
Amid his current legal troubles, Donald Trump's past is coming to light as prosecutors seemingly attempt to draw a pattern, showing that the former president will go extra lengths to keep his secrets hidden. In a statement of facts released by the Manhattan court, it is alleged that Trump in collaboration with his former lawyer Michael Cohen reached a deal with the National Enquirer's parent company, American Media, Inc. to kill a story from a doorman who worked at the Trump Tower.
According to the document, in 2015, the doorman, identified as Dino Sajudin was trying to sell a story alleging that Trump had welcomed a child during an affair with an ex-employee. In an attempt to keep the scandal out of the public, American Media, Inc. which was at the time led by David Pecker, a close friend of the former president, exclusively bought the story in an NDA with Sajudin. After investigating, AMI deemed the story untrue, leading them to propose removing Sajudin from the NDA clause. The statement of facts, however, alleges that Trump and his lawyer requested that the removal be stalled until after the 2016 election.
This new revelation comes amid reports by AP News that Karen McDougal, another of Trump's former mistresses who received $150,000 in hush money, was also mentioned in the former president's indictment.