Jeremy Allen White's Daughters Ezer And Dolores Share A Famous Godmother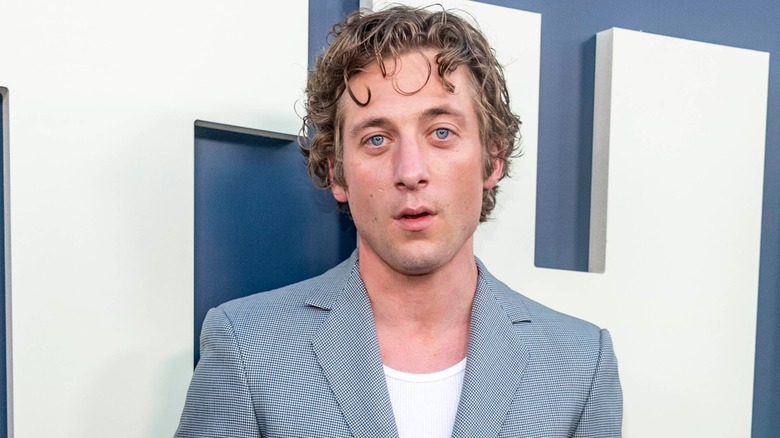 Eugene Powers/Shutterstock
Jeremy Allen White may only be in his 30s, but he is already in one of Hollywood's longest relationships. White and Addison Timlin tied the knot in 2019, but they have been doing life together since they fell in love in the mid-aughts, when they were just 14. "You've been at the center of my life for so long now, I can't remember much before," White captioned a 2022 Instagram post in honor of his wife's birthday.
After getting through adolescence and early adulthood, White and Timlin started a family in October 2018 with the birth of Ezer Billie. For Timlin, their daughter was the realization of a longtime dream. "I have wanted to be a mother since I was a little girl," she told her Instagram fans. But White was equally happy to become a father. "I just want to meet her. I'm just excited to have her," he told People the month before her arrival. "I'm excited to take her home."
The couple expanded the brood two years later, welcoming a second daughter. "Dolores Wild White — born 12/12/2020, just in time to save the year," Timlin captioned the announcement. "She is the answer to 1000 prayers and we are in love with her." White and Timlin have been knocking it out of the park in their role as parents. But they haven't been doing it alone. The couple has a solid support network that includes their daughters' godmother. And she happens to be a pretty famous actor.
Dakota Johnson is a close friend of the White family
Dakota Johnson famously attended Jeremy Allen White and Addison Timlin's wedding alongside her boyfriend, Chris Martin. But Johnson wasn't just a witness at the couple's big day. The "Fifty Shades of Grey" actor also holds a special status in the lives of both White and Timlin's daughters. "Happy birthday to my bright and shiny and to Ezer and Dolly's godmother," Timlin captioned a 2021 Instagram post. 
And Johnson doesn't take the role lightly either. "Thanks for being born and raising kids with me it's the best," Timlin wrote. In a post Timlin shared for her friend's birthday the following year, Johnson showed how comfortable she is around the babies. The photo captured the two friends sitting on the floor while Johnson gave Dolores a bottle. "We feel each other like the weather and I'm so deeply grateful for it," she captioned the post. "I love you for the rest of time."
In 2019, Johnson was spotted with Timlin, White and Ezer at a farmers market, a Daily Mail video showed. While the couple had a stroller for their daughter, the baby spent a good amount of time in the arms of her godmother, who fed her what appeared to be fruit. Ezer has also become close with her godmother's boyfriend. "She's a really big fan of Angel Moon," White said on "The Tonight Show Starring Jimmy Fallon," referring to one of the characters in Coldplay's fictional puppet band The Weirdos. 
Jeremy Allen White might not be done having kids
When Addison Timlin fell pregnant the second time, she and Jeremy Allen White could've been done having kids. Before Ezer was born, White knew he wanted another. But whether they stopped there was down to the baby's sex, as he would like to have a boy. "Then we could quit," White told Us Weekly in March 2019. Dolores is a girl, so she could end up being a middle child. We'll have to wait and see. 
For now, "The Bear" Golden Globe winner is enjoying being a girl dad to his "best friends," as he referred to them in a 2022 interview with InStyle. "I learn a lot from them," he said. "I feel like in a lot of ways, they're teaching me all the time how to be better: how to be better to them; how to be better to my wife, my friends, my parents, my sister." 
Learning he was going to become a father was such a milestone in his life that he marked the moment on his skin. "As my wife was telling me we were pregnant, my eyes were just on this hummingbird darting around the whole time. So, I got a little hummingbird for Ezer," he said. White doesn't post on Instagram as often anymore, but his oldest was one of the highlights when he did. "Holy smokes she's two! I love you, I love you, I love you," he wrote in October 2020.