Did Reese Witherspoon Really Not Want To Marry Jake Gyllenhaal?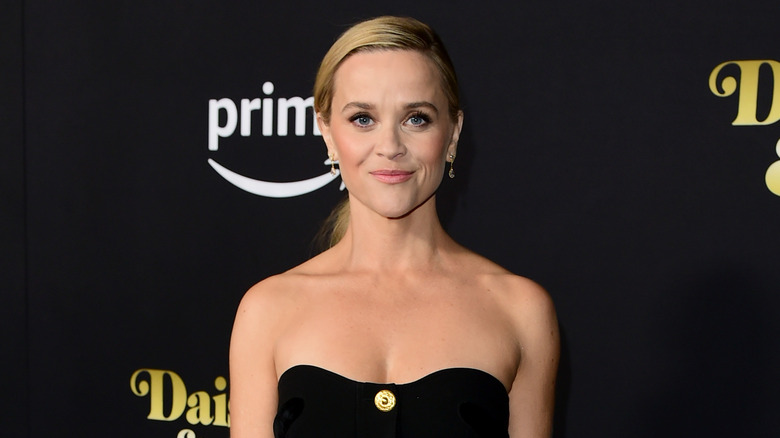 Vivien Killilea/Getty Images
Like many star-studded couples, Reese Witherspoon and Jake Gyllenhaal did not have a fairytale ending. The famous duo met in 2006 while filming the political thriller "Rendition." But, apparently, it wasn't love at first sight — well, at least not for Witherspoon. An insider told People, "Things slowly progressed, but it was never something she thought would happen from the start. She just kind of developed this little crush over time."
A year later, Witherspoon and Gyllenhaal kickstarted their two-year romance. At the time, Witherspoon was in the throes of her split from Ryan Phillippe, which further complicated her situation with Gyllenhaal. In the summer of 2007, their relationship reportedly crumbled. An insider close to Witherspoon told People, "They broke up. It's totally and completely over. Reese was the one who had to do it. She just got out of a divorce and was so concerned with her family, she just didn't have the time for him and he really demanded that."
Yet, their break didn't last too long. That same year, Witherspoon and Gyllenhaal were spotted getting comfortable and cozy together in Rome, per the Evening Standard. Throughout their relationship, the pair had their ups and downs. Witherspoon and Gyllenhaal never tied the knot, with fans speculating that the "Legally Blonde" star did not want that kind of commitment. So are the rumors true? Did Witherspoon really not want to marry Gyllenhaal?
Reese Witherspoon was focused on family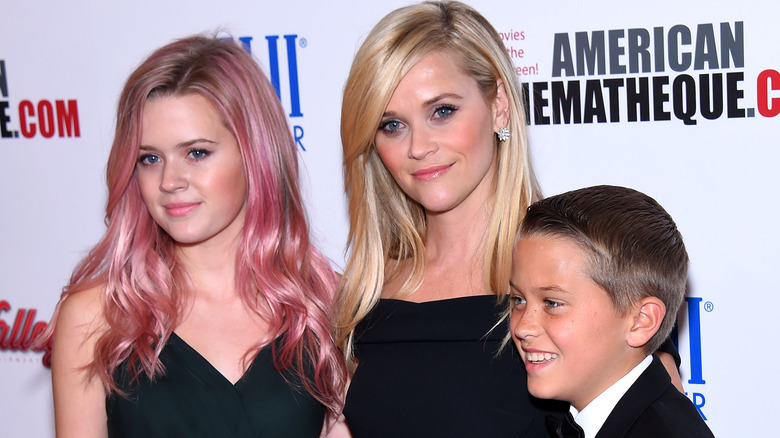 DFree/Shutterstock
The rumors just may be true. In the midst of Reese Witherspoon and Jake Gyllenhaal's topsy-turvy relationship, an insider told People, "As much as everyone thinks they're right there, they're really not near the whole marriage thing. Jake would marry her tomorrow, but Reese doesn't want to go there yet, even though he would like to." Reportedly, Witherspoon was focused on her children at the time, which played a huge factor in her lack of interest in marriage.
There's further evidence that Witherspoon was not ready to seal the deal with Gyllenhaal. In a 2008 piece for Parade, the actor candidly revealed her indecisiveness about saying "I do." She said, "Family is all we have in life, but I don't know how I feel about marriage. Obviously, I'm not far enough out of being married to think about doing it again. You sort of reconstitute your family. You find a family, with people who come into your life for a reason."
Reese Witherspoon adored Jake Gyllenhaal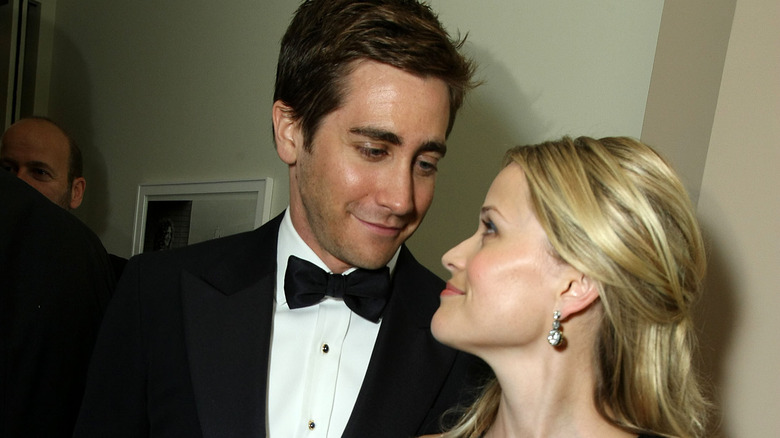 Eric Charbonneau/vf/Getty Images
Just because Reese Witherspoon didn't want to tie the knot with Jake Gyllenhaal, it doesn't mean their relationship was doomed. In fact, she very much adored the "Donnie Darko" star. According to HuffPost, in a 2008 cover story for Vogue, Witherspoon shared, "He's very supportive. Suffice it to say, I'm very happy in life, and I'm very lucky to have a lot of really supportive people around me who care very much for me, and, you know, that's all you can hope for in life. I am very blessed in that way."
In 2009, Witherspoon spilled more tea on her relationship with Gyllenhaal. Per Marie Claire UK, during an interview with InStyle, she revealed that the two attended Coachella together. They also cherished their time together by enjoying weekends at her farmhouse in Ojai, California. "I love it," she remarked. Witherspoon added, "We have chickens and we grow cucumbers and tomatoes. Jake's a great cook, he does a lot."
Once Witherspoon and Gyllenhaal's relationship ended, the former couple appeared to remain amicable. In a 2016 interview with People, Gyllenhaal spoke incredibly highly of his ex-girlfriend. He gushed, "She is — as I would say about most of the women or close friends or I had relationships with in my life — one of the smartest, strongest people I've ever met." There are certainly no hard feelings here!