Brad Pitt Once Let His Elderly Neighbor Move Into His $40M House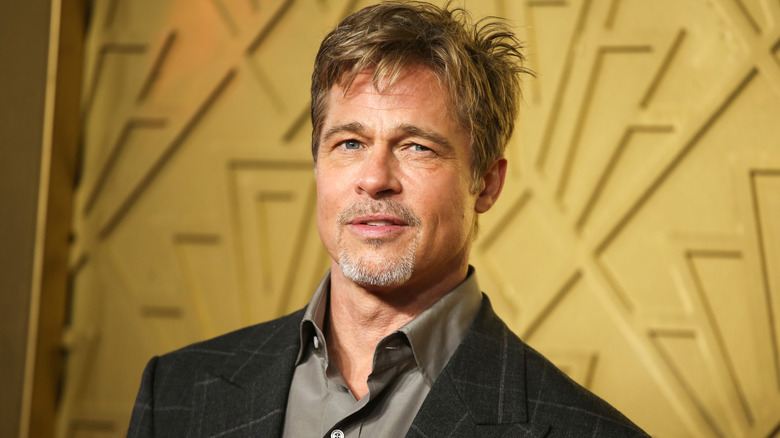 Lia Toby/Getty Images
Celebrities are just like us — except for the fact that many can throw down millions of dollars on lavish mansions. When you're an A-list star, that statement rings especially true. And if your name is Brad Pitt, well, money may not be one of your biggest stressors. Back in 1994, Pitt bought a 1.9-acre property that reportedly cost $1.7 million, according to People. The "Fight Club" star owned it for three decades before selling it for $40 million in March 2023.
Pitt's home is filled with memories, as he lived there with ex-wife Angelina Jolie and their six children prior to their breakup in 2016. According to another People article, Pitt previously expanded his estate by buying several properties next to his home. When he lived there, he added luxurious amenities like a swimming pool, skating rink, and tennis court. Yet, an insider revealed that Pitt was eventually ready to downsize. They explained that the actor chose to list the Los Feliz property because he was "looking for something smaller" in Los Angeles.
There's another key detail about the backstory of Pitt's home. He initially purchased it from Cassandra Peterson, who starred in the 1988 cult classic "Elvira: Mistress of the Dark." And Peterson dropped that Pitt once gave his elderly neighbor a free place to stay.
Brad Pitt's neighbor didn't pay a penny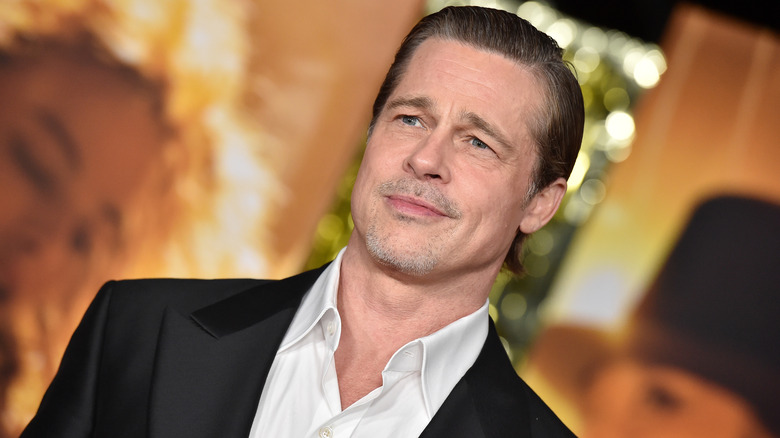 Axelle/bauer-griffin/Getty Images
In an April 2023 interview with People, Cassandra Peterson shared the inside scoop on Brad Pitt's unique living arrangement with his neighbor. Peterson revealed that there were 22 houses that surrounded Pitt's property. Apparently, the actor purchased each one. An older man owned one of the lots, so Pitt made him a generous offer. Yup, he welcomed the man into his home with open arms. Peterson said, "He was very, very kind to the husband. His wife passed away and the husband, John, lived there." And according to Peterson, Pitt didn't ask him to pay a penny. The man was settled in for quite some time, as Peterson added, "It was kind of funny because John lived to be 105."
Fans were impressed by Pitt's benevolence and took to social media to praise him. One user tweeted, "This is such a good gesture." Someone else noted, "That's so sweet." Another person didn't seem quite as flabbergasted, writing, "If you have 50 empty rooms in your mansion, then why not?"
Brad Pitt once made another extravagant gesture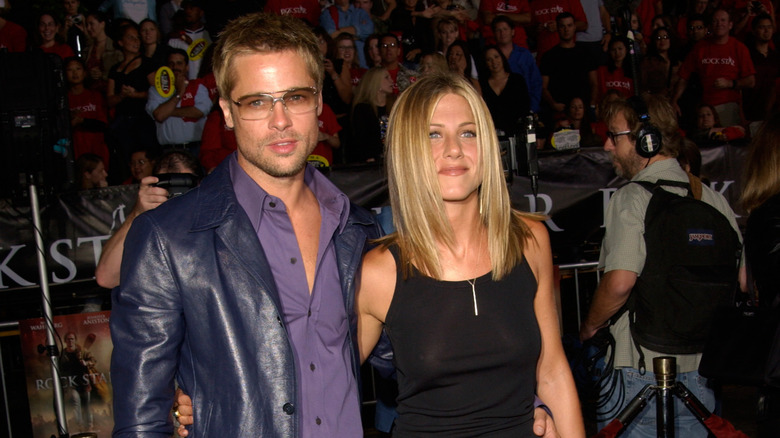 Featureflash Photo Agency/Shutterstock
This wasn't the only time Brad Pitt made an extravagant gesture toward someone in his life. Sure, he doesn't exactly invite people to stay in his properties rent-free on the reg. Yet, this particular instance further proves that Pitt is either extremely generous, or that money is truly no object to him (okay, probably both). Back in 1998, Pitt started his iconic romance with Jennifer Aniston, according to Brides. He proposed to the "Friends" star just a year later, with the couple officially tying the knot in 2000. But their marriage didn't last long, as they called it quits in 2005.
However, a year before their split, Pitt did something quite grand for Aniston. No, it wasn't a jewelry or clothing splurge that made headlines. Pitt went all in and reportedly purchased Aniston a yacht. But it wasn't just any yacht — it was the same one that Richard Burton gifted Elizabeth Taylor, according to The Sun (via Glamour). To convey his love for her, Pitt spent $3 million on the deluxe boat. A friend told the outlet, "Brad wanted Jennifer to know how much he thinks of her. This was the perfect way. The boat used to be owned by Hollywood's golden couple and, 40 years on, history is repeating itself." Ah, yet another reason to swoon over the dreamy Brad.