What We Know About Dolly Parton And Garth Brooks' Relationship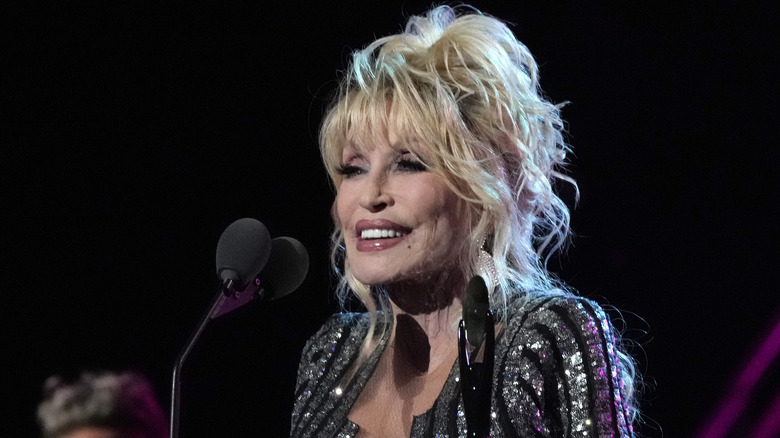 Kevin Mazur/Getty Images
Garth Brooks and Dolly Parton have made themselves legends in the country music industry with their catchy songs and beloved personalities. The "Friends in Low Places" singer has won the most CMA Awards for Entertainer of the Year, snatching the honor seven times. He was also recognized at the Kennedy Center Honors in 2020. Meanwhile, the "Jolene" singer has won an Entertainer of the Year award as well in 1978, and she was a 2006 honoree at the Kennedy Center.
It's practically a crime that the two country stars haven't teamed up on anything. But late is better than never, as it has been announced that Brooks and Parton will be co-hosting the ACM Awards in May. "We couldn't be more excited to bring this legendary pair together for the first time ever as Country Music's Party of the Year heads to the Dallas Cowboys World Headquarters," ACM Awards executive producer Damon Whiteside said in a statement. "From exclusive superstar performances to unexpected collaborations to the industry's most exciting emerging talent, fans are in for an unforgettable night that can only be seen on the ACM Awards stage!" And it seems that the two are very excited to be finally working together.
Garth Brooks and Dolly Parton previously hadn't teamed up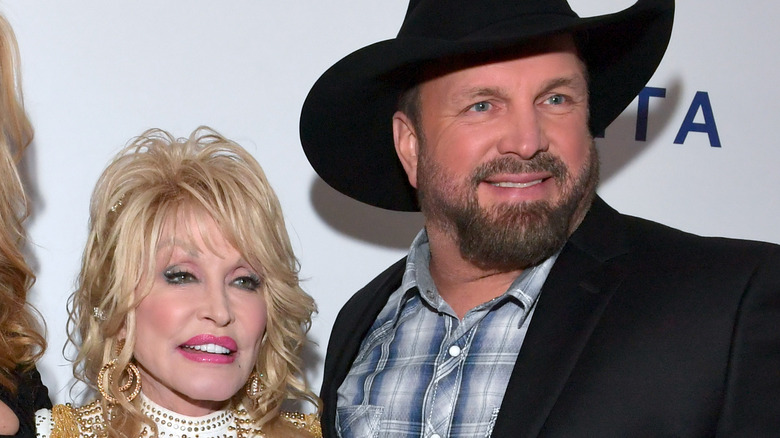 Lester Cohen/Getty Images
On March 29, it was revealed that Garth Brooks and Dolly Parton were set to host the 58th ACM Awards on May 11. While the two singers are considered country legends, they have yet to collaborate with each other on a song or some other music-related project, which makes them both all the more excited to host the award show together.
"I am thrilled to return to host the ACM Awards, this time with my friend Garth. While I've had the pleasure of spending time with him throughout the years, I can't believe we've never had the chance to work together," Parton told Deadline about hosting alongside the "The Thunder Rolls" singer. Brooks returned the love and added, "Anyone with Dolly Parton makes a fantastic couple."
The "I Will Always Love You" singer mentioned to Billboard that she and Brooks have "always wanted to do something together," but never had the opportunity or time to do so. "We've always admired each other musically and as people and how we handle our business," she said. "So this is a great thrill for me. I think the fans are going to enjoy seeing us together, 'cause Lord knows he's got fans and I got a few."
Garth Brooks is a huge Dolly Parton fan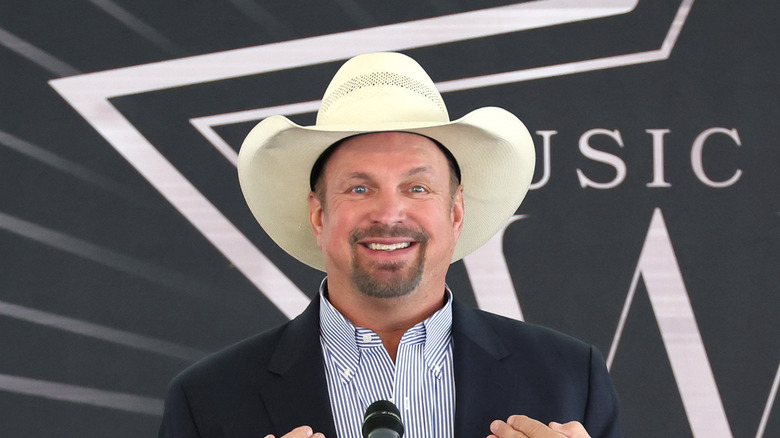 Jason Kempin/Getty Images
Dolly Parton previously hosted the 57th ACM Awards in 2022 alongside Jimmie Allen and Gabby Barrett. But for Garth Brooks, it's his first time hosting an award show altogether. However, it appears that he's relieved he gets to do it with someone who has experience like the "9 to 5" singer.
The "More Than A Memory" singer is seemingly in total awe of Parton too, as he previously refused to choose his favorite song by her. "If it's a Dolly song, you do it, you crank it up because her voice holds up when you crank it up," he told Vulture in 2019. Brooks' wife, Trisha Yearwood, mentioned that Parton's songs are "timeless" and she's inspired by how hardworking the country legend is. "Yeah, amen," Brooks added. "I wish I was half the woman she is. Man, she's ballsy. I love her."
And when it was announced that Brooks would be hosting the ACM Awards alongside Parton, Brooks elaborated on what he hopes to bring to the award show stage. "All I hope that we do as a pair is represent [country music] well," he told Billboard. He then gushed about the "Here You Come Again" singer. "I mean, you've got your foundation and what you're looking for here," he added, describing his co-host. "You've got talent and class. Let's represent country music the best that we can."