The Dumbest Things About Kylie Jenner's New Music Video
Kylie Jenner exited March 2016 like a lion, releasing a polished music/movie/video thingy on the 31st to debut three new shades of her signature lip gloss. In other words, she made a really long commercial, and the internet went wild. The 18-year-old baby of the Kardashian/Jenner sisterhood announced her mouthy flick via a simple tweet on the day it debuted: "GLOSSES VIDEO OUT NOW." The ensuing social media buzz worked like a charm. Those lipsticks sold out as fast as her family, but let's slow things down for a moment, shall we? A closer look at Jenner's polished marketing machine reveals a less than lustrous foundation.
It's not a music video, or is it?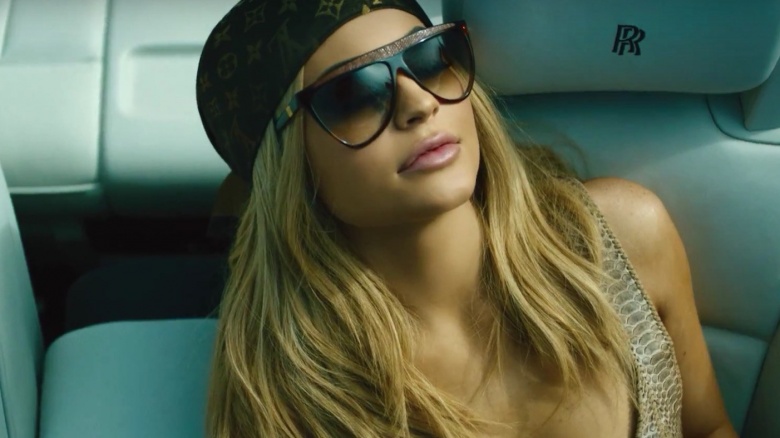 Yes, we've been calling this a music video. Everyone has. But "Glosses" is actually a lip gloss video with music. According to Complex, the contagious track is called "3 Strikes," and it's the first release from a band named Terror Jr. Who's that? Nobody seems to know, fueling speculation that it could be an alias for Jenner herself, and if that were the case, we guess this technically would be a music video. Gah!
The fancy advertisement was directed by Colin Tilley, a filmmaker who's worked with Justin Timberlake, Nicki Minaj, and Jenner's boyfriend, Tyga. The newly discovered Terror Jr tweeted the following on the video's release date: "Whoa shout out @KylieJenner for premiering our first song ever in her lipgloss movie...Crazy." What's even crazier is that lip glosses now star in their own movies.
Weak plot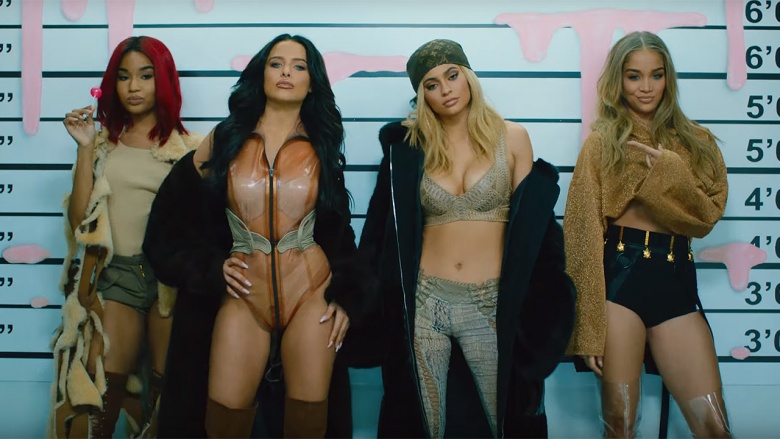 The ridiculous plotline of Jenner's lip gloss video goes something like this: a scantily clad Jenner and three hooker-styled pals meet up with some guys at a cheap motel in the desert to collect a pile of money in exchange for an undefined something (like overhyped lip gloss?) Suddenly, the ladies call off the deal and violently rob the dealers.
Jenner drives the oh-so-practical getaway car, a silver Rolls Royce convertible with a luxurious white interior. The top is down, of course, which is dumb because realistically those pretty seats would get caked in the cloud of dust stirred up by the crew's escape. Come to think of it, plastering one's lips with sticky lip gloss before peeling out on a dirt road is also a bad move, as is donning a long fur coat at high noon in the badlands, which Jenner does.
But there's more. The pouty posse does get caught. We see them line up at the station, and according to the height chart behind them, all four are well over 6 feet tall. In real life, Jenner is 5 feet 6 inches. Her three co-conspirators are models Karin Jinsui, Mara Teigen, and Jasmine Sanders. They're leggy, but not that leggy. And so concludes an irretrievable three minutes and 12 seconds of your life.
Buyer beware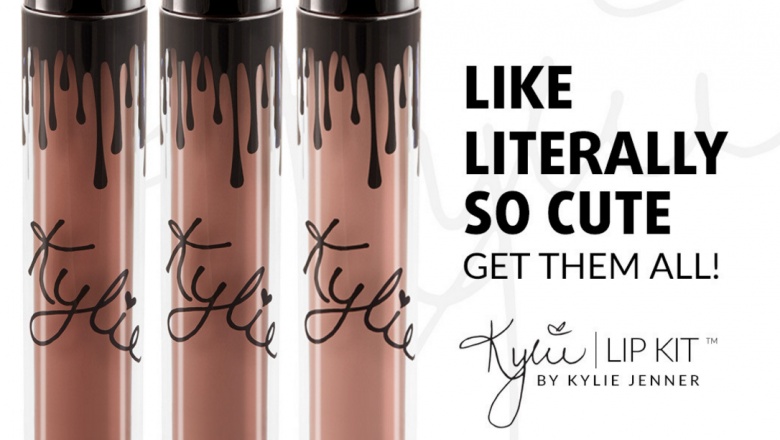 Since its launch in November 2015, Kylie Cosmetics has been plagued by supply issues. Is the company intentionally playing hard to get or are the production issues legit? Regardless, the teenager's previously released Lip Kits have been marked up on eBay for hundreds, sometimes thousands, of dollars, and even customers who ordered from the source have reportedly waited in vain for deliveries. The company's newest trio of shiny shades—Like, Literally, and So Cute—are already sold out. At the time of this writing, the company had zero products (new or old) in stock with hordes clamoring for more. C'mon, people, would you stand in line repeatedly at a brick-and-mortar store that rarely stocked anything on its shelves? Don't answer that.
She "hates" makeup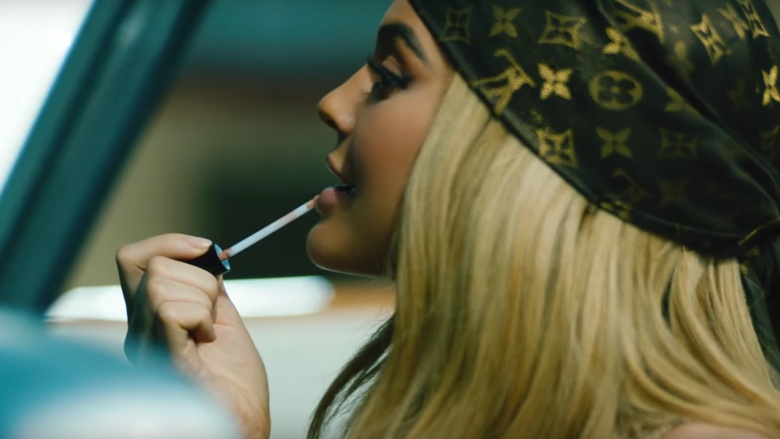 Guess what? Jenner says she doesn't actually like makeup. We know, hard to believe judging from her social media selfies and her booming cosmetics business. "I'm way flashier on Instagram and Snapchat, because I feel like that's what people want to see and that's what I've always done, so I'm not going to stop...But that's so not me," she told the Daily Mail in December 2015, shortly after launching her lip gloss line. "I hate wearing make-up."
Jenner also told the Daily Mail she misses the days when she spent more time hiking and less time dressing up and doing her makeup. "Lately, I've just been so over it," she said. "I feel like I'm way too young to wear such heavy make-up all the time." Jenner further explained she suffers from anxiety compounded by her family's overexposed lifestyle. "I feel like I'm going to look back and be like, 'Damn, I wish I could've just been a kid and done normal teenage stuff that my friends get to do.'"
This makes us sad. It seems Jenner is following in her sisters' footsteps and tethering her self-worth and career ambitions to her appearance. Kylie, tell Hollywood to take a hike, and then, go take a hike.
Promoting gun violence?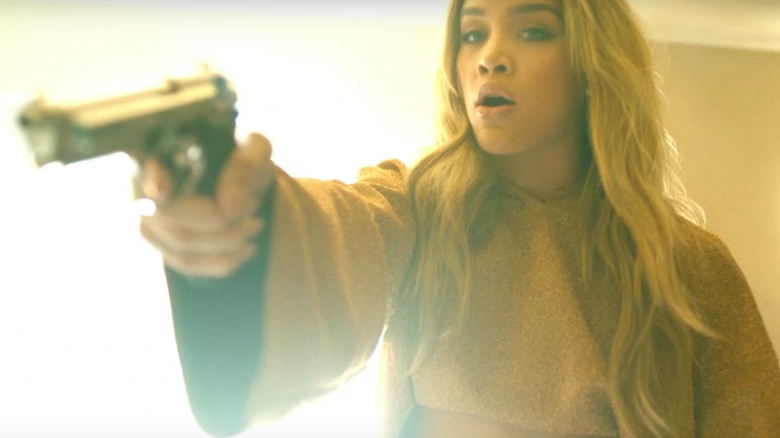 The violent antics in Jenner's video are stirring up a firestorm of finger wagging. Is it appropriate for the lip gloss gang to brandish a handgun, kick a guy in the groin, dunk a dude in a fish tank, and throw a hustler through a window?
Plenty of viewers can't get enough, and others can't even. Ok! relayed some fawning tweets: "omg your lip gloss video is everything! I seriously watched it 2828272 times already, and I've showed all my family members!" as well as some Twitter backlash: "Yah, guns, money, and hurting people over lip gloss – what a role model @kylieJenner is NOT."
Jenner including violence in a music video, mini movie, commercial—whatever the heck this is—certainly isn't groundbreaking or even uncommon. Using it to sell out an entire line of lip gloss in minutes? Now that's aggressive.
Cashing in on controversy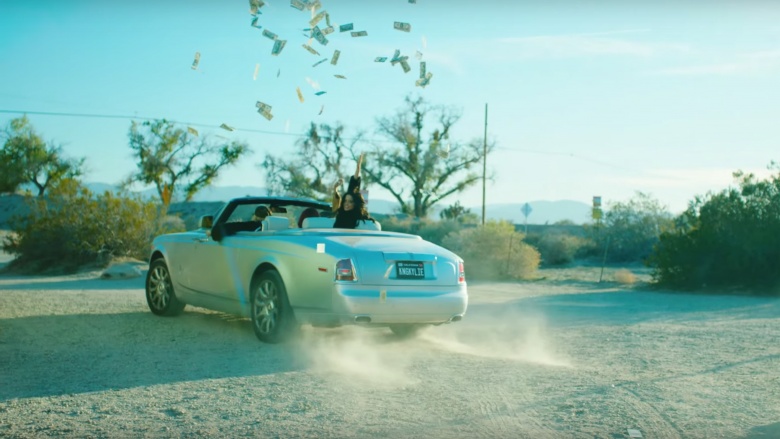 The success of Jenner's lip gloss business is connected to the controversy surrounding her cosmetic surgeries. The drama began when the teenager started getting lip injections, which she initially tried to keep quiet. Maybe Jenner thought she could chalk up her changing appearance to puberty, but the masses quickly noticed that a member of the world's most photographed family had a much plumper pout.
In an attempt to copy Jenner's new look, countless young people tried to create do-it-yourself swollen lips by inserting their mouths into shot glasses and sucking to create a tight seal. Kids called it the #KylieJennerChallenge, and for many, the results were catastrophic. "Not only can significant pain, swelling, and bruising result from these suction techniques, but there is potential risk for scarring and permanent disfigurement with repeated attempts," Dermatologist Dendy Engelman told Seventeen.
Jenner could have used her celebrity status to take a stand against that disturbing and disfiguring trend and to encourage young men and women to embrace their natural attributes. Instead, she funneled that attention into pure profit with the launch of her self-titled Lip Kits. "I'm not here to try and encourage people/young girls to look like me or to think this is the way they should look," she insisted via Twitter, but she sings a different tune on her company website. "Get the perfect 'Kylie look,'" she says in a note to customers. "I can't wait to see how beautiful everyone is going to look."
Jenner plans to expand Kylie Cosmetics beyond lip products, so brace yourself for more controversial videos and marketing machinations.