Ariana Grande And Pete Davidson Head To Disneyland Amid Engagement News
Ariana Grande and Pete Davidson seemed to celebrate their recent rumored engagement by taking a fun trip to Disneyland.
E! News reports that the two stars were seen in Disneyland in Anaheim, Calif. on Monday, June 11, 2018. Twitter user @reginaleigh95 captured Davidson and Grande, who wore Mickey Mouse ears, getting off of Space Mountain and quickly leaving when nearby fans noticed her presence. Unfortunately, @reginaleigh95 told E! News that she couldn't see if Grande was wearing an engagement ring, as "sweater paws were covering" her hands.
A separate source told the celebrity news site, "Ariana and Pete were in the front row and he got out first and then turned to her and held out his hand to help her up." The source added, "A few people yelled 'Ariana' from the line and she turned and smiled at them and waved. She looked very happy. Then they all walked out and Ariana and Pete were holding hands."
Grande also shared a few videos from her time at Disneyland with Davidson on her Instagram Stories. The singer's friends and family members, including her brother Frankie and her mother Joan, were also at Disneyland with the couple.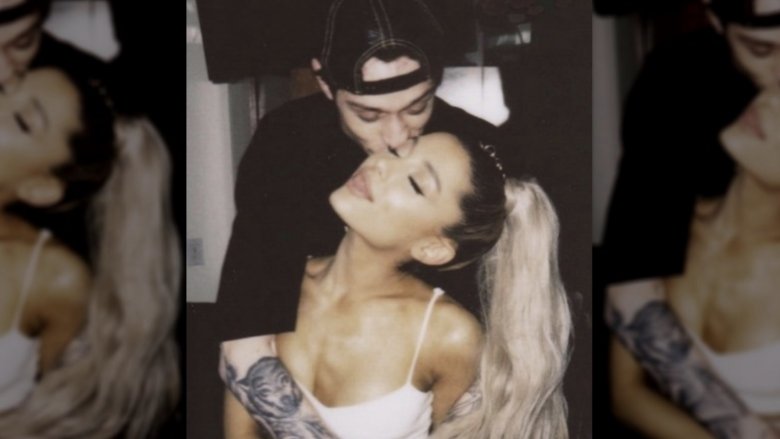 As Nicki Swift previously reported, news broke that Grande and Davidson were engaged on Monday, June 11, less than a month since the two were first reported to be dating. However, neither celebrity has publicly spoken out about their engagement at the time of this writing.
"They are a perfect fit. They are not rushing to get married. Their friends are really excited and supportive," an insider told Us Weekly of the famous pair, who reportedly plan on having a long engagement. "They are both constantly making each other laugh. Their moms have met. They've been very public with their relationship on social media and they are in very in love (sic)."
While the couple have not yet commented on their reported engagement, Grande seemingly confirmed news that she's engaged to Davidson with her replies to fans' tweets. "I hope he knows he is marrying us as well," one Twitter user wrote. Grande replied, "HAHAHAHAHAHH HES BEEN BRIEFED."
She also responded to a fan that wrote, "Ariana's wedding would outsell the royal wedding ladies." An obviously amused Grande tweeted back, "sksjsjjsjsjsja stfu."
In addition to responding to some fans' tweets, Grande, who was previously spotted wearing a ring on that finger at Wango Tango on June 2, tweeted at fellow pop star Camila Cabello, who has referred to as Grande as her "wife" in the past, writing, "We need to talk."
Davidson, who's gotten two Grande-inspired tattoos, may have previously hinted at his engagement to Grande in a comment he left on one of the singer's Instagram posts. "Thanks for making this idiot from staten island the happiest boy on earth," the Saturday Night Live star wrote.
How cute are these two?