How Malia And Sasha Obama's Relationship Changed After Leaving The White House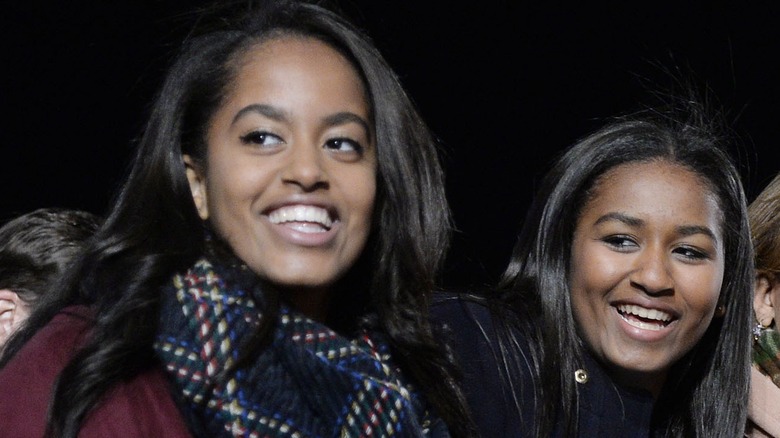 Pool/Getty Images
When their father, former President Barack Obama, won in 2008, Malia Obama and Sasha Obama were little kids. Sasha was only 7 years old when the Obamas moved to the White House, becoming the youngest person in history to live there since John F. Kennedy, Jr. Older sister Malia was 10. And, as the eight years of President Obama's two terms passed, people got to see the two girls grow up to become the women they are today. 
In a September 2020 episode of "The Michelle Obama Podcast," Michelle Obama talked about what it was like raising two young girls in the White House. "One of the things that I had to learn how to negotiate was creating these boundaries with my kids in the White House," she said. "I mean, you talk about being raised in a totally different world than I ever knew?" She added that she continued to make sure her daughters' time at the White House was normal, even though their father was the President of the United States, and the living conditions were probably far from normal.
But the one thing that the former first lady is most proud of is Malia and Sasha's relationship after leaving Washington, D.C.
Sasha and Malia Obama grew closer to each other over time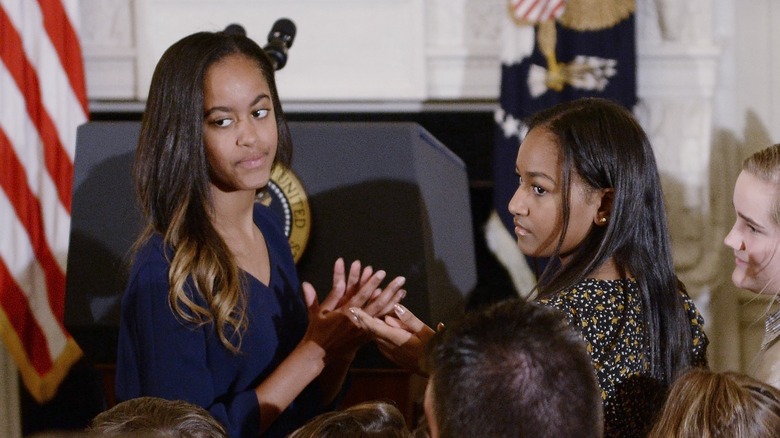 Pool/Getty Images
In an interview with "Today," Michelle Obama talked about how her two daughters, Malia and Sasha Obama, have developed a stronger bond. Now that the two have left the White House, they live together and even invited their mom and dad over to their house for cocktails. "The thing that I love the most is that those two girls are each other's best friends," Michelle said. The former first lady added, "There was a period of time when they couldn't stand each other, and I said, 'You wait. You are going to wake up one day and you're going to look over at that other person, and you're going to know that you two share something very unique,' especially given what they've been through."
Michelle admitted that her daughters becoming best friends is the one thing she is most proud of in her life. "To see them in that place where they're one another's support systems and they've got each other's backs, it's the thing that a mother would want," she said. She also mentioned that being able to take care of her daughters, and fostering that relationship between them, helped her take on the leadership role of being the first lady.
And it seems that the bond among the entire Obama family has only gotten stronger, especially over recent years. 
The COVID-19 pandemic brought the Obama family closer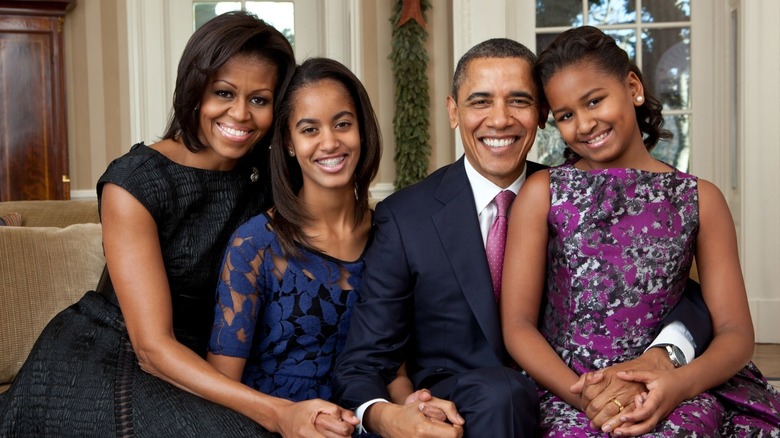 Salma Bashir Motiwala/Shutterstock
The COVID-19 pandemic was hard on a lot of people, especially in the early days when students were forced to study at home with their family. "We were being all organized, and we would spend the days apart doing our respective work," Michelle Obama told Conan O'Brien in an interview during the lockdown. "The girls were still in classes in the spring, and so we would be working and then do a little exercise, and then come together in the evenings." She then mentioned that the family had fun doing various activities from playing games to doing some arts and crafts.
But then, the former first lady admitted things got a little rough as time went on. "At first, our kids got a little sick of us, which was fine because we were pretty much sick of them," she said. She mentioned that once summer rolled around, they moved to Martha's Vineyard so the family had more space to do activities outside. "That was good because it helped us break it up," she added.
But even with the hard moments, Michelle is grateful that the pandemic gave her time to bond with her daughters. "This time has allowed us to get some stolen moments back with our girls," she told People. "I think they've made our relationships with our children even stronger." She then mentioned that she and former President Barack Obama also treated their daughters more like adults, which helped foster a new friendship with them.