Carrie Underwood And Mike Fisher Spend A Lot Of Time Apart (But Not By Her Choice)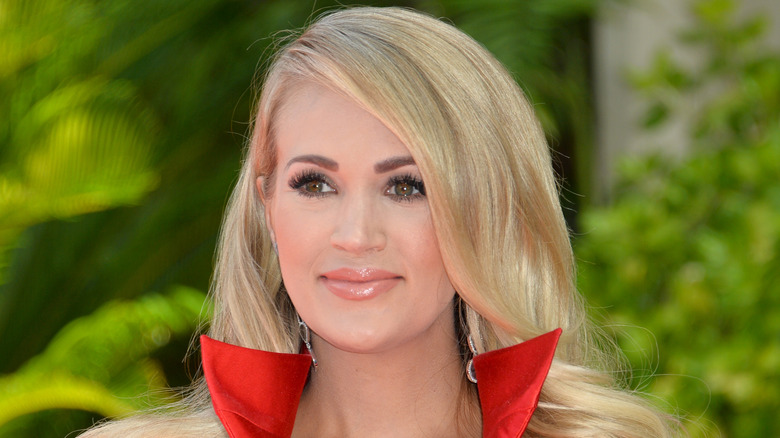 Featureflash Photo Agency/Shutterstock
Carrie Underwood and Mike Fisher have been married since 2010. The "American Idol" alum and the retired NHL star don't get to spend much time together as their schedules often have them going in different directions. In February, Underwood was back on the road on her multi-city tour, leaving her husband — and their two boys — back in Tennessee. However, Underwood says she plans on flying home whenever she can. "They'll be out to visit. This tour, I'm going home a lot more than I ever have before. If there's a way to get me home, even if it's just for the day," she said during an interview on the "Today" show.
Around the same time, Underwood was preparing to do a show on Halloween, taking her away from Trick-or-Treating with her sons, Isaiah and Jacob. The country music sensation did a Q&A with Tulsa World ahead of her show in Oklahoma and opened up about how she was planning on making the time up with her boys. "I'll get to spend a couple of days leading up to Halloween with my boys at home, so we'll get to have some fun that weekend," she said, adding, "They are both in school during this tour, so they won't be out with us on the road as much." 
If Underwood had it her way, however, she would spend much more time at home with her family.
Carrie Underwood considers herself a homebody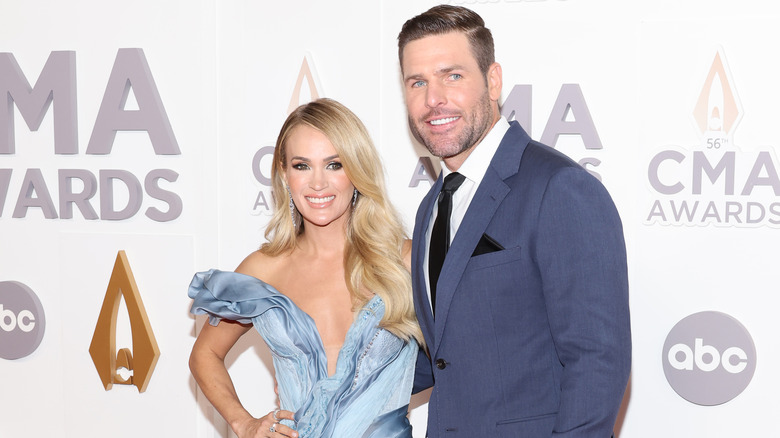 Jason Kempin/Getty Images
Although Carrie Underwood spends a great deal of time on tour, she is actually a homebody. "I don't want to go to restaurants. I don't want to travel. I don't want to go anywhere," she told Today's Country Radio with Kelleigh Bannen in June. "I love being at home. I would literally never leave my house... I get nervous in crowds and in group settings and stuff like that," she said. She went on to say that she truly feels like Mike Fisher balances her out. "I'm like, 'We don't need to go out all the time,' so I pull him back a little bit. And then he's like, 'We need to go somewhere sometimes. Can we please interact with other people?'" she explained.
On the other hand, Underwood admits that she really enjoys being on tour. "I think my favorite parts of putting a new tour together is the anticipation. I love rehearsals as well. I feel like it's like a show with no pressure (laughs), no audience, and we just kind of get to play music and do all that stuff, and it's fun, and so I really, I enjoy rehearsals," she told Country 102.5. This is definitely something that Underwood juggles whenever she's faced with trading in her home for a tour bus.
Carrie Underwood & Mike Fisher split rumors have surfaced plenty of times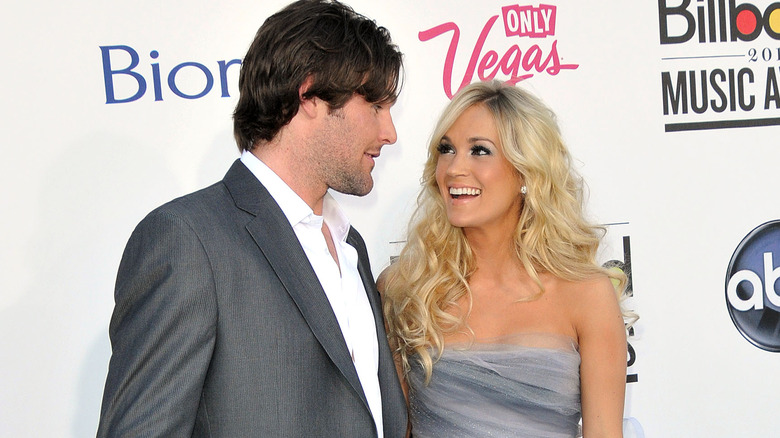 Kathy Hutchins/Shutterstock
Carrie Underwood and Mike Fisher have found themselves in the tabloids with plenty of split rumors surrounding them over the years, especially whenever she makes an appearance without him. For example, she attended the 2023 CMT Awards solo, but she was quick to nip headlines in the bud. "My husband's got the kiddos. He's always holding down the fort while I'm out doing stuff like this," she said on the red carpet, according to People. Meanwhile, a source told Us Weekly that things are going extremely well between the two, even if they aren't together much while she's on tour. "Everybody has their good and bad days, but they're stronger than ever," a source explained. "Carrie doesn't know what she'd do without the support from her husband. She feels so blessed to have him by her side," the source added.
In April, Underwood and Fisher teamed up to support a non-profit organization called Compassion International. "We are facing off against global hunger and need your help to rescue children in crisis," read the caption on an Instagram post that Underwood shared on her feed. The "Fill the Arena" initiative aims to make a dent in hunger and malnutrition among children, and it's something that both Underwood and Fisher are passionate about. As husband and wife, the two seem to have a lot of respect for one another — and their careers — which could be one of the reasons that their marriage works.