Downton Abbey Star Maggie Smith Had Quite A Reaction After Kissing George Clooney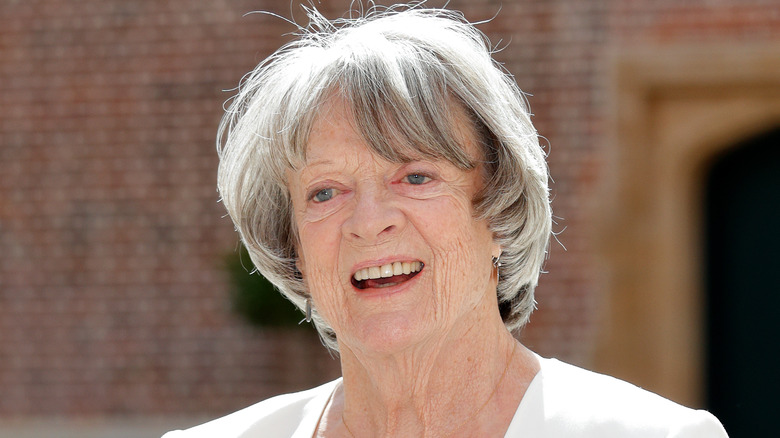 Max Mumby/indigo/Getty Images
George Clooney's Dr. Ross was causing hospital patients and TV viewers alike to swoon over his good looks and bedside manner long before Patrick Dempsey's Dr. "McDreamy" arrived on the hospital scene. Clooney walked away from the "E.R." ward decades ago and became an A-list movie star — and he's still got that special something when it comes to the art of the swoon.
Clooney brought some much-needed Hollywood hotness to Highclere Castle and the usually stoic "Downton Abbey" set when he broke out the charm offensive in 2014. Slate reports that Clooney, along with "Absolutely Fabulous" creator and actor Joanna Lumley and "Mr. Selfridge" star Jeremy Piven, joined the rest of the regular period drama cast for a one-off Christmas charity parody. "George Clooney's Downton Abbey skit is better than anything on TV this week," the website raved, claiming that "the Brits have outdone themselves."
Clooney played The Most Honorable George Oceans Gravity, Marquis of Gravity, in the "Scrooge"-style scene. He dances with "his wife," Lady Grantham as her real husband, Lord Grantham, looks on from the dream sidelines. Grantham asks Lumley, the angel of Christmas future, "What on earth does she see in him?" Hmmm... that's a tough one. Not surprisingly, the dashing Mr. Clooney left all the ladies weak at the knees. However, his appearance also left the Dowager Countess' corset strings straining at the seams as Downton Abbey star Maggie Smith suffered quite a reaction after kissing George Clooney.
Pass the smelling salts
Maggie Smith plays the unflappable Dowager Countess in "Downton Abbey." The formidable matriarch is renowned for her withering one-liners and terrifying takedowns. However, Smith was left swooning and speechless after a brush with George Clooney. Tom Cullen, who plays Lady Mary's squeeze, Anthony Foyle, Viscount Gillingham in the series, spilled the Downton tea in an interview on "Lorraine" (via Vanity Fair).
After Clooney swooped in for the inevitable period drama hand kiss, Cullen said that Smith had a wholly unexpected but totally understandable reaction. "She collapsed onto the sofa," he shared. Clooney's work wasn't over yet, though. Either there was a lot of mistletoe on set that day, or he was in the mood for spreading some serious Christmas cheer. Elizabeth McGovern, who plays Downton's Lady Grantham, claimed that Clooney, who played her husband in an alternative reality wedding scene, was smooching up a storm all over the show.
"It was special for me because there was a scripted kiss, so I was a bit shocked to see his wedding go forward after our professional day together!" McGovern joked to the Daily Beast, referring to Clooney's real-life marriage to Amal Alamuddin that occurred after filming. "I have not been quite the same ever since. He's truly as charming as you'd hope him to be, and smart, and has his heart in the right place," she continued. "He was kissing everybody that day! But he wasn't trying it on; it was all scripted."
Meanwhile, the grief must go on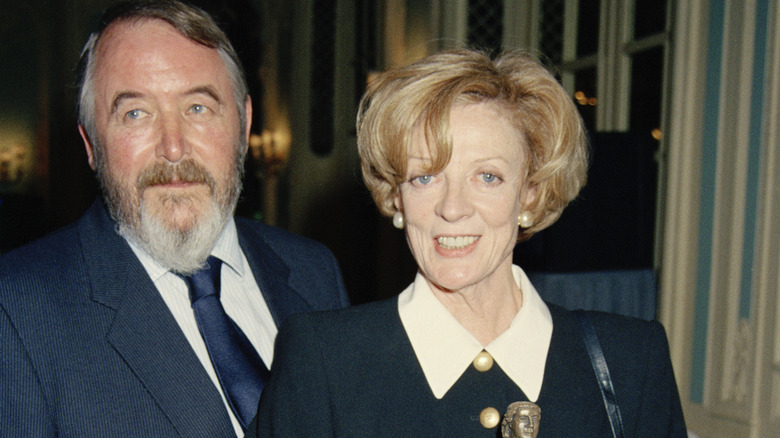 Dave Benett/Getty Images
You can excuse Dame Maggie Smith for feeling flustered by her George Clooney encounter because she's been lacking in the affection department for decades now. Smith was utterly devastated by the death of her spouse of 23 years, Beverley Cross, in 1998 and has been alone ever since. Smith told The Telegraph she tries to dull the pain of her loss by working as much as possible.
"They say it goes away, but it doesn't. It just gets different. It's awful, but what do you do?" She said. "After the busyness, you are more alone, much more. A day that is absolutely crowded keeps your mind away from why you are alone, but when it stops, there is that deafening silence."
The 2022 film, "The Marvellous Maggie Smith: A Celebration," documents the acting legend's many achievements and reflects on her career. It shows what Smith looked like when she was younger — spoiler alert: she was gorgeous, as she still is — and delves into the widow's heartbreak and grief that's still fresh to this day. "I never met Beverley Cross, but I know that he adored Maggie," close friend and "Harry Potter" star, Miriam Margolyes, shared (via The Express). "[I know] that he was wonderful to her. That he took care of her. And that she loved him very much, and she was utterly stricken when she lost him," Margoyles admitted, adding, "It was awful."